Montverde Academy Invitational Tournament: The Day 1 Standouts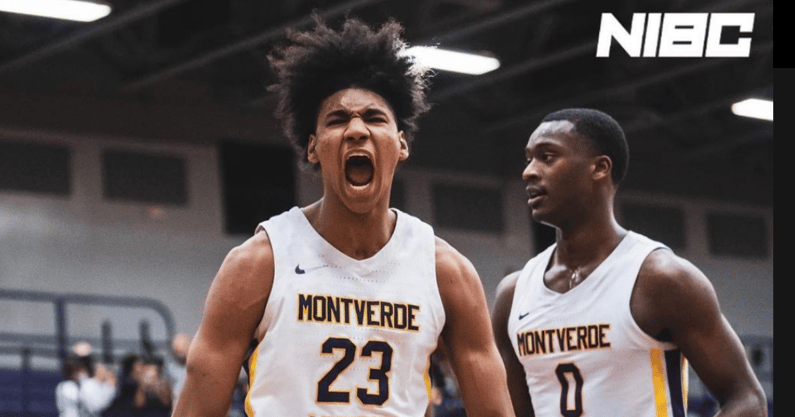 MONTVERDE, FL – Teams from Texas, Utah, and Florida gathered at Montverde Academy for the 19th Annual Montverde Academy Invitational Tournament (M.A.I.T.). 
Night one saw Dillon Mitchell put an aerial assault on the rim, another breakout performance from Riley Kugel, and a point guard matchup with 5-star implications.
On3 Sport's Jamie Shaw was sitting courtside, taking in the action. 
**The On3 Consensus is a proprietary algorithm that compiles ratings and rankings from all four major recruiting media services.
This game was Jalen Hood-Schifino's first since the McDonald's All-American committed announced its rosters. Matched up against Arterio Morris, Hood-Schifino was fantastic. The 6-foot-5 point guard controlled the tempo of the game's pace on both ends of the floor and did so in a smooth manner.
Hood-Schifino, the On3 Consensus No. 21 player in his class, is a strong framed lead guard. He knows how to use his body and create angles to attack. Off the bounce, he touched the paint and played off two feet, distributing passes or finishing with an array of finishes. The Montverde (Fl.) Academy lead guard knocked down his only three of the night and took on the defensive assignment of Morris. He finished with 24 points, eight rebounds, and four assists in the win.
Recruiting: Hood-Schifino is committed to Indiana.
Over the past year, things have changed for Mississippi State signee Riley Kugel. The Orlando (Fl.) Dr. Phillips guard has grown two inches, put on 15 pounds, and expanded his game. Now standing 6-foot-5 and closing in on 200 pounds, Kugel has become an all-around force on the court. He finished this one with 24 points, six rebounds, and three assists in the round one win. 
Kugel was confident off the bounce, re-initiating the offense in the half-court. The jump shot was smooth and fluid as he went two of three from deep. He used his length in the passing lanes, and the explosion got him on the rim in transition. Watching Mississippi State this season, seeing the success Iverson Molnar is having, you can see the pathway for Kugel. He will be in the conversation to enter our rankings in the next update. 
Recruitment: Kugel is committed to Mississippi State.
The past 12 months have been substantial for Dillon Mitchell. Outside of the top 100 last January, he is now a McDonald's All-American. Mitchell is one of the most explosive players in the country, but he has always been that. In his time at Montverde (Fl.) Academy, he has learned how to utilize his explosion best. His off-ball cuts are precise and purposeful, the angles he attacks are direct, and he can push the break on a change of possession. 
Mitchell, the On3 Consensus No. 12 player in his class, finished this one with 18 points and three blocked shots. He defends multiple positions, and he is a threat for a put-back dunk anytime his team shoots. Look for a bump in the ranking in our next update.
Recruitment: Mitchell is committed to Texas.
The 5-foot-11 junior's shot-making kept the game close for Long Island (N.Y.) Lutheran. Reid is a smallish guard, but he plays with all heart. He has a quick handle that gets him to his spots on the floor. The release is quick, and the confidence is high. Reid finished six of ten from three for 22 points. 
Recruitment: Reid claims offers from Dayton, Stony Brook, and Robert Morris.