Must-see recruits in ESPN's High School Football Kickoff weekend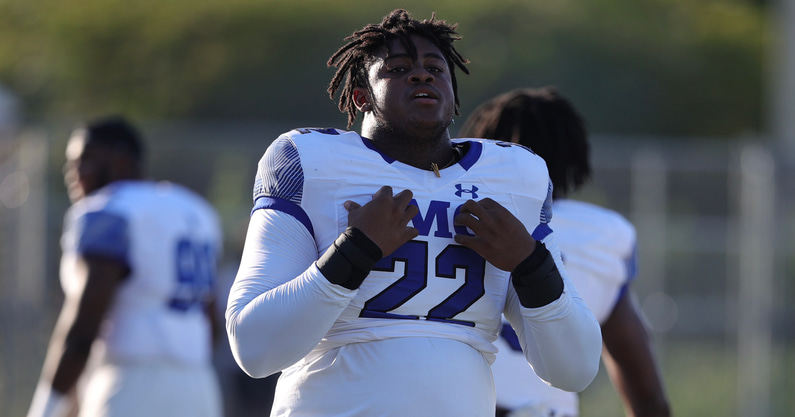 High school football has already started in some parts of the country, but things ramp up this weekend with the 2021 GEICO ESPN High School Football Kickoff, which begins Thursday and runs through Sunday.
For the 12th year in a row, the seven-game schedule features some of the top high school teams in the country and plenty of blue-chip prospects. Fans from coast to coast can see the future of college football on display this weekend.
Here's a look at the notable recruits that will be spotlighted on ESPN, ESPN2 and ESPNU.
Southlake (Texas) Carroll vs. Highland Park (Texas) High
8 p.m. ET Thursday on ESPNU from AT&T Stadium in Arlington, Texas
This game was supposed to be a showcase for five-star quarterback Quinn Ewers. However, Ewers made national headlines in early August when he reclassified to the 2021 class and enrolled at Ohio State.
Now the focus for Carroll – which finished as the runner-up in the 6A Division I finals last season – turns to players like Boston College three-star tight end commit RJ Maryland and South Carolina three-star receiver pledge Landon Samson. Kansas offensive tackle commit Joe Baker is another player on the Dragons' roster to watch.
Highland Park has the most all-time wins in the state of Texas. The Scots have won six state titles, including three straight from 2016-2018. Last season their only loss was to eventual 5A state champ Denton Ryan. Scots' kicker Jack Stone is committed to Michigan State.
Alpharetta (Ga.) Milton vs. Kennesaw (Ga.) North Cobb
7 p.m. ET Friday on ESPN2 from North Cobb
Milton is led on defense by No. 6 ranked junior Lebbeus Overton. Overton made headlines earlier this week when the 6-foot-3, 265-pound five-star prospect released his top 12 school list. However, Overton is not expected to play in the game because of a foot injury.
Three-star Michigan State tight end commit Jack Nickel is somebody to keep an eye on his game, too. The senior had more than 30 offers before pledging to the Spartans. Other seniors to watch out for Milton are Virginia Tech three-star quarterback pledge Devin Farrell, Tennessee three-star offensive tackle commit Maurice Clipper Jr. and three-star athlete Jordan McDonald.
North Cobb is loaded, too.

Senior cornerback Marquis Groves-Killebrew is the No. 130 player in the country, and he's already committed to Georgia. Senior receiver De'Nylon Morrissette is also committed to UGA. Samuel Mbake is another receiver with more than 25 offers. Joshua Josephs is a four-star EDGE rusher that is scheduled to announce his decision between Michigan, Penn State, Kentucky, Tennessee, and others on Oct. 1.
North Cobb junior quarterback Malachi Singleton has seven offers and was named the Georgia 3-AAAAAA offensive player of the year as a sophomore.
Baltimore St. Frances vs. Ft. Lauderdale (Fla.) St. Thomas Aquinas
Noon ET Saturday on ESPN from St. Thomas Aquinas
St. Frances' defense is deep on talent with On300 four-star DL and Oklahoma commitment Derrick Moore leading the way. Linebacker Jaishawn Barham, EDGE Aaron Wilson, DL Nasir Pearce and cornerback Cam Johnson are also heavily recruited Class of 2022 targets.
Aquinas continues to be the home of some of Florida's top talent and should be a national title contender again this season after winning state in 2020.
Four-star offensive tackle Julian Armella is the highest-ranked senior for Aquinas, coming in at No. 287 in the On300. He is a Florida State legacy, but LSU is making a big push for him. Aquinas junior safety King Mack has offers from Florida, Maryland, Miami, NC State, Notre Dame and others.
Murfreesboro (Tenn.) Oakland vs. Madison (Miss.) Madison-Ridgeland
3 p.m. ET Saturday on ESPN2 from Madison-Ridgeland Academy
Oakland is coming off a 15-0 state championship season with no signs of slowing down, especially with Georgia running back commit Jordan James returning. The four-star recruit ranks as the No. 261 player in the 2022 class. Miami tight end commit Isaiah Horton is another name to keep an eye on for Oakland.
Madison-Ridgeland senior linebacker Stone Blanton, who is leaning toward South Carolina, Mississippi State and Texas A&M, is back after leading his team to an undefeated 2020 season.
Atlanta Pace Academy vs. Tiger (Ga.) Rabun County
6 p.m. ET Saturday on ESPN2 from Rabun County
This matchup is all about Rabun County senior quarterback Gunner Stockton, who is committed to Georgia. Stockton, the No. 101 player in the country, led Rabun County to a 12-2 record last season and hopes to lead his squad deep in the Georgia Class AA playoffs.
Cypress (Texas) Bridgeland vs. Cypress Klein Cain
9 p.m. ET Saturday on ESPNU from Klein Memorial Stadium in Spring, Texas
This game features two of the top offensive playmakers in the Lone Star State.
Bridgeland is led senior quarterback and Texas A&M pledge Conner Weigman. The four-star signal-caller ranks as the No. 53 player in the On300 rankings and he was also selected the Class 6A District 16 offensive player of the year as a junior.
TCU four-star receiver commitment Matthew Golden is Klein Cain's top star. The 6-foot-0, 185-pound senior was one of the Houston area's most productive players in 2020. Golden lined up at receiver, Wildcat QB, returned kicks, and he was the punter. He's also a key piece in TCU's under-rated recruiting class.
Texas Longhorn fans tuning in Saturday night to see their star running back of the future will be disappointed. Four-star Jaydon Blue – the No. 114 player in the country and the No. 9 running back – announced in late May he was opting out of his senior season and focusing on training for his college career in Austin.
Bradenton (Fla.) IMG Academy vs. Columbus (Ohio) Bishop Sycamore
1:30 p.m. ET Sunday on ESPN from Tom Benson Hall of Fame Stadium in Canton, Ohio
IMG has reloaded (again) and remains one of the top teams and top recruiting hotbeds in the country. The Ascenders have an incredible eight players ranked in the On300 for the 2022 class and seven players in the On3 Class of 2023 Top 100.
IMG features five-star corner Daylen Everette (Clemson commit) and uncommitted five-star tight end Jaleel Skiner in its senior class.

There's a slew of other top seniors, including Clemson EDGE commit Jihaad Campbell, Alabama IOL recruit Tyler Booker, Clemson ATH pledge Keon Sabb and Florida State bound quarterback AJ Duffy.
In the 2023 class, IMG is home to two players ranked in the top seven in the country.

Fourth-ranked defensive lineman James Smith already has around 20 offers from national powers like Alabama, Auburn, Florida State, Georgia, LSU and Ohio State. Seventh-ranked athlete Samuel M'Pemba has more than 30 offers and is pretty wide open at this point.
Also look for IMG junior four-star receiver Carnell Tate to have a big game. Even though he's ranked as one of the top 50 juniors in the country, Tate had a breakout game in Zero Week against Plantation (Fla.) American Heritage.
Bishop Sycamore is a new program with young talent and several players on both sides of the ball have multiple Division I offers including quarterback Trillian Harris.