LOOK: Myles Garrett sends playful message to QBs with Halloween decorations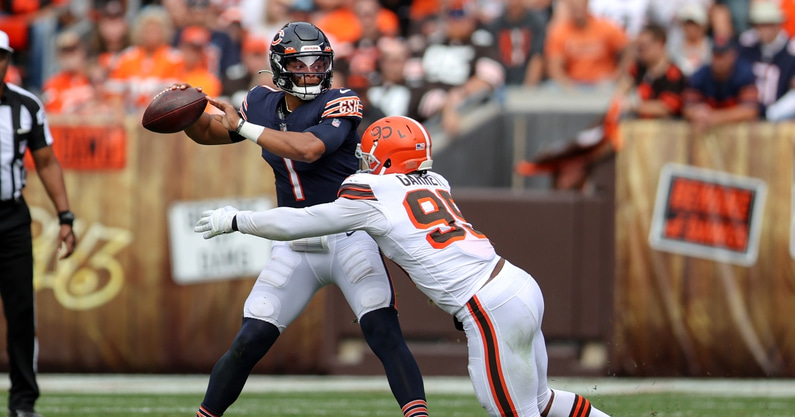 One of the scariest players in the NFL is ready for Halloween. 
Browns star defensive end Myles Garrett decorated his front yard for Halloween this week in a very spooky way, setting up headstones for various NFL quarterbacks Cleveland has on this year's schedule, per TMZ.
The names visible in the pictures show Justin Fields of the Bears, Joe Burrow of the Bengals, Mac Jones of the Patriots, Kyler Murray of the Cardinals, Justin Herbert of the Chargers, Ben Roethlisberger of the Steelers and Lamar Jackson of the Ravens.
Of course, Burrow, Jackson and Roethlisberger are divisional foes, so Garrett will face them twice this season. The Browns have already beaten the Bears, but lost to the Chargers last weekend in a highly entertaining 47-42 game. 
The former No. 1 overall pick out of Texas A&M leads the NFL with seven sacks through five games. In Week 3, Garrett posted 4.5 sacks against Fields, which broke the Browns franchise record for most sacks in a game.
Additionally, Garrett is tied with rookie Jeremiah Owusu-Koramoah for the most tackles on the Browns defense this season. In total, he has 21 tackles and eight tackles for loss. 
Garrett was a five-star recruit coming out of high school and proved why he was so highly coveted over three seasons with the Aggies. Garrett recorded 141 tackles, 47 tackles for loss, 31 sacks and seven forced fumbles. The former unanimous All-American even had an interception, a rarity for a defensive lineman. He was the first No. 1 draft pick in the history of Texas A&M football when he was chosen in 2017 by Cleveland.
Browns look to topple perfect Cardinals
Garrett will potentially have a chance to take Murray down this weekend, as the Browns host the 5-0 Cardinals. He is currently questionable after dealing with ankle and knee injuries. Arizona is the NFL's only remaining undefeated team.
Garrett will try to get pressure on quarterback Kyler Murray, who is currently an NFL MVP frontrunner. On Sunday, Murray became just the third quarterback in NFL history with 1,500 passing yards plus a 75% completion percentage through the first five weeks of the season. 
He leads a Cardinals scoring offense which is fourth in the NFL, posting 31.4 points per game.
Cleveland is a 3-point favorite in a game which kicks off at 1:00 p.m. ET.