Name, Image, and Likeness legislation: State by state NIL policies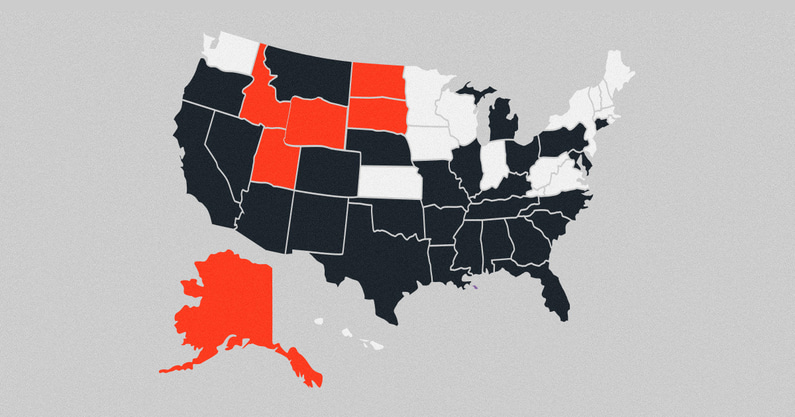 The Supreme Court ruled against the NCAA in the Alston case on June 21, 202. The NCAA adopted a temporary change on June 31, 2021. On July 1, 2021, student-athletes were able to begin profiting on their name, image, and likeness. State NIL policies differ though, and it is important for student-athletes to study up on the laws applicable to them.
While laws were passed by the NCAA, it is crucial for student-athletes to understand the rules and regulations in their states and at their schools. Many schools have specific policies surrounding the deals and sponsorships their student-athletes may sign.
Below are the states, power 5 schools, and NIL laws that are applicable in each:
Legislation Passed Into Law:
Alabama
Currently in effect.
NCAA Schools in Alabama: 19
Power 5 schools and their rules: Alabama (The Advantage NIL Program), Auburn (Spirit NIL Program),
Arizona
Currently in effect.
NCAA Schools in Arizona: 4
Power 5 schools and their rules: None
Arkansas
Effective Date: January 1, 2022
NCAA Schools in Arkansas: 14
Power 5 schools and their rules: Arkansas (Athletes' Flagship NIL)
California
Currently in effect.
NCAA Schools in California: 57
Power 5 schools and their rules: California Golden Bears ('GOLDEN" NIL Program), UCLA Bruins, Stanford (School's NIL Page), USC Trojans (Policy)
Colorado
Effective Date: January 1, 2023
NCAA Schools in Colorado: 16
Power 5 schools and their rules: Colorado University (Buffaloes NIL Page)
Connecticut
Currently in effect.
NCAA Schools in Connecticut: 20
Power 5 schools and their rules: None
Florida
Currently in effect.
NCAA Schools in Florida: 27
Power 5 schools and their rules: Florida Gators (School's NIL Page), Florida State University (Apex NIL Guidelines), Miami Hurricanes
Georgia
Currently in effect.
NCAA Schools in Georgia: 31
Power 5 schools and their rules: University of Georgia (), Georgia Tech ()
Illinois
Effective Date: January 1, 2023
NCAA Schools in Maryland: 3
Power 5 schools and their rules: None
Kentucky
Currently in effect.
NCAA Schools in Kentucky: 14
Power 5 schools and their rules: University of Kentucky (Wildcats NIL Page), Louisville (Cardinals NIL Page)
Louisiana
Currently in effect.
NCAA Schools in Louisiana: 14
Power 5 schools and their rules: Louisiana State University (School Policy)
Maryland
Effective Date: January 1, 2023
NCAA Schools in Maryland: 3
Power 5 schools and their rules: None
Michigan
Effective Date: December 31, 2022
NCAA Schools in Montana: 25
Power 5 schools and their rules: Michigan (NIL Policy), Michigan State (Spartans NIL page),
Mississippi
Effective Date: January 1, 2021
NCAA Schools in Mississippi: 11
Power 5 schools and their rules: Ole Miss (Next Level NIL Program), Mississippi State (Compass NIL Program)
Montana
Effective Date: January 1, 2023
NCAA Schools in Montana: 3
Power 5 schools and their rules: None
Nebraska
Effective Date: July 1, 2023
NCAA Schools in Nebraska: 7
Power 5 schools and their rules: Nebraksa (#NILbraska Policy)
Nevada
Effective Date: January 1, 2021
NCAA Schools in Nevada: 2
Power 5 schools and their rules: None
New Jersey
Effective Date: August 1, 2025
NCAA Schools in Oregon: 27
Power 5 schools and their rules: None
New Mexico
Currently in effect.
NCAA Schools in New Mexico: 5
Power 5 schools and their rules: None
Ohio
Currently in effect.
NCAA Schools in Ohio: 46
Power 5 schools and their rules: Ohio State Buckeyes (THE Platform NIL Program)
Oklahoma
Effective Date: July 1, 2023
NCAA Schools in Oklahoma: 15
Power 5 schools and their rules: Oklahoma (Sooners NIL Page), Oklahoma State (NIL Policy)
Oregon
Currently in effect.
NCAA Schools in Oregon: 10
Power 5 schools and their rules: None
South Carolina
Effective Date: July 1, 2022
NCAA Schools in South Carolina: 27
Power 5 schools and their rules: South Carolina Gamecocks (Gamecocks NIL Policy), Clemson (Tigers NIL Page)
Tennessee
Effective Date: July 1, 2022
NCAA Schools in Tennessee: 25
Power 5 schools and their rules: University of Tennessee (Vols NIL Policies), Vanderbilt
Texas
Currently in effect.
NCAA Schools in Texas: 53
Power 5 schools and their rules: University of Texas (Longhorns NIL Page), Texas Tech ('Beyond Verfiied' NIL Program), TCU (Frogs' NIL Solution), Texas A&M ('Amplify' NIL Program), Baylor
Legislation Proposed:
Hawaii
Proposal: House Bill 1682 (Session ended)
Effective Date: January 1, 2021
NCAA Schools in Hawaii: 4
Power 5 schools and their rules: None
Iowa
Proposal: Senate File 386, formerly SF 245 (Session ended)
Effective Date: July 1, 2021
NCAA Schools in Iowa: 16
Power 5 schools and their rules: Iowa State University, Iowa Hawkeyes
Kansas
Proposal: House Bill 2264 (Session ended)
Effective Date: Jaanuary 1, 2022
NCAA Schools in Kansas: 8
Power 5 schools and their rules: Kansas (Jayhawks Ascend), Kansas State (KSU Catalyst)
Massachusetts
Proposal: House Bill 1340
Effective Date: January 1, 2022
NCAA Schools in Massachusetts: 55
Power 5 schools and their rules: Boston College (BC Athletics SOAR)
Minnesota
Proposal: Senate File 2995 (Session ended)
Effective Date: July 1, 2024
NCAA Schools in Minnesota: 30
Power 5 schools and their rules: Minnesota Golden Gophers
Missouri
Proposal: House Bill 297 – Sent to the Governor for Approval
Effective Date: July 1, 2021
NCAA Schools in Missouri: 23
Power 5 schools and their rules: Mizzou (NIL Policy)
New Hampshire
Proposal: House Bill 1505
Effective Date: July 1, 2022
NCAA Schools in New Hampshire: 10
Power 5 schools and their rules: None
New York
Proposal: Senate Bill 5891 (Session ended)
Effective Date: Immediately
NCAA Schools in New York: 102
Power 5 schools and their rules: Syracuse Orange (Accelerate Program)
North Carolina
Proposal: Senate Bill 324
Effective Date: January 1, 2024
NCAA Schools in North Carolina: 46
Power 5 schools and their rules: Duke University (Blue Devils' NIL Policy), UNC-Chapel Hill (Tar Heel LaUNCh Program), NC State (Wolfpack Alpha NIL Program), Wake Forest
Pennsylvania
Proposal: House Bill 632
Effective Date: 60 days after signing
NCAA Schools in Pennsylvania: 97
Power 5 schools and their rules: Penn State (STATEment program), Villanova
Rhode Island
Proposal: House Bill 5082
Effective Date: January 1, 2022
NCAA Schools in Rhode Island: 8
Power 5 schools and their rules: None
Vermont
Proposal: Senate Bill 328 (Session ended)
Effective Date: Jan 1, 2023
NCAA Schools in Vermont: 7
Power 5 schools: None
Virginia
Proposal: House Bill 300 (Session ended)
Effective Date: July 1, 2024
NCAA Schools in Virginia: 37
Power 5 schools and their rules: UVA , Virginia Tech Hokies (VT's JumpStart Program)
Washington
Proposal: House Bill 1084 (Session ended)
Effective Date: Jan. 1, 2023
NCAA Schools in Washington: 13
Power 5 schools and their rules: University of Washington Huskies (School's NIL page), Washington State Cougars (WSU's 'Cougar Pursuit')
West Virginia
Proposal: House Bill 2583 (Session ended)
Effective Date: None mentioned
NCAA Schools in West Virginia: 17
Power 5 schools and their rules: West Virginia University (NIL Policy)
Wisconsin
Proposal: Joint Resolution 147
Effective Date:
NCAA Schools in Wisconsin: 30
Power 5 schools and their rules: Univesity of Wisconsin Badgers (Temporary NIL Policy)
No State NIL Legislation:
Alaska
Delaware
Idaho
Indiana
Maine
North Dakota
South Dakota
Utah
Wyoming