NBA Draft: Five winners of the 2022 NBA Draft Combine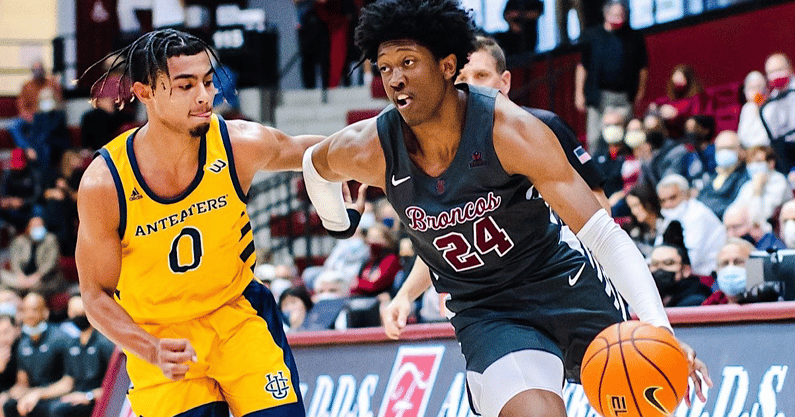 The NBA Draft Combine will never be an indicator of the top-tier players. However, it is a setting that can do wonders for the borderline guys. As history shows, once a player gets a first-round guarantee, they will sit. A look at the 2022 NBA Draft Combine is no different.
The measurement portion answered size, length, athleticism, and mobility questions. The shooting and skill portion showed pure shooting (although I am not a big buyer in shooting with no pressure, it does give a baseline indicator). However, for me, the scrimmages tell the story. The size, length, and athleticism are great, but how functional is it? What does a player's motor look like? How do they read the game and see the floor? The other pieces are supporting facts.
However, the NBA Draft Combine is simply a snap-shot. In total three days, around fifty minutes of scrimmages and whichever testing you participate in. Here are five players who used the platform to elevate their stock.
6-6 209 Jalen Williams | Santa Clara | Junior
If the NBA Draft Combine gave out an MVP award, Jalen Williams would be the run-away winner.
It started with the measurements; physically, his wingspan was 7-2.25. That gives him an unheard of plus-nine differential. Athletically, Williams finished with a 12-0.5 max-vertical reach. For perspective, that is higher than noted-leaper Aaron Gordon measured.
His frame, burst, and quickness measurements alone would have put him into the 'winner category' of the combine, but then Williams excelled during the scrimmage portion.
Williams played with a good pace, probing the defense for his spots. He scored it efficiently, finishing 12 -16 from the field and 3-4 from three, averaging 15 points per game. He got to the rim, he made his threes, and only had two turnovers in 47 minutes of play.
While you do not want to fall for another workout warrior, the in-season tape backs up this small scrimmage snap-shot. Williams averaged 18 points and 4.2 assists per game this season. He shot 39.6-percent from three, led his conference in dunks, and had a 2:1 assist to turnover ratio. Look for Williams to enter the lottery conversation.
6-7 209 Christian Braun | Kansas | Junior
All college season, we heard about Christian Braun and the swagger. How his confidence was through the roof and he knew he was one of the best players each time he stepped on the floor. His play backed it up, all the way to a 12-point, 12- rebound national championship game win.
Braun was one of the more intriguing players coming into the combine as we just did not know what to expect. He came out the gates strong in the testing portion with a 40-inch max-vertical, the second-highest this year.
While Braun's jump shot was not falling in this setting, he is a career 38-percent three-point shooter at Kansas. He also showed the aptitude to affect the game in different ways. He was 9-26 from the field and 4-11 from three. He also grabbed 11 rebounds in the two games, dished seven assists, and gathered six steals. Braun may have played his way safely into the back end of the first round.
7-2 242 Mark Williams | Duke | Sophomore
We cannot say enough about Mark Williams and his testing numbers. Williams measured 7-foot-2, in shoes, with a 7-6.5 wingspan, and 242.2-pounds with 5.4% body fat. His 9-9 standing reach, yes just three inches away from touching the rim without jumping, measured more than Mo Bamba, Deandre Ayton, and Rudy Gobert.
Williams did not participate in the scrimmages, so we reverted back to game film from the season. A season that saw Williams lead the nation with 96 dunks and win ACC Defensive Player of the Year. The younger brother of WNBA All-Star Elizabeth Williams shot 72.1-percent from the field and 72.7-percent from the free-throw line. He led the ACC in blocks per game at 2.8, which also put him top-15 nationally. This draft has a clear spot for Williams in the 11 to 18 range.
6-6 182 Dereon Seabron | NC State | RS-Sophomore
Dereon Seabron was perhaps the nation's breakout player this college season. He averaged 17.3 points, 8.2 rebounds, 3.2 assists, and 1.4 steals per game en route to a second-team All-ACC selection.
Needless to say, Seabron had a lot of eyes on him at the Combine. He started strong, measuring 6-5.75, in shoes, with a 6-8.75 wingspan. He then showcased his 38-inch max-vertical jump. These numbers legitimized the eye-test of length and burst.
During the games is when his unique abilities showed. Seabron played primarily on the ball, and he lived in the paint. He showed he could make a play in the paint as well, whether finishing at the rim, drawing the foul, or creating for a teammate. Seabron averaged 16 points through the two scrimmages finishing 11-18 from the field. His energy was infectious as he also added ten rebounds, five assists, and two steals.
6-3 179 Ryan Rollins | Toledo | Sophomore
Admittedly, I had not seen much on Ryan Rollins coming into the NBA Draft Combine. So he was one I made a conscious effort to lock in on during scrimmage play.
He is smooth with the ball in his hands. Super confident with a slithery, crafty handle and pace that get him to his spots on the floor. His play in the scrimmage also showed his ability to get in there and get a rebound. He averaged 6.0 rebounds on the season, and he grabbed five during the NBA Draft Combine scrimmage.
Rollins has some questions, mainly about his on-the-ball defense, three-point shooting, and turnovers. Those are some things; however, you can develop in the league. He should be in the back end of the first-round conversation. He is not a year one guy, but given he has not turned 20 yet, he is a guy who could develop into a point guard of the future.
Other NBA Draft Combine Winners: Jake LaRavia, Drew Timme, Trevion Williams, Andrew Nembhard