NBA trade voided after former Oregon star fails physical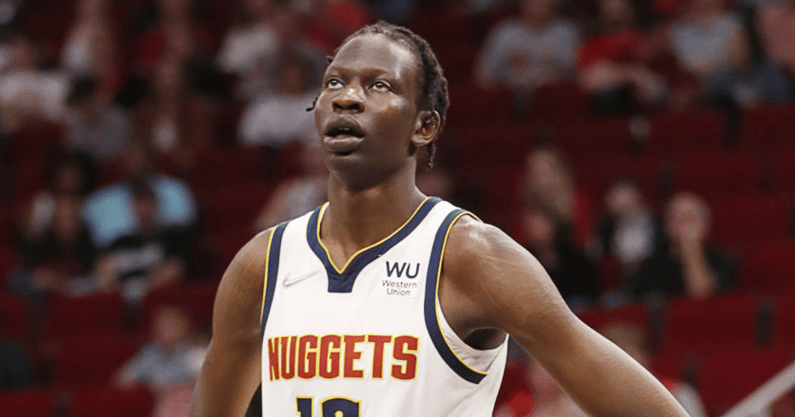 An NBA trade between the Denver Nuggets and Detroit Pistons was voided on Thursday after former Oregon center Bol Bol failed a team physical, according to ESPN's Adrian Wojnarowski. The initial trade agreement sent the third-year center to Detroit in exchange for NBA veteran Rodney McGruder and a 2022 second round pick via the Brooklyn Nets.
Bol Bol has averaged 2.7 points ands 1.2 rebounds over 53 career games and sought out a trade this season. With the Nuggets, he often got lost in the rotation behind 2020 MVP and perineal all-star Nikola Jokic.
The son of former NBA star Manute Bol, Bol Bol measures 7-foot-2, 220-pounds, making him one of the league's tallest but thinnest players at 22-years old. With his size has come injury concern. He missed most of his one collegiate season with a left foot injury which required surgery and cost him part of his rookie season in the NBA.
Pac-12 updates COVID-19 policies
The Pac-12 conference published a press release outlining its updated COVID-19 protocols. The new protocols are now in effect.
Under the new rules, unvaccinated players will receive surveillance testing a minimum of once per week. They must turn in a negative test at least 72 hours in advance of travelling to a road game. Vaccinated players will not be held to the same requirements.
However, if there are positive cases in more than 5% of the team cohort (players, coaches and staff), testing all members of a team "should be considered."
If an individual tests positive for COVID-19, he or she will be required to isolate for at least five days. After five days, they may return to the team upon a negative test result.
Those who have been exposed to someone with the virus will not be required to quarantine if they are vaccinated, boosted and return a negative test. Vaccinated but unboosted players will also not have to quarantine. But they must wear a mask for 10 days following the exposure.
"Each institution remains subject to the applicable restrictions, regulations and laws; policies of the individual institution; and federal, local and state health departments," the statement reads. "These may be stricter or add additional elements not contained in this document."
Several Pac-12 basketball programs have struggled with the virus of late. Both USC and UCLA have cancelled games as a result.
But the Pac-12 isn't the only organization to make an update to its COVID-19 protocols as of late. The NFL made similar changes, announcing that vaccinated and asymptomatic players will no longer be required to test every week. The NBA also updated its protocols to give teams more freedom to call up players from the G league.