It'll be Kansas-North Carolina for the title as Krzyzewski's career ends in semis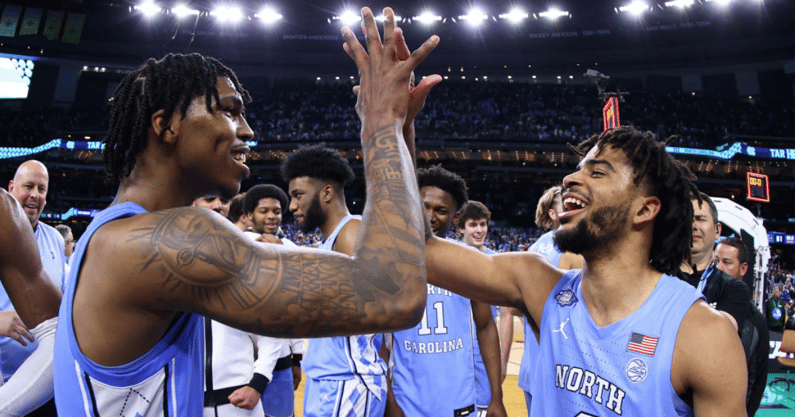 Mike Krzyzewski's career won't end with a sixth national title. Instead, Kansas and North Carolina will play for the NCAA title Monday night after semifinal victories Saturday in New Orleans – Kansas with an easy one over Villanova, UNC with a tough one over Krzyzewski and archrival Duke.
North Carolina became the third No. 8 seed to advance to the title game with its 81-77 victory over the Blue Devils, who led 74-73 with 1:01 left. Kansas, meanwhile, advanced with an 81-65 win over Villanova.
The Tar Heels are seeking their seventh national title and their first since 2017; two of their titles have been won in New Orleans. Kansas will be looking for its fourth national title and its first since 2008.
North Carolina's guards were masterful in the Heels' win, with Caleb Love (28 points) and R.J. Davis combining for 46 points, 11 rebounds and five assists. They also combined to score UNC's final eight points, with Love scoring the last six. His 3-pointer with 28 seconds left gave the Heels a four-point lead. North Carolina also received yeoman work on the boards from Armando Bacot, who had 21 rebounds. It was his second game in a row with 20-plus rebounds.
Duke committed just four turnovers, but struggled from the line (12-of-20) and from beyond the arc (5-of-22). This was the third Duke-UNC game this season. Duke won the first in Chapel Hill, then lost to the Heels in the regular-season finale at Cameron Indoor Stadium. That means Krzyzewski lost to his archrival in both his final home game and his final game overall with a spot in the national championship on the line.
Krzyzewski's career ends with an NCAA-record 13 Final Four appearances and five national titles, second-most behind John Wooden. Krzyzewski was trying to end his career like Wooden's – with a national title in his final game. Marquette's Al McGuire is the only other college basketball coach to win a national title in his last game.
While Duke-UNC was close, Kansas-Villanova wasn't. The Jayhawks led by 13 midway through the first half and by 11 at halftime. Villanova threatened to make a game of it a few times in the second half, cutting KU's lead to six, but the Jayhawks eventually pulled away down the stretch.
As for the coaches, North Carolina's Hubert Davis would become just the second first-year coach to win the title. The first was Michigan's Steve Fisher in 1989; his first game as coach came in the tourney's first game, as he was promoted after news broke that Bill Frieder would leave for Arizona State when the season was over. KU's Bill Self is going for his second crown. He won his first in 2008. Among the 15 coaches who have won at least two, the only longer span between first and second titles is Rick Pitino, at 17 years (1986 at Kentucky, 2013 at Louisville).
UNC is trying to become the second No. 8 seed to win it all, following Villanova in 1984. The other No. 8 to advance to the championship game is Butler, which lost to UConn for the 2011 title.