History lesson: A look at the real first-round upsets in NCAA tournament history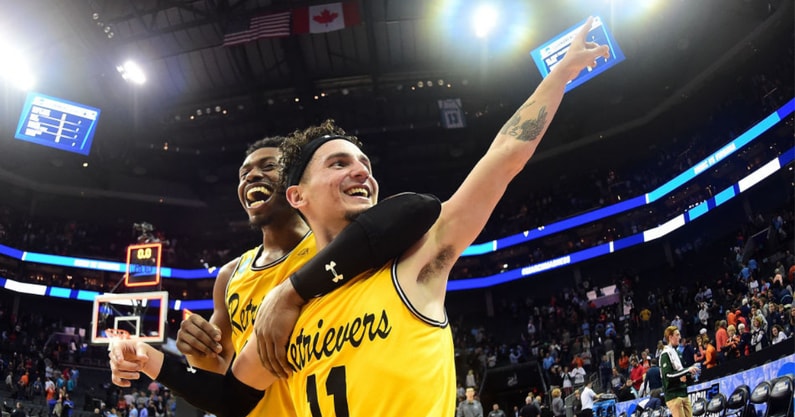 A lot of the fun and excitement in the NCAA tournament comes about because this is a chance for the little guy. Most folks don't celebrate a No. 2 seed's 25-point beatdown of a No. 15 seed. Instead, folks remember upsets like Saint Peter's over Kentucky, Mercer over Duke and UMBC over Virginia.
The NCAA defines a tournament upset "as when the winner of the game was seeded five or more places lower than the team it defeated." But as with many (most?) NCAA "regulations," that's a little too broad. An 11 beating a 6 or a 12 ousting a 5 seemingly is an annual occurrence. Heck, a 13 beating a 4 has become more and more common.
Today, we're spotlighting the real first-round upsets – when a team seeded at least 11 spots lower causes chaos. There have been 26 such occurrences in the first round since the tournament expanded to 64 teams in 1985 (28 No. 13s alone have won a first-round game).
Here's a look at all the Nos. 14, 15 and 16 seeds that have won since '85. But we would be remiss if we don't mention a 13-over-4 upset from 1993. Southern U. beat Georgia Tech 93-78, which led to one of the greatest quotes in tournament history. Jaguars coach Ben Jobe used the opportunity to blast TV analysts who predicted a Tech rout: "A lot of them were coaches who couldn't coach their way out of the toilet."
16s over 1s
2018: UMBC over Virginia 74-54
UMBC was a 20-point underdog but instead ran away from the Cavaliers – the overall No. 1 seed – in the second half to pull the stunner. Virginia coach Tony Bennett: "That was not even close. … That was a thorough butt-whipping." The game was tied at 21 at halftime. The Retrievers carved up the Cavs' vaunted defense, especially from the perimeter; UMBC went 12-of-24 from 3-point range, while the Cavs were 4-of-22 from beyond the arc. G Jairus Lyles scored 28 for UMBC. Virginia came back in 2019 and won the national title. (UMBC's coach was Ryan Odom, now coach at Utah State, which is seeded 10th this year and plays Missouri on Thursday.)
15s over 2s
2022: Saint Peter's over Kentucky 85-79
Saint Peter's had the more free-flowing offense and finished the night shooting 50.9 percent from the field, including 52.9 percent (9-of-17) from 3-point range. The nine made 3-pointers was the Peacocks' second-highest total of the season. Defensively, they held the much more talented Wildcats to 42.6 percent, including 4-of-15 from beyond the arc. Saint Peter's lost in the Elite Eight to eventual national runner-up North Carolina.
2021: Oral Roberts over Ohio State 75-72 (OT)
The Golden Eagles won the Summit League as the No. 4 seed and were given little chance against the Buckeyes because their defense was so bad. No matter: G Max Abmas and F Kevin Obanor bombed away from 3-point range (a combined 10-of-22) to lift ORU to the upset. Those two combined for 59 points and 16 rebounds. Ohio State rallied late and missed a shot at the end of regulation that could have won it, then Obanor dominated in the extra period. Ohio State outrebounded ORU 49-32, but the Buckeyes committed 16 turnovers to the Golden Eagles' six. ORU lost in the Sweet 16.
2016: Middle Tennessee State over Michigan State 90-81
The Blue Raiders were more athletic and played their free-wheeling style, not bothered by Michigan State's physicality. MTSU hit 11 3-pointers, and all five starters scored in double figures as it carved up the Spartans' defense. Michigan State shot 55.6 percent from the field — and lost.
2013: Florida Gulf Coast over Georgetown 78-68
The guys from "Dunk City" had their fun at the expense of the Hoyas. Florida Gulf Coast gradually pulled away from Georgetown because of its surprisingly good defense (the Hoyas shot just 37.4 percent) and superior athleticism. The overriding memory from the game is PG Brett Comer tossing an alley-oop pass to Chase Fieler to send the crowd into a frenzy in the final minutes. Play-by-play man Kevin Harlan in the aftermath of the play: "They are like a circus." FGCU lost in the Sweet 16.
2012: Norfolk State over Missouri 86-84
This was Mizzou's last NCAA appearance as a member of the Big 12, but it became memorable for more than that. The Tigers took a buzzsaw to the rest of the field in the Big 12 tourney, winning their three games by a combined 47 points. But Norfolk State carved up Mizzou's defense, with four players scoring in double figures and three scoring at least 20. Future NBA C Kyle O'Quinn had 26 points and 14 rebounds for Norfolk State.
2012: Lehigh over Duke 75-70
Norfolk State's upset of Mizzou came in an afternoon TV window; this came later that same night. Duke was playing in Greensboro, N.C., about 60 miles from its campus. But the Blue Devils had no answer for future NBA star C.J. McCollum, who had 30 points, six rebounds and six steals. Duke was effective in the paint, but was just 6-of-26 from 3-point range.
2001: Hampton over Iowa State 58-57
Tarvis Williams hit a 4-footer in the lane with 6.9 seconds left to lift the Pirates to the improbable win. The lasting image is of then-coach Steve Merfeld being carried around by Pirates reserve David Johnson, pumping his fists in celebration. Williams scored on an assist by Marseilles Brown – who was a guard on the Richmond team that won as a No. 14 seed against South Carolina in 1998.
1997: Coppin State over South Carolina 78-65
Against the Gamecocks, coach Ran "Fang" Mitchell's team took a 55-54 lead with 6:12 left and steadily pulled away down the stretch. Coppin State was the more physical team and outrebounded the Gamecocks by nine to give the Mid-Eastern Athletic Conference its first-ever NCAA tournament win. "They took it to us, and we were passive. We should have been a lot more aggressive," Gamecocks guard B.J. McKie told reporters afterward.
1993: Santa Clara over Arizona 64-61
The Broncos incredibly overcame a 25-0 run that spanned the end of the first half and the start of the second, then held the Wildcats without a field goal for more than 15 minutes. Santa Clara missed four free throws in the final 7.5 seconds – including two by then-freshman Steve Nash – but still hung on.
1991: Richmond over Syracuse 73-69
The Spiders never trailed and hit three free throws in the final 21 seconds in ousting Syracuse. Richmond's bench outscored Syracuse's reserves 32-3. The Spiders had 18 assists on 25 made baskets. In an interesting twist, Richmond flummoxed Syracuse with a match-up zone.
14s overs 3s
2021: Abilene Christian over Texas 53-52
Abilene Christian's first NCAA tourney win was a memorable one. Abilene Christian became a full-fledged Division I member in 2018 after moving up from Division II. Joe Pleasant hit two free throws with 1.2 seconds left for the winning margin. Texas committed 23 turnovers. Abilene Christian won despite shooting just 29.9 percent from the floor. It was the final game for Texas coach Shaka Smart, who left for Marquette less than a week later.
2016: Stephen F. Austin over West Virginia 70-56
The Lumberjacks dominated defensively in ousting West Virginia. SFA forced 22 turnovers and held the Mountaineers to 30.8 percent shooting from the field. WVU coach Bob Huggins on all the turnovers: "We're very charitable. We're one of the most charitable groups in college basketball." F Thomas Walkup scored almost half of Stephen F. Austin's points. He finished with 33, and 25 came in the second half; he also was 19-of-20 from the line.
2015: Georgia State over Baylor 57-56
Georgia State G R.J. Hunter – the son of the coach – nailed a long 3-pointer with 2.7 seconds left for the win. Baylor led by 12 with 2:54 left, but was scoreless the rest of the way. Panthers coach Ron Hunter was coaching from a rolling chair after tearing his Achilles tendon following his team's win in the Sun Belt tourney final; he fell off the chair and had to be helped up after his son's shot. T.J. scored Georgia State's final nine points.
2015: UAB over Iowa State 60-59
UAB dominated the glass to edge the Cyclones. The Blazers outrebounded Iowa State 51-34 and had an astounding 18 offensive rebounds. That helped UAB overcome shooting just 34.8 percent. F William Lee made a jumper with 24 seconds left to give the Blazers a one-point lead, then hit two free throws with 12 seconds left to secure the win. He finished with 14 points and 12 rebounds.
2014: Mercer over Duke 78-71
The Bears rode a dominant second half to the stunner over the Blue Devils. Mercer trailed by one at halftime, but scored 44 second-half points. While the Bears shot 55.6 percent from the field, Duke finished at 35.5 percent – and that was only because it was at 40.5 percent from beyond the arc. The Blue Devils were just 7-of-25 on 2-point attempts in what basically was a home game (the contest was in Raleigh, N.C., about 25 miles from Duke's campus).
2013: Harvard over New Mexico 68-62
Harvard played lockdown defense in beating the Lobos and earning their first-ever NCAA tournament win. New Mexico shot just 37.5 percent from the field, causing coach Steve Alford to say shooting was "a glaring weakness on this basketball team." The Crimson, meanwhile, shot 52.4 percent against a Lobos defense that had held previous opponents to a bit above 37 percent.
2010: Ohio U. over Georgetown 97-83
Ohio U., which had a losing conference record before winning the MAC tournament, rode a high-scoring offense to the upset of the Hoyas. Ohio led by 12 at halftime (48-36), increased the lead to 19, then weathered a rally that cut the lead to seven to hold off Georgetown. The Bobcats shot 58.2 percent from the field, including 56.5 percent from 3-point range (13-of-23). Ohio's starters scored 87 points, headed by G Armon Bassett's 32.
2006: Northwestern State (La.) over Iowa 64-63
Jermaine Wallace hit a 3-pointer with one second left from deep in the corner for the Demons, who rallied from a 16-point, second-half deficit. Iowa committed 18 turnovers. Northwestern State was outrebounded by nine, but did have 12 offensive rebounds and put up 19 more shots than the Hawkeyes (60 to 41).
2005: Bucknell over Kansas 64-63
Bucknell C Chris McNaughton banked in a jump hook from the lane with 10.5 seconds for the eventual game-winning points. Kansas F Wayne Simien missed a foul-line jumper at the buzzer. The Bison had 17 assists on 22 field goals and committed just nine turnovers. Kansas was 1-of-11 from 3-point range.
1999: Weber State over North Carolina 76-74
Harold "The Show" Arceneaux scored 36 points to lead the upset. Weber State was 14-of-26 from 3-point range, including 7-of-10 in the second half. Weber State was outrebounded, but Arceneaux made sure it didn't matter. He was 14-of-26 from the field, including 5-of-7 from 3-point range. Arceneaux sealed the win with two free throws with 13.3 seconds left as the Tar Heels lost in the first round for the first time in 19 years.
1998: Richmond over South Carolina 62-61
Jarod Stevenson scored 24 points, including two free throws with 1:29 left, as the Gamecocks fell in the first round as heavy favorites for the second year in a row; in 1997, No. 2 South Carolina had been eliminated by No. 15 Coppin State. South Carolina G B.J. McKie was 9-of-14 from the field; the other eight Gamecocks who played were 15-of-38 (39.4 percent).
1997: UT-Chattanooga over Georgia 73-70
Chattanooga jumped out to a 20-2 lead, then held off the Bulldogs down the stretch. G Willie Young scored 24 points for the Mocs, who shot 54.3 percent from the field. It was the last game at Georgia for Tubby Smith, who became Kentucky's coach a little less than two months later. Chattanooga lost in the Sweet 16; it is one of just two No. 14s to make it that far.
1995: Weber State over Michigan State 79-72
Weber State took the lead early in the second half and held on in Michigan State coach Jud Heathcote's last game. Michigan State led by nine at halftime, but the Wildcats dominated in the second half behind G Ruben Nembhard, who finished with 27 points and four steals.
1995: Old Dominion over Villanova 89-81 (3OTs)
Petey Sessoms scored seven of his 35 points in the third overtime as the Monarchs won one of the longest games in tourney history. ODU had three players who played more than 50 minutes, and all five starters played at least 44. Villanova star Kerry Kittles played all 55 minutes. Villanova was 3-of-21 from 3-point range.
1992: East Tennessee State over Arizona 87-80
ETSU was 13-of-25 from 3-point range to oust the Wildcats. ETSU built an 11-point halftime lead and fended off the Wildcats. Arizona outrebounded the Bucs 47-29 but abysmal shooting – the Wildcats shot 36.8 percent from the field – was too much to overcome.
1991: Xavier over Nebraska 89-84
Xavier shot 54 percent from the field and held off the Huskers. The lead changed hands seven times in the final nine minutes, with future NBA F Brian Grant hitting four free throws in the final minute to ice it. The Musketeers put four players in double figures to overcome a 25-point, 12-rebound performance from Nebraska C Rich King.
1991: Penn State over UCLA 74-69
Forwards James Barnes (19 points) and DeRon Hayes (16) dominated in the low post as the Nittany Lions won their first NCAA tournament game in 36 years. Barnes and Hayes were a combined 14-of-25 from the field and helped the Nittany Lions rally from a four-point halftime deficit.
1990: Northern Iowa over Missouri 74-71
Maurice Newby hit a long 3-pointer at the buzzer for UNI, which almost blew a 12-point lead in the final five minutes. UNI shut down Mizzou star G Anthony Peeler, who was 1-of-7 from the field and scored three points.
1989: Siena over Stanford 80-78
Mark Brown finished off a 32-point performance with two free throws with three seconds left for the Saints, who had changed their nickname from "Indians" earlier in the year. Stanford shot 54 percent from the field but committed 19 turnovers.
1988: Murray State over NC State 78-75
Don Mann hit four 3-pointers and scored 16 points as the Racers held off the Wolfpack. Murray State lost in the second round. Murray State fell to eventual national champ Kansas by just three in the second round, with Danny Manning providing some last-minute heroics for the Jayhawks.
1987: Austin Peay over Illinois 68-67
Tony Raye hit the winning free throws with two seconds left for the Governors, who got five 3-pointers and 24 points from starting power forward Daryl Bedford. Earlier in the day, ESPN studio analyst Dick Vitale announced he would stand on his head if the Governors won. They did, and he lived up to his end of the bargain.
1986: Arkansas-Little Rock over Notre Dame 90-83
The Trojans had three players score at least 20 points, led by future NBAer Pete Myers with 29. UALR shot 62.3 percent from the floor, and three Irish players fouled out trying to stop the onslaught.
1986: Cleveland State over Indiana 83-79
The Vikings, making their first NCAA tourney appearance, used a pressing defense and a deep bench to knock Bob Knight out in the first round for the first time in his career. The Vikings shot 58.9 percent from the field. F Clinton Ransey scored a game-high 27 for Cleveland State and was 9-of-15 from the floor. Cleveland State was the first No. 14 seed to advance to the Sweet 16. It remains one of just two 14s to do so.