New Notre Dame coach Marcus Freeman knows what he doesn't know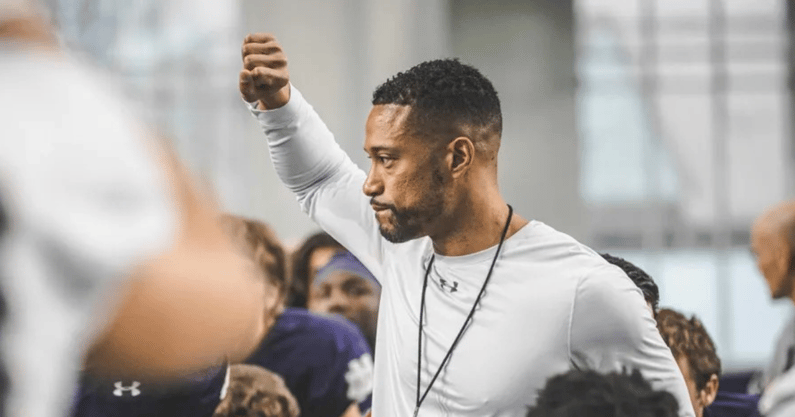 NOTRE DAME, Ind. – Marcus Freeman has been a head coach for five months, and he is beginning to learn what he has given up in achieving his career goal.
"I miss being in the defensive staff room," said Freeman, named coach at Notre Dame in December, "where you can sit with a group of coaches for hours and hours and hours and watch film and be on and be off, be on and be off. Because now, when you have staff meetings, you're always on. You have to be on."
Freeman misses the position room.
"I was still a linebackers coach, as defensive coordinator," Freeman said. "I miss having that group of 10 players that you're with every day. I miss that."
He misses, well, winning.
"I realized it halfway through spring ball," Freeman said. "I was like, 'Man, practices aren't as fun when you're the head coach.' I was wondering why. When you become the head coach, I want the offense to do well. I want the defense to do well. So you can't cheer when one side of the ball does well. You lose that competitive side of practice. That's what makes practice fun, the competitive side of things. You lose that sometimes as head coach. And I miss that."
There are no books to teach you how to be a head coach, much less a head coach at Notre Dame. Even if such a book is published (suggested title: "What to Expect When You're Expected to Please Touchdown Jesus"), Marcus Freeman doesn't have time to read it. He relished giving the football building Monday off; that way, he could come into his office and work uninterrupted.
History suggests that Freeman could use such a book. The list of first-time coaches at Notre Dame since World War II: Terry Brennan, Gerry Faust, Bob Davie, Charlie Weis. Freeman is none of those men, all of whom finished with winning records and slumping shoulders.
Unlike those coaches, Freeman, the Irish defensive coordinator last season, rode into the coaching job on a wave of acclaim. The seven team captains demanded to athletic director Jack Swarbrick that the coach replacing Brian Kelly not change the locker room culture.
" 'This culture is as good as there is in college football. We all have friends in other places. We know it is,' " Swarbrick recalled being told. "That became a critical moment for me."
Toward that end, Swarbrick wanted a coach who would keep strength coach Matt Balis and offensive coordinator Tommy Rees.
Thirty-six hours after Kelly resigned, the morning after Swarbrick interviewed Freeman, he walked into a meeting of his four-person search committee and announced, "We've got other interviews set up. But I can't figure out why I'm not hiring him. You gotta help me. Tell me why I shouldn't."
Ron Powlus, the associate athletic director and former Irish quarterback who had begun the process urging a hard look at Cincinnati coach Luke Fickell, stared at Swarbrick for a few seconds and said, "I can't do it."
Freeman's interview impressed the AD
Freeman has celebrated a birthday since he was promoted to the most storied position in college football. He is 36, born six weeks after Notre Dame hired Lou Holtz, the last Irish coach to win a national championship (1988). Mack Brown had just finished his first season as coach at Tulane. Freeman will coach against Brown at North Carolina on September 24.
Freeman got his first coaching job 11 years ago. Kent State hired him as linebackers coach for $42,000, nearly double the $24,000 he made as an Ohio State graduate assistant the year before.
The dude is young. Swarbrick developed a list of questions to determine whether he thought Freeman could handle the job.
"It was looking for an awareness, which he demonstrated phenomenally well, of what he didn't know," Swarbrick said. "The thing that would have upset that interview was getting bullshit answers that he did know."
For instance, Swarbrick asked him, "We had a program where the offensive and defensive sides of the ball didn't interact at all. You helped produce that. Why? And are you going to keep it?"
"No," Freeman said. "I'm just the opposite. I didn't like it. I want to bring it together."
If you saw the video where the Irish players swarmed Freeman when he got the job, you know there's an emotional warmth to Freeman that Kelly doesn't have.
Here's another sign: When the Fighting Irish play their spring game Saturday, the program will welcome back about 300 former lettermen. Kelly paid them little attention; Freeman wants to engage them.
"I like to think I'm more of a captain than an owner," Freeman said. "Captains push. They set the tempo. They hold people accountable. But they're still a teammate. Owners, to me, look down. They observe. I'm a teammate. I'm going to lead as a teammate, and utilize these ideas, utilize these powerful, powerful intelligent people that are around me."
It's another way of saying that Freeman knows what he doesn't know.
" 'Challenge Everything' is one of our sayings here," Freeman said. "We can always find a better way. Always find a better way. In order to do that, it's going to take input and ideas from other people."
Freeman's door is open – so open that he met with a women's basketball recruit Wednesday. The coffee table in his office really is a candy table. There is a bowl of Starburst, a bowl of Jolly Ranchers, and a bowl of Ghirardelli squares and Lindt truffles. Only the chocolates in blue or gold foil made the cut.
Freeman didn't know the Lindt truffles.
"I never grew up on that," Freeman said. "That must be something that, if you have a little bit more money, you're used to eating."
Freeman, for the record, is a Starburst guy and, yes, he has burst into sudden stardom. He will coach his first regular-season game September 3 at his alma mater, Ohio State, the school where he starred at linebacker, the school where his father Michael is a season-ticket holder.
"We played at Ohio State two years ago when I was at Cincinnati," Freeman said. "My mom sat in the Cincinnati section with my wife and kids. My dad sat in his normal season seats: 'I'm sitting where I always sit, son.' "
When Freeman became Notre Dame coach, his dad offered to give up his seats at the Horseshoe.
"No, I don't need you to give up your season tickets, Dad," Freeman said. "But you understand that first game now, your loyalty's in one place. That's your family."
What will Dad do?
"I'm not even going to bring it up," Freeman said with a smile.