New On3 5-star: No. 5, PG Kylan Boswell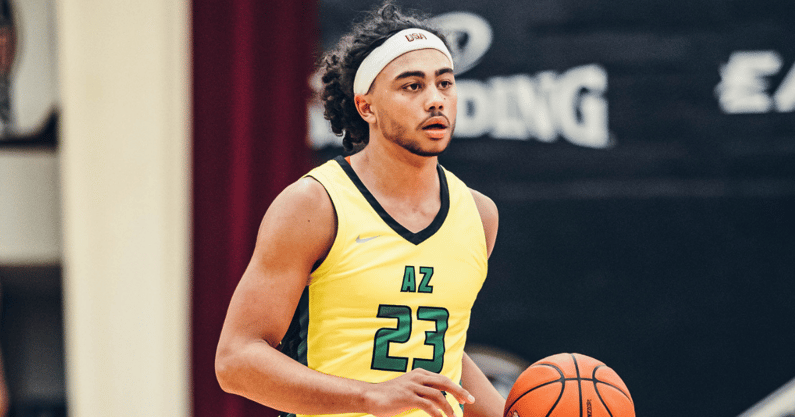 On Monday, On3 released their updated 2023 player rankings. 10 five-stars were included, including four new additions.
One of the new additions of the 'five-star' ranks is Kylan Boswell, coming in at No. 5 overall nationally. The 6-foot-2 point guard out of Chandler (Ariz.) AZ Compass Prep has been the ultimate floor general for his loaded squad this season. He won't 'wow' you with his length or athleticism, but he's a strong, hard-nosed guard that won't back down from a challenge, and will compete with maximum effort on both ends of the floor. Simply put, Boswell is just one of those guys you want on your team.
Furthermore, Boswell rose 11 spots in the updated rankings, previously sitting at 16th nationally. The junior prospect is also now the No. 2 ranked point guard, only behind Dajuan Wagner Jr.
An Arizona pledge as of two weeks ago today, Boswell chose the Wildcats over offers from Illinois (the hometown school), UNLV, Oregon, Texas Tech, Michigan, Kansas, and others. Boswell is also a potential reclass candidate, and rumors have swirled about the possibility of a move to 2022, thus heading to Tuscon a year early.
On3's Jamie Shaw explained how Arizona is the perfect fit for Boswell.
"Arizona's system under Lloyd puts a lot of playmaking responsibilities on the point guard. They have a very free-flowing offense with read and react actions. With his IQ and ball skills, Boswell fits perfectly in this type of system. He is used to playing at a high level, with a lot of talent around him, and sharing the wealth."
Kylan Boswell Scouting Summary

"Kylan Boswell is one of the premier point guards in the 2023 class. You immediately notice the good weight he has put on since the summer. He plays with a great pace, very fast but still controlled. Boswell attacks the pick and roll well and makes excellent decisions out of it. He is an active defender both on the ball and in the passing lanes. While he does not have top of the line explosion, Boswell is able to get done what he needs on the court. Boswell is vocal, like a coach on the floor, and positive with his teammates. His pull-up jumper is a weapon and he is a reliable three-point shooter off the catch or the bounce. Boswell as a floater in the arsenal, as well as some craftiness in the mid-range, as he attacks the paint. His demeanor and presence seems to breed winning." – Jamie Shaw, On3 National Recruiting Analyst