Saquon Barkley addresses his injury, feelings when the cart came out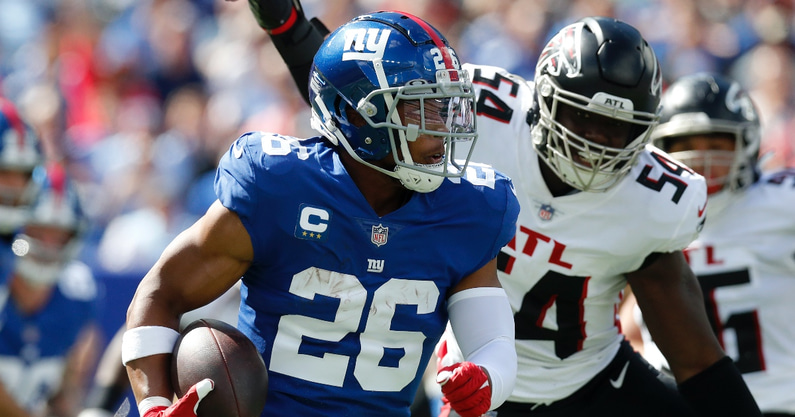 On Sunday, New York Giants running back Saquon Barkley saw a sight he never wanted to see again: the injury cart.
"I didn't want to get on the cart," Barkley said. "Because the last time I was on the cart, I was out for the season"
In the Giants' loss to the Dallas Cowboys, Barkley suffered a sprained ankle and is out two-four weeks. Though still severe, based on the pictures, the injury could have been a lot worse.
"I kind of thought it was just a little roll, it's happened before. I didn't expect it to swell up that fast," he said. "Obviously just frustrated that I knew had to sit out the rest of the game. Feels like I had just started getting my stride back, started feeling good. But everything happens for a reason, little setback, just got to get back to work."
The Penn State product, now in his fourth year in the league, has yet to play a full season since his rookie year. The former No. 2 overall pick missed three weeks in 2019 with an ankle sprain and suffered a season-ending torn ACL in Week 2 of the 2020 season. Barkley is expected to miss the New York Giants Week 6 game against the Los Angeles Rams, his 18th missed game due to injury over the past three seasons.
Prior to the injury, Saquon Barkley was getting into a groove, after a slow start to the season. Barkley helped lead the Giants to their first win of the season in week 4, rushing for 52 yards and one touchdown, to go with 74 receiving yards and two touchdowns receiving. On the season, Barkley has rushed for 195 yards and 130 receiving yards.
As a rookie, Saquon Barkley broke out as one of the best running backs in the league. The only full season he played, Barkley rushed for 1,307 yards and 11 touchdowns, with 721 yards and four touchdowns through the air.
At Penn State, Barkley rushed for 3,843 yards and 43 touchdowns, along with 1,195 yards and eight touchdowns receiving in three seasons. As a junior. Barkley contributed on special teams, returning 15 kickoffs for 426 total yards and two touchdown.
Saquon Barkley wasn't the only injury for New York, the Giants suffered a litany of injuries in Sunday's loss to the Cowboys. After Barkley left, quarterback Daniel Jones and wide receiver Kenny Golladay also left the game with injuries.
Now sitting at 1-4, things don't get any easier for the Giants — the Los Angeles Rams come to town in Week 6.