New York Giants select LSU cornerback Cordale Flott in 2022 NFL Draft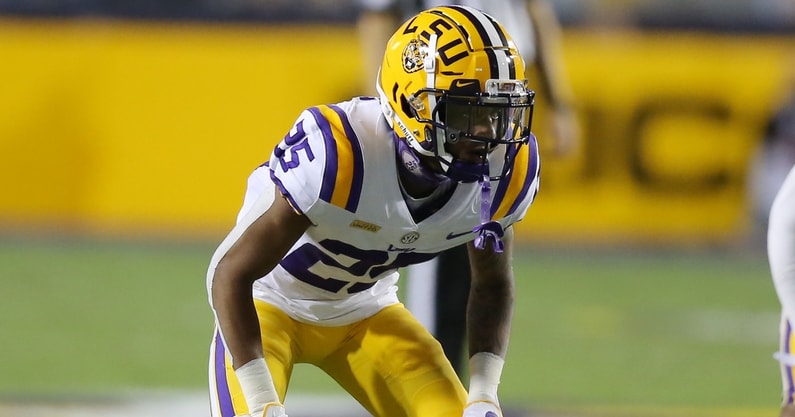 Derek Stingley Jr. got most of the attention in 2021, but Cordale Flott still turned in a solid season. He's now joining Stingley in the NFL.
The New York Giants selected Flott in the third round of the 2022 NFL Draft. He started alongside Stingley all year for the Tigers and made quite an impact for them the last two seasons.
In his last two seasons at LSU, Flott totaled 83 tackles, 5.5 tackles for loss and an interception across 21 games during that time. His best year in Baton Rouge came in 2020 when he had 40 tackles and 4.5 tackles for loss and, although the numbers dipped in 2021, he still proved to be an impact cornerback.
Out of high school, Flott was a three-star recruit and the No. 26 prospect in the state of Alabama from the Class of 2019, according to the On3 Consensus, a complete and equally weighted industry-generated average that utilizes all four major recruiting media companies.
What NFL Draft analysts are saying about Cordale Flott
NFL.com's Lance Zierlein offered his assessment of Flott's talents ahead of the draft, saying the biggest thing for his development is to bulk up a bit. However, the talent he goes against might hurt his potential in the league, Zierlein argued.
"Developmental cornerback with good speed and excellent length; he also needs to start hitting stacks of weights and pancakes," Zierlein wrote. "Getting Flott to fill out and grow into his frame should be the top priority for teams taking a chance on him. He plays the game fast and hard, but he hasn't been able to find a functional level of control and recognition in his coverage.
"He has inside/outside experience, but the length and speed make him a likely perimeter cornerback once he gets fully acclimated outside. The athletic upside is great, but it will be asking a lot of Flott to take on big targets, which could limit his overall ceiling."