Report: New York Giants optimistic that Kayvon Thibodeaux 'avoided a major injury'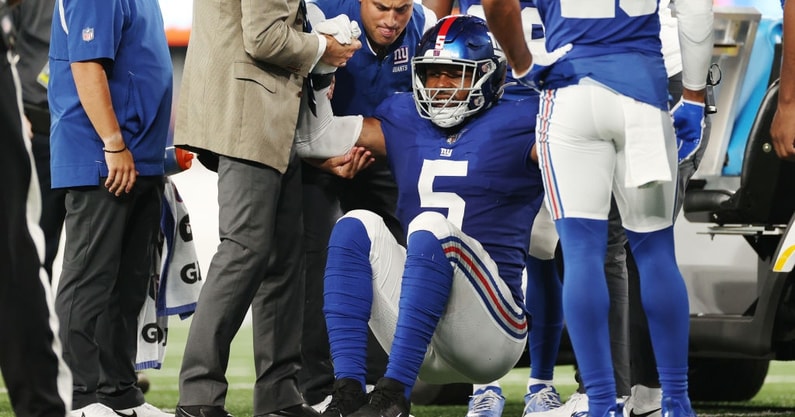 Shortly after entering the locker room for further evaluation, the Giants believe Kayvon Thibodeaux appears to have avoided a major injury. The injury occurred when the fifth-overall draft pick out of Oregon was cut block at the right knee by Cincinnati Bengals tight end Thaddeus Moss.
Thibodeaux immediately went to the ground on the field and was in significant pain, prompting the medical team to bring out the injury cart to help him off the field. Thibodeaux declined to be carted off the field and walked to the sideline under his own power. The Giants quickly ruled him out for the remainder of the preseason game, and took him into the locker room for further examination.
Kayvon Thibodeaux's injury may not be major
"While the Giants quickly ruled out first-round pick Kayvon Thibodeaux after taking a shot to the knee, my understanding is there's initial optimism he avoided a major injury," explained NFL Network's Tom Pelissero after the injury.
Although nobody wants to see any injuries to a player in preseason, Thibodeaux's high promise and prominence as a rookie this year makes for a huge potential loss for New York.
The Giants selected Thibodeaux No. 5 overall in the 2022 NFL Draft and have high expectations for him this upcoming season and going forward. An Oregon product, Thibodeaux emerged as one of the most explosive edge rushers in college football over the past three season. As a freshman in 2019, he burst onto the scene with 35 tackles, 14 tackles for loss and nine sacks. In 2020, he had 42 tackles with 9.5 tackles for loss and three sacks. This past season, Thibodeaux had 49 tackles, 12 tackles for loss and seven sacks, also forcing two fumbles.
Micah Parsons reacts to cut block injury
After watching Thibodeaux go down with his injury on Sunday, Thibodeaux found an unlikely ally in a divisional rival. Dallas Cowboys rising star linebacker Micah Parsons took to Twitter, asking for change in the NFL. Parsons said he's tired of seeing cutting allowed from offensive players in general. Parsons just wants to "play ball" and see these defensive injuries go away.
"I don't why cutting is still allowed in the NFL!! We grown ass fucking men! Let's play ball bro! I hate to see that shit man!"