NFL comparisons for 2023 On3 five-star prospects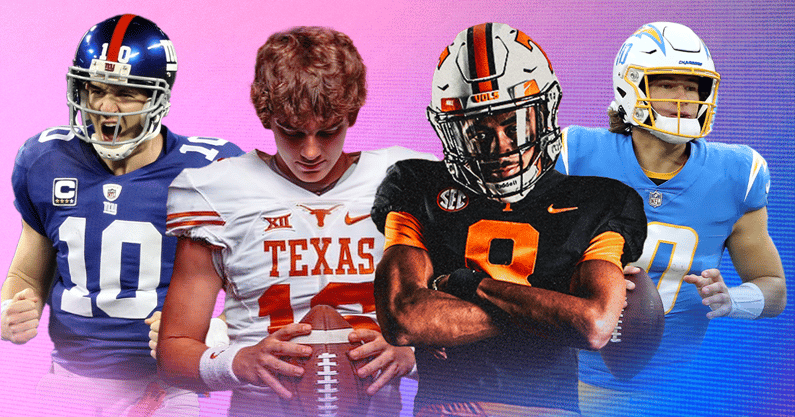 With the 2023 recruiting cycle coming to an end, several of the nation's top prospects have either enrolled in college, with signed with their school or are nearing their decision on where they'll head off to school.
As they begin to make that transition from high school senior to college freshman, now would be a good time to form some player comparisons when it comes to the best of the best in this year's group.
Here's a look at the NFL comparisons for On3's 2023 five-star prospects.
No. 1 Nico Iamaleava, Tennessee
Comparison: Justin Herbert (Oregon/Las Angeles Chargers)
The Reasoning: Like Justin Herbert, Nico Iamaleava is a taller, big-armed quarterback with some of the better natural physical tools we've seen from a quarterback in the last few recruiting cycles. Both check in at over 6-foot-5 and have big arms with the ability to drive the football to all levels of the field. They're also gifted athletically, with the reactive quickness to make plays with their mobility.
2. Keon Keeley, Alabama
Comparison: Chase Young (Ohio State/Washington Commanders)
The Reasoning: Keon Keeley has similar size, length and the disruptive pass rush ability we saw from Chase Young as a recruit. Keon Keeley has measured 6-foot-5.5, 245 pounds while Young was around 6-foot-5, 250 pounds as a senior in high school. Both have arm lengths around 34 inches. Like Chase Young, Keeley is a big, explosive pass rusher with the ability to win off the edge with speed, bend or power.
3. Arch Manning, Texas
Comparison: Eli Manning (Ole Miss/New York Giants)
The Reasoning: Arch Manning reminds of his younger uncle, particularly as a passer. The quick releases and arm talent appears to be similar at the same stage. The developmental arcs are similar as well, as both played football and basketball at Isidore Newman. Eli is a bit taller than Arch at the moment, while Arch is more physically developed and mobile at the same stage.
4. Adepoju Adebawore, Oklahoma
Comparison: Jayson Oweh (Penn State/Baltimore Ravens)
The Reasoning: Adepoju Adebawore is one of the most physically-gifted defenders in the 2023 cycle, at 6-foot-4, 225+ pounds with a wing-span over 7-feet. Adebawore is a phenomenal athlete with those dimensions, drawing a comparison to former Penn State star and current Baltimore Raven, Odafe Oweh – one of the more unique jumbo athletes to come through the NFL Draft in recent years.
5. Zachariah Branch, USC
Comparison: Jaylen Waddle (Alabama/Miami Dolphins)
The Reasoning: The comparison between Zachariah Branch and Jaylen Waddle is uncanny and one that is shared among college coaches. Branch's ability to change direction and quickly gear down, cut and burst in rapid succession remind us of Waddle. They're both dangerous deep threats who have the ability to come down acrobatic catches despite being around 5-foot-10, 175 pounds. Waddle posted strong track times, but Branch has the edge in that regard, running a 10.33 second 100-meter dash and posting a long jump over 24 feet as a sophomore.
6. Jackson Arnold, Oklahoma
Comparison: Baker Mayfield (Oklahoma/Cleveland Browns/Los Angeles Rams)
The Reasoning: Jackson Arnold's live arm, quick release and on-field toughness remind us of Baker Mayfield. Like Mayfield, Arnold plays with a strong base and generates good zip on his passes. Arnold is a more touted high school prospect and has a quicker release at the same stage, while Mayfield made more improvisational plays at the prep level.
7. Monroe Freeling, Georgia
Comparison: Nate Solder (Colorado/New England Patriots/New York Giants)
The Reasoning: Like Nate Solder, Monroe Freeling is a tall, big-framed and flexible athlete who has considerable physical upside at offensive tackle.
8. Caleb Downs, Alabama
Comparison: Eric Berry (Tennessee/Kansas City Chiefs)
The Reasoning: It's a lofty comparison, but Caleb Downs reminds us of Eric Berry – one of the best safety prospects of the internet recruiting era. Downs is an instinctive, very well-rounded safety prospect who makes plays all over the field, lining up on both sides of the ball. He has smooth cover skills, innate instincts and is a physical, fundamentally sound tackler in space. Berry was a dynamic quarterback at the high school level and had more verified athleticism with top track times at the same stage. The sizes are similar at around 5-foot-11.5, 195 pounds. Berry was longer with outstanding length (33.25-inch arms). Similar to Berry, Downs is a safe prospect with an extremely high floor to go with the considerable ceiling.
9. Jven Williams, Penn State
Comparison: Ikem Ekwonu (NC State/Carolina Panthers)
The Reasoning: Like Ikem Ekwonu, Jven Williams is a high upside offensive lineman with length and strong athletic markers who excel as run blockers. Both have the length and athleticism to play either offensive tackle or guard. The size as recruits is nearly identical at around 6-foot-4, 290 pounds. Both have dominant qualities as run blockers, particularly at the second level. Ekwonu was a touted wrestler and track athlete, while Williams is a multi-time state champion in the shot put and discus as one of the top throwers on the East Coast.
10 James Smith, Alabama
Comparison: Marcell Dareus (Alabama/Buffalo Bills/Jacksonville Jaguars)
The Reasoning: James Smith's quick first step, length and strong punch remind us of fellow Alabama native, Marcell Dareus. Like Dareus, Smith is a highly disruptive defensive lineman at the prep level. Smith is a bit heavier than Dareus at the same stage, but Dareus added considerable mass in college and the NFL.
11. Zalance Heard, LSU
Comparison: D.J. Fluker (Alabama/San Diego Chargers/New York Giants/Seattle Seahawks/Baltimore Ravens/Miami Dolphins/Las Vegas Raiders/Jacksonville Jaguars)
The Reasoning: We see several similarities between Zalance Heard and D.J. Fluker as high school prospects. Both have supreme length with arms that measure in the 36-inch range. They also both began their careers as defensive linemen before taking up offense tackle as upperclassmen. There are similarities on the field, as well. Like Fluker, Heard is a strong run blocker who plays with a physical edge. Heard is about an inch taller than Fluker and weighs less at the same stage, though we wouldn't be surprised to see their ultimate playing weight be the same – in the 330 pound range.
12. Dashawn Womack, LSU
Comparison: David Ojabo (Michigan/Baltimore Ravens)
The Reasoning: Da'Shawn Womack's size, verified athleticism and natural feel as a pass rusher reminds us of David Ojabo. Womack is more developed as the same stage, as Ojabo began playing football later in his high school career.
13. Jordan Hall, Georgia
Comparison: Nick Fairley (Auburn/Detroit Lions/St. Louis Rams/New Orleans Saints)
The Reasoning: Jordan Hall's first step quickness and jump off the snap are among the best in the 2023 cycle. His ability to disrupt along with the size and physical dimensions remind us of Nick Fairley.
14. Jermaine Mathews, Ohio State
Comparison: Tre'Davious White (LSU/Buffalo Bills)
The Reasoning: Jermaine Mathews' dimensions, controlled footwork and coverage ability remind us of Tre'Davious White. Mathews may be a bit more polished than White at the same stage, as White played quarterback in high school.
15. Peyton Bowen, Oklahoma
Comparison: Caden Sterns (Texas/Denver Broncos)
The Reasoning: Peyton Bowen's size, length, athleticism and playmaking ability at a high level of Texas High School Football remind us of former five-star Caden Sterns.
16. David Hicks, Texas A&M
Comparison: Marlon Davidson (Auburn/Atlanta Falcons)
The Reasoning: David Hicks is a powerful, versatile defensive linemen with similar size, quick hands and play strength to Marlon Davidson. It remains to be seen if Hicks ultimately slides inside or plays as a big end, but we see him likely topping out at north of 300 pounds like Davidson.
17. Yhonzae Pierre, Alabama
Comparison: Josh Allen (Kentucky/Jacksonville Jaguars)
The Reasoning: Yhonzae Pierre is a high-energy, disruptive pass rusher who has some similarities to Josh Allen. Pierre is a more touted prospect than Allen at the same stage, but we see similarities in the physical dimensions, on-field twitch and play strength. Allen was a more prolific pass rusher and was a basketball standout.
18. Raylen Wilson, Georgia
Comparison: Roquan Smith (Georgia/Chicago Bears/Baltimore Ravens)
The Reasoning: Raylen Wilson may be the most explosive linebacker in space within the 2023 recruiting cycle. Wilson's sideline-to-sideline speed and range reminds us of Roquan Smith.
19. Francis Mauigoa, Miami
Comparison: Penei Sewell (Oregon/Detroit Lions)
The Reasoning: Francis Mauigoa's nimble athleticism and physical play style reminds us of Penei Sewell. Both are strong functional movers despite their weights at over 320 pounds. They excel as run blockers while also having the feet and coordination to succeed in pass protection as offensive tackles. Mauigoa tests as a better athlete than Sewell at the same stage.
20. Dante Moore, UCLA
Comparison: Tua Tagovailoa (Alabama/Miami Dolphins)
The Reasoning: Dante Moore's quick release, accuracy feel as a passer and build reminds us of Tua Tagovailoa. Moore is around an inch taller than Tagovailoa and a more efficient high school passer at the same stage. Tagovailoa was more of a run threat and showed more mobility as a high school prospect.
21. Suntarine Perkins, Ole Miss
Comparison: Darius Leonard (South Carolina State/Indianapolis Colts)
The Reasoning: Suntarine Perkins reminds us of Darius Leonard due to his extreme length, lean build, physicality and tackling ability and do-it-all role as a high school player. Perkins is a more touted prospect than Leonard out of high school and reminds us a bit of C.J. Mosley as well.
22. Damon Wilson, Georgia
Comparison: Robert Quinn (North Carolina/Los Angeles Rams/Miami Dolphins/Dallas Cowboys/Chicago Bears/Philadelphia Eagles)
The Reasoning: Damon Wilson reminds us of Robert Quinn due to his first-step quickness, play strength, length and ability to bend the corner at the edge. Both excel as pure edge rushers and use their athleticism and curvilinear movement skills to beat offensive tackles in pass rush situations. Quinn was a state champion wrestler. Wilson is exceptionally strong in the weight room.
23. Duce Robinson, Uncommitted
Comparison: Jimmy Graham (Miami/New Orleans Saints/Seattle Seahawks/Green Bay Packers/Chicago Bears)
The Reasoning: Duce Robinson has wide receiver athleticism and movement skills in a tight end's body. His play style and physical traits remind us of Jimmy Graham. Both were also stars in other sports, with Graham going to play college basketball at Miami, while Robinson is a MLB Draft prospect. Robinson is a top football recruit, while Graham switched to the sport full-time in college.
24. Jurrion Dickey, Oregon
Comparison: A.J. Brown (Ole Miss/Tennessee Titans/Philadelphia Eagles)
The Reasoning: Jurrion Dickey is a productive, physical, athletic receiver with a well-rounded skill set. He's a multi-level threat including after the catch, similar to A.J. Brown. Dickey is a bit taller than Brown at the same stage.
25. Charles Jagusah, Notre Dame
Comparison: Tristan Wirfs (Iowa/Tampa Bay Buccaneers)
The Reasoning: Charles Jagusah's physical dimensions, fluidity and multi-sport background reminds us of Tristan Wirfs. Both also come from similar geographic areas – Jagusah lives on the Illinois and Iowa border in Rock Island, Illinois. Wirfs is from Mount Vernon, Iowa, just 73 minutes west of Rock Island. Jagusah plays on both sides of the ball as an offensive and defensive lineman, as Wirfs did. The coordination, balance and smooth movement patterns are also similar. The frame and length are close, as well. Like Wirfs, Jagusah is a dominant high school wrestler who cuts weight from the 300 pound range to get under the 285 pound limit for heavyweights. The 2023 prospect is one of the top wrestlers in the Midwest, recently finishing a 41-0 season on the mat. Wirfs had one of the best multi-sport profiles we've seen in recent years, winning a combined six state titles in wrestling and track and field.
26. Noah Rogers, Ohio State
Comparison: Torrey Smith (Maryland/Baltimore Ravens/San Francisco 49ers/Philadelphia Eagles/Carolina Panthers)
The Reasoning: Noah Rogers' big play ability and deep play speed remind us of former first-rounder Torrey Smith. Rogers is a bit taller than Smith, while Smith is longer.
27. Kadyn Proctor, Alabama
Comparison: Jackson Carman (Clemson/Cincinnati Bengals)
The Reasoning: Kadyn Proctor is a physically-developed strong, dominant blocker at the point of attack with similar size and on-field strength as Jackson Carman at the same stage. Both excelled as run blockers at the prep level. Proctor may be a better athlete at than Carman at the same stage.
28. Cedric Baxter Jr., Texas
Comparison: Larry Johnson (Penn State/Kansas City Chiefs/Cincinnati Bengals/Washington Commanders/Miami Dolphins)
The Reasoning: Cedric Baxter is a taller running back at 6-foot-1 who has plus receiving skills and a pronounced stride in the open field that reminds us of former Penn State star Larry Johnson.
29. Daevin Hobbs, Tennessee
Comparison: Fletcher Cox (Mississippi State/Philadelphia Eagles)
The Reasoning: Like Fletcher Cox, Daevin Hobbs is a top athlete who projects as a high upside interior pass rusher. Both had similar frames and length at the same stage along with registering high-end speed in combine settings. They also both were dominant high school players at smaller programs. Hobbs is a two-way star as a defensive end and tight end. He also doubles as a basketball standout, while Cox ran track at his high school.
30. Malachi Nelson, USC
Comparison: Marcus Mariota (Oregon/Tennessee Titans/Las Vegas Raiders/Atlanta Falcons)
The Reasoning: Mariota was not as highly-touted as Malachi Nelson coming out of high school, but we see similarities in the body type, physical skill set and play style. For starters, Nelson's build at 6-foot-3, 175 pounds is not too far off from Mariota's (6-foot-3.5, 185) at the same stage. Both are accurate passers who are adept at running up-tempo offenses and excel in playing quarterback with a point guard mentality. Mariota was more of a run threat, while Nelson is a bit more polished as a passer at the same stage.
31. Nyckoles Harbor, Uncommitted
Comparison: Darren Waller (Georgia Tech/Las Vegas Raiders)
The Reasoning: Nyckoles Harbor is the rarest jumbo athlete we've seen as a recruit. He's one of the nation's top sprinters at around 6-foot-5, 225 pounds. Harbor could play as a pass rusher or big pass catcher at the college level. There are not many great comparisons given his physical dimensions and lack of polish as a pass catcher, but we've landed on former college wide receiver and NFL tight end Darren Waller, who ran 4.46 at the NFL Combine at 6-foot-6, 238 pounds.
32. Eugene Wilson III, Florida
Comparison: Chris Olave (Ohio State/New Orleans Saints)
The Reasoning: Eugene Wilson III's coordination, elite change of direction and ball tracking ability remind us of Chris Olave. Wilson is around an inch shorter than Olave and is a two-way standout as a receiver and corner. Olave had strong track times and saw his recruitment take off after a huge senior season.