Will Levis projected as No. 1 overall pick in 2023 NFL Draft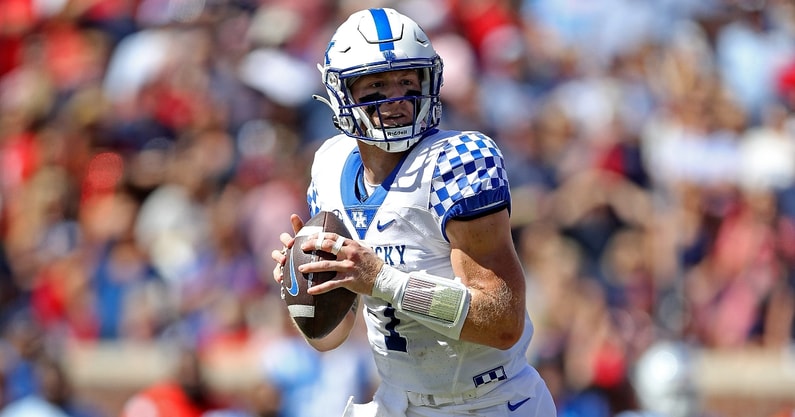 Quarterbacks Bryce Young and CJ Stroud have been regarded as the top two quarterback prospects for the 2023 NFL Draft for quite some time now. But ESPN Senior Draft Analyst Mel Kiper Jr. made the case for Kentucky quarterback Will Levis Thursday morning on the KJM show.
"Levis is the guy in an NFL offense at Kentucky, has had some rough moments with the turnovers, I get that. But he's at Kentucky, the offensive line hasn't helped him that much, he has to work hard for what he does there, and that's in the NFL, it doesn't come easy," Kiper said.
Levis started his collegiate career at Penn State, but transferred to Kentucky his junior year and elevated his game and the Wildcats to another level, becoming a captain in his first season and leading them to one of their four ten win seasons in school history.
CLICK HERE to subscribe for FREE to the On3 YouTube channel
His impact was immediate, accounting for 3,202 yards of total offense and 32 touchdowns for the Wildcats as the heart and soul of their offense last season, and the system he runs and the weight on his shoulders makes Kiper believe that he has the potential to even be the No. 1 overall pick in the 2023 NFL draft.
"It comes easy for pitch and catch quarterbacks, it doesn't come easy at Kentucky and that's gonna help Will Levis transition quick into the NFL," Kiper explained. "So he's the kind of guy, I would say if I had to bet one, who's going to be the number one pick in the 2023 NFL Draft right now guys, I would bet on Will Levis from Kentucky."
Kiper's take may not be the most popular regarding the upcoming draft, but there's still plenty of time left in the season for all of this year's quarterback prospects to improve or worsen their current draft stock, as well as the time that'll be taken after the college football season for deeper evaluation and analysis.
Despite opinions of how Levis stacks up against other quarterback prospects, his intangibles are undeniable, as he's clearly a beloved teammate and leader of the Wildcats team. His interesting eating habits hopefully won't have a negative impact on his draft stock, but it will definitely be worth watching how his performance the rest of the season transitions into his offseason buzz heading into next year's draft.