NFL Free Agency: Cleveland Browns release DE Jadeveon Clowney, S John Johnson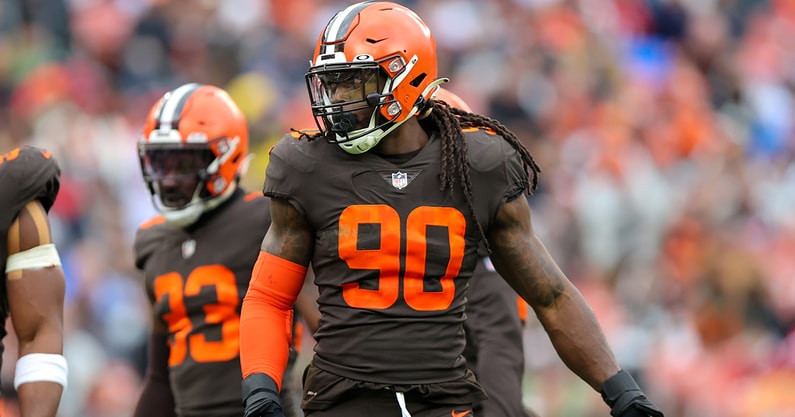 The Cleveland Browns have released defensive end Jadeveon Clowney and safety John Johnson, NFL Network's Tom Pelissero reported. Both decisions come with a post-June 1 designation for salary cap purposes.
Clowney, the No. 1 overall pick in the 2014 NFL Draft, just wrapped up his second season with the Browns after stints with the Seattle Seahawks and Tennessee Titans. His production dipped a bit in 2022 as he totaled 28 tackles and 2.0 sacks just one year after totaling 37 tackles, 9.0 sacks and 19 quarterback hits.
Clowney started his career with the Houston Texans and spent the first four years of his career there after they drafted him out of South Carolina. Houston traded him to the Seahawks in 2019 after he had 29.0 sacks during his time with the team.
Johnson just wrapped up his sixth year in the NFL and his second with Cleveland. In 2022, he had 101 total tackles in 17 starts at safety. He also played for the Los Angeles Rams from 2017-20 after they selected him in the third round of the 2017 NFL Draft out of Boston College.
Jadeveon Clowney previously said he was '95% sure' he wouldn't re-sign with the Browns
Clowney made waves in 2023 when he made critical comments about teammate Myles Garrett, accusing the Browns of "trying to get [Garrett] into the Hall of Fame instead of winning games" during an interview with Cleveland.com. He also said he was "95% sure" he wouldn't re-sign with Cleveland and later apologized.
"As a son and a parent, I want to fully apologize to anyone offended, specifically Myles Garrett and his family," Clowney said in a statement to ESPN's Adam Schefter, via ESPN's Jake Trotter. "As a man, I have reached out to Myles specifically to apologize. I will continue to learn and grow as I move forward."