NFL Free agency: Jerry Tillery signs with Las Vegas Raiders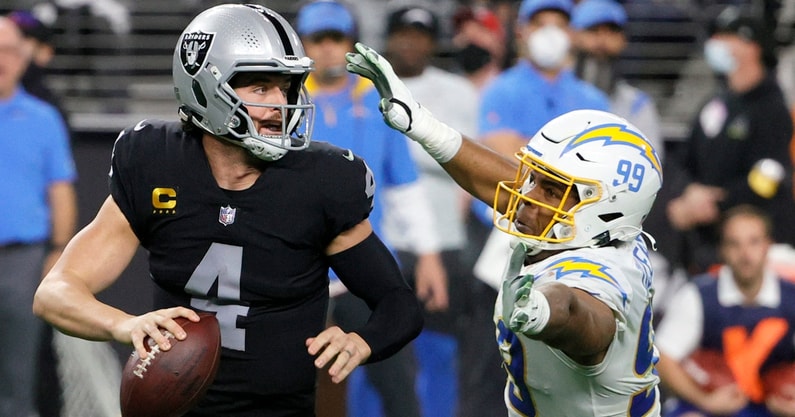 Defensive lineman Jerry Tillery has made a decision on his next NFL stop. According to Jordan Schultz, Tillery has decided to remain with the Las Vegas Raiders. Contract details were not reported.
Tillery did not start his career in Las Vegas. He was originally a first round pick of the Los Angeles Chargers, taken with the No. 28 overall pick in the 2019 NFL Draft. Tillery spent four years in South Bend, IN, and was a contributor from day one. The Shreveport, LA, native's time with the Fighting Irish saw him record 134 total tackles, 71 solo, 24 tackles for a loss, 13.5 sacks, and four forced fumbles when it was all said and done.
In the NFL, Tillery spent his first three years and a half years with the Chargers before they waived him on Nov 10, 2022. The Raiders quickly claimed the former rival defensive lineman off waivers. For his pro career, the interior d-lineman has played in 62 games while starting in 33 of them. Tillery has recorded a total of 116 tackles, 65 solo, 12 tackles for a loss, 10.5 sacks, three forced fumbles, and one fumble recovered.
More on the 2023 NFL offseason, free agency
The NFL 2023 calendar year is set to begin at 4 p.m. ET on March 15 when contracts running through 2022 will officially run out, making those players free agents. Prior to the beginning of free agency, teams will have a chance to designate one franchise or transition tag player, starting on February 21 at 4 p.m. ET and ending on March 7. Beginning March 13 through March 15 teams will be allowed a legal negotiation with players who are set to become unrestricted free agents.
In addition to NFL free agency, the new year also marks the beginning of all trades being made official by the league office. April 21 marks the deadline to sign restricted free agents to offer sheets while April 26 marks the deadline for teams to match restricted free agent offers sheets. 722 players are slated to become free agents in 2023.
More on restricted, exclusive rights free agents
Players with only three years of accredited NFL experience become restricted free agents. Their original team will have the option to apply first-round, second-round, original-round, and right-of-fight-of-first-refusal tenders on players at escalating price tags. The higher the round, the more expensive the tender amount; however, if a separate team does offer a contract and the original team does not match that round pick will be conveyed from the new team to the original team. Right of first refusal only gives a team the option to match or not. If they don't match, they get nothing in return. An original-round tender would send a draft pick from whatever round the player was drafted back to the original team if they chose not to match. The original team will have five days to match once a player signs an offer sheet from a new team.