NFL insider reveals Dolphins, Rams in trade talks for All-Pro CB Jalen Ramsey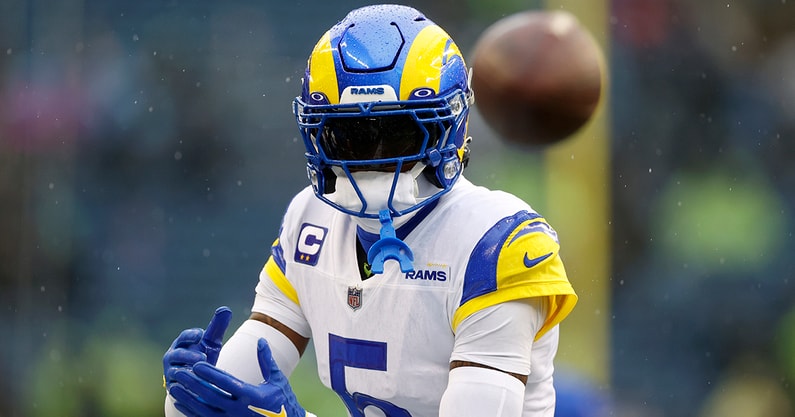 The Los Angeles Rams appear to have found a trade partner for Jalen Ramsey. They're in talks to send the All-Pro cornerback to the Miami Dolphins, NFL Network's Ian Rapoport reported Sunday.
Ramsey has been the subject of trade talks throughout the offseason, as NFL Network's Tom Pelissero reported in February. The six-time Pro Bowler just wrapped up his fourth season in Los Angeles after starting his career with the Jacksonville Jaguars.
Moments after Rapoport tweeted his report of the Rams' talks with the Dolphins, Ramsey tweeted a video expressing his excitement — apparently alluding to the news.
CLICK HERE to WIN March Madness Prizes in On3's Bracket Challenge
Ramsey is coming off his sixth consecutive Pro Bowl appearance in 2022 after a career year for the Rams. He totaled a career-high 88 tackles to go with two sacks, two forced fumbles and a fumble recovery.
Dolphins complete trade for Jalen Ramsey, compensation revealed
Shortly after Rapoport's report, the Dolphins and Rams have completed trade, according to multiple reports.
The Dolphins are sending the a third-round pick in this year's NFL Draft — which is the No. 77 overall selection — and tight end Hunter Long to the Rams in exchange for Ramsey, ESPN's Adam Schefter reported. With the trade, Miami is now bolstering its defense in a big way by adding the six-time Pro Bowler.
The trade will be officially processed when the new league year begins on Wednesday, Schefter said.
Before he became an All-Pro cornerback in the NFL, Ramsey starred at Florida State, where he was a two-time first team All-ACC selection and a consensus All-American in 2015. The Jacksonville Jaguars selected him with the No. 5 overall pick in the 2016 NFL Draft and he spent the first three years of his career there. In 2019, Jacksonville traded him to the Rams for two first-round picks — one in 2020, another in 2021 — and a 2021 fourth-round selection.