NFL Network names league's top-10 deep threats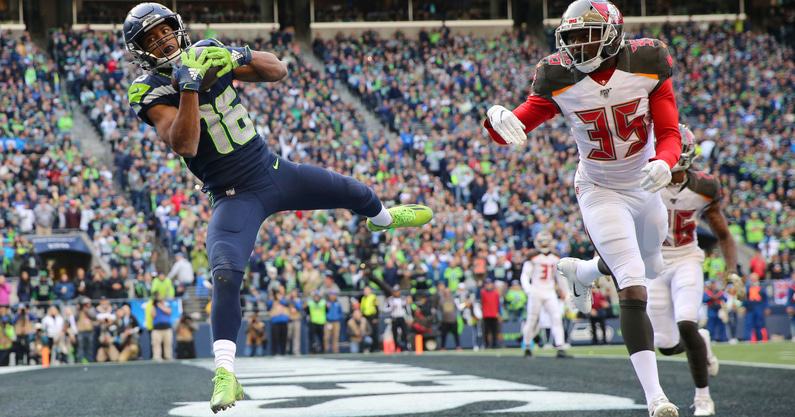 NFL Network's Nick Shook on Thursday named the NFL's top-10 deep ball threats, a list of ten wideouts that have been effective down the field in 2021.
Shook's list does not simply include the best or biggest name wide receivers; rather, he lists the ten most impactful wide receivers in the league when throwing deep balls. The list is full of NFL veteran wideouts with one rookie in Ja'Marr Chase.
1. Tyler Lockett
Tyler Lockett avoided a near disastrous situation last weekend when he was tackled awkwardly and appeared to have trouble getting up. The injury was later deemed mild, so the NFL's No. 1 deep ball threat will remain an option for Russell Wilson and the Seahawks. Wilson and Lockett have connected for seven long balls this year, good for 206 yards and three touchdowns.
2. Ja'Marr Chase
Joe Burrow seems thrilled to have his former LSU wide receiver, Ja'Marr Chase, reunited with him in Cincinnati. The rookie wide receiver has torn apart NFL defenses in his first few games, and he's already caught 11 passes for 220 receiving yards and four touchdowns. In total, he has three catches on deep passes for 126 receiving yards, and all three catches went for touchdowns.
3. Brandin Cooks
2021 marks the second consecutive year that Brandin Cooks landed on Shook's list of top NFL deep ball threats, and he stays on the list even without star quarterback Deshaun Watson in the picture. Cook's speed is the main reason why he's been able to haul in four of seven deep ball targets for 146 yards, regardless of whether Tyrod Taylor or Davis Mills are under center.
4. Quez Watkins
Quez Watkins, like Brandin Cooks, lands on the list of the NFL's top deep ball targets because of the speed he's brought to the Eagles offense. Watkins became the only receiver averaging 50-plus yards per target (66) on deep passes among players with more than one such target this season. He's caught both his deep ball targets for 132 yards so far this season.
5. Tyreek Hill
Tyreek Hill has been among the NFL's top deep ball threats since his emergence in 2016. The Chiefs wideout has reached 20-plus miles per hour on four touches this season, twice as many as the next-closest pass catcher — good for three deep catches, 125 yards and an emphatic deep-ball touchdown in the Chiefs' Week 1 over the Cleveland Browns.
6. Cooper Kupp
Cooper Kupp has been rock solid since the third-round selection out of Eastern Washington entered the NFL, and this season as been no different. Kupp has tallied 122 receiving yards on three deep receptions, and he currently leads the NFL in receiving yards with 367 and receiving touchdowns with five.
7. Henry Ruggs III
Henry Ruggs III was the Raiders' first-round pick in the 2020 NFL Draft, but he didn't contribute all that much his rookie year. This season, with the Raiders looking like a much better team than in years past, Ruggs has netted three deep-ball receptions for 121 yards.
8. Davante Adams
Aaron Rodgers and Davante Adams recovered from a shaky Week 1 and have looked like the top-tier NFL duo of years past, connecting for three of six deep targets. Adams has taken those targets for 106 yards, a tier below his production from last season but still a rock solid option for the Packers.
9. D.J. Moore
All it took for Moore and the Panthers was a new quarterback, as Sam Darnold has made a former NFL bottom-dweller into an exciting Panthers team. Moore has only three catches for 82 yards on deep targets, but his catch rate over expectation on deep balls is +39.8 percent, which leads the league among receivers with three-plus deep receptions.
10. Bryan Edwards
It's easy to see why Derek Carr and the Las Vegas Raiders' offense has improved, as Carr has two NFL top-10 deep ball targets in Bryan Edwards and Ruggs. Edwards has both elite size and speed, which has allowed him to catch two of four deep-ball targets for 77 yards.