NIBC Day One Top Performers: Judah Mintz, Jarace Walker, JJ Starling, and more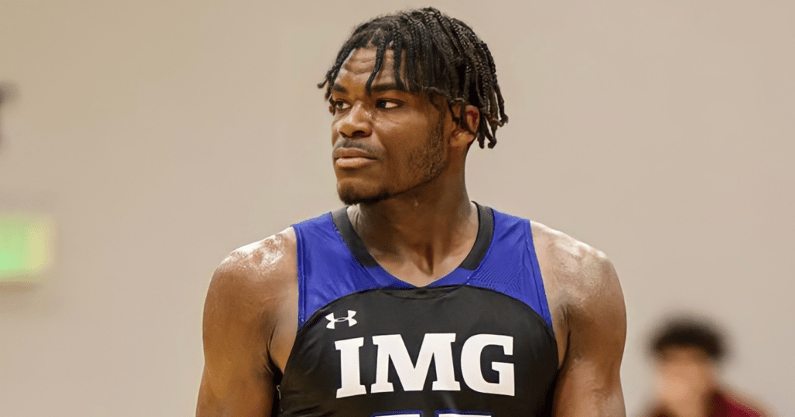 The NIBC tipped off Thursday afternoon in frigid La Porte, Indiana where the temperate didn't exceed 15 degrees all day. Thankfully, Judah Mintz, JJ Starling, Gradey Dick, and others were able to keep the gym warm, catching fire offensively.
Oak Hill dominates Wasatch
Oak Hill Academy (VA) and Wasatch Academy (UT) started off our day in La Porte. It was a close one during the first quarter, but Oak Hill started to pull away in the second, thanks to Judah Mintz's 16 first-half points. Wasatch's Chris Bunch did everything he could to keep his squad in this one and the Syracuse commit entered halftime with 13 points.
Kentucky bound wing Chris Livingston continues to improve his three-point shot, and has also been shooting it with more confidence. I also liked his aggressiveness on the defensive end. It also looked like he's tightened up his handle and bit more comfortable with the ball in his hands. Livingston finished with 15 points on 50% from both the field and three.
Devin Ree literally did not miss a single shot. The LSU signee had himself a very solid game, finishing with 14 points on 100% shooting. He was a 4-of-4 from the field, 4-of-4 from three, and 2-of-2 from the free-throw line. He also grabbed a team-high nine rebounds and dished out four assists. Will Wade was surely pleased if he watched this game.
Caleb Foster caught fire in the second half, scoring the ball in a variety of ways. The future Duke Blue Devil finished with 17 points on an impressive 64% from the field.
Judah Mintz, the mid-range king, dropped a team-high 25 points. He is the definition of a bucket-getter. If I need a basket, I'm giving the ball to Mintz. The former Pitt commit recently reopened his recruitment and Florida, Xavier, Tennessee, and others are extremely interested in his services.
FINAL – Oak Hill Academy: 91, Wasatch Academy: 49
La Lumiere takes down Legacy Early College
La Lumiere (IN) did not disappoint in front of their home crowd, jumping on Legacy Early College (SC) early and finished the first quarter with a 19 to 4 lead. Much of the same continued throughout the entirety of the game, and frankly, there was never much doubt that this was LaLu's game for the taking.
JJ Starling lead the way for La Lumiere and was absolutely deadly from beyond the arc during the first half. Much of his overall success continued throughout the game and he was able to score a variety of ways. He's a complete guard with a full arsenal of tools at his disposal. Starling loves the catch-and-shoot three, but he can also get to the rim, stop short and lay up the floater, or stop on a dime and pull up from mid-range. The Notre Dame signee showed he can do it all offensively and finished with a team-high 20 points.
Next up for LaLu, Chisom Okpara played terrifically. The Havard signee is a student of the game and it came so naturally to him. He played with tremendous amounts of effort and showed off his playmaking ability, leading his team with five assists. Okpara stands at 6-foot-7 and weighs about 220 pounds. With a football player's body, he was incredible as a slasher. With his strong, physical body, he was able to overpower defenders and got the rim with ease. He's listed as a power forward but doesn't play like one. He can bring the ball down the floor, handles it well for his size, and can guard the perimeter. Okpara finished with a double-double, scoring 14 points and grabbing 11 rebounds. Tommy Amaker is going to love this kid.
FINAL – La Lumiere: 74, Legacy Early College: 46
Sunrise Christian defeats Montverde Academy
Sunrise Christian (KS) came ready to play against a very deep Montverde Academy (FL) team. Florida State commit Cameron Corhen ended the first quarter with nine points on a perfect 3-of-3 from deep. It was the same story into the second quarter for Sunrise, but now it was time for Gradey Dick to shine. The Kansas signee had 17 points, including five three-pointers in the first half. Dick slowed his scoring in the second half but finished with a team-high 20 points.
Sunrise Christian shot an incredible 68% from three in the first two quarters, knocking down 11 of their 16 attempts.
Sunrise kept their foot on the gas pretty much the entirety of the game, and honestly, Montverde didn't really make it much of a fight until the fourth quarter. MVA entered this game with low energy, and Sunrise Christian capitalized on that. They brought the heat defensively and had them rattled for the vast majority of the matchup. You can thank Dillon Mitchell for keeping the score somewhat honest for Montverde. He played well all night long, unlike the rest of his teammates. The Texas-bound wing finished with a team-high 29 points and an impressive 13-of-14 from the field. He also knocked down a rare three-pointer and grabbed 10 boards for the Eagles.
I also have to mention Scotty Middleton, who has phenomenal for Sunrise. Scoring 19 points on a perfect 7-of-7 from the field and 2-of-2 from three, Middleton showed he can score a variety of ways. The 6-foot-6 wing can knock down the outside shot, or drive and finish at the rim. He played with ample amounts of effort on both sides of the floor and is just one of those dudes you want on your team.
FINAL – Sunrise Christian Academy: 71, Montverde Academy: 61
IMG Academy gets the win over Bishop Walsh
The final game of the evening started off a bit choppy and the first quarter ended with Bishop Walsh (MD) leading IMG Academy (FL) by one, 15 to 14.
Anyone watching this game knew that IMG was the better team, and they eventually showed that and pulled away in the second half.
Once again, Jarace Walker was a beast for IMG. He finished with a team-high 21 points, eight rebounds, and eight assists. Doing a bit of everything for his team, Walker was able to show off how versatile he is at 6-foot-8, 220 pounds. He's got such broad shoulders and a chiseled body, but all that muscle doesn't slow him down and his change of pace is impressive. The Houston signee can knock down the one-dribble pull-up, blow by his defender with his quickness and get to the rim, or change his shot mid-air to avoid deflection. One of my few knocks to Walker in the past has been his effort level, but that has completely changed this season. He's been incredible all year and is currently averaging just over 15 points a game, on 69% from the field for his loaded IMG squad.