Nick Saban discusses state of college football, how NIL could impact the future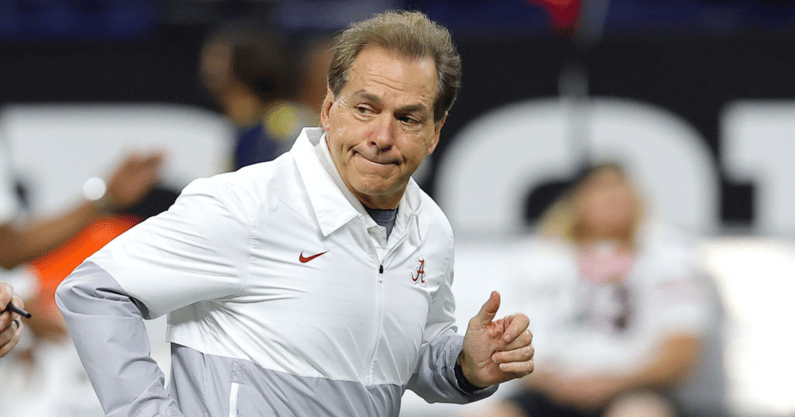 Many college football coaches have been outspoken about the NIL and transfer portal issues exposed this offseason, including Alabama head coach Nick Saban. Again speaking out about the need for change, he provided more thoughts in his latest media appearance.
While preparing to play in the Regions Tradition Pro-Am golf tournament on Wednesday, Nick Saban provided his latest take on the state of college football and NIL legislation.
"College football has always created a parity with players and competition, which I think every league already has, whether it's with the NFL salary cap or whatever. And you know, now, I think NIL is great for the players, they should have an opportunity to earn money – I'm fine with all that – but if we don't maintain some level of parity," Saban told reporters Wednesday morning prior to his round at the Regions Tradition Pro-Am charity tournament at the Greystone Golf and Country Club in Birmingham, Alabama. "We've always had the same (number of) scholarships, same Alston money, same cost of attendance, same academic support, same medical attention for everybody. And if we don't create that balance, I think it's going to affect the competitive standard of the game in the future, and probably affect other sports. So hopefully somebody will be able to figure that out."
Alabama has made the most of the transfer portal since its creation, adding several key players in positions of need. This year's group includes multiple wide receivers, along with other reinforcements across the roster.
Nick Saban denies tampering
Alabama head coach Nick Saban vehemently denied allegations this week that the Crimson Tide staff tampered to acquire transfer wide receiver Tyler Harrell out of Louisville.
"We don't tamper with anybody, so I don't know about anything or anybody that tampered with him," Saban said.
Louisville head coach Scott Satterfield implied in an interview with 247Sports that Bama was working on getting the former Cardinals receiver before he entered the portal.
"I think it's not only him, it's happened before here," Satterfield told 247Sports. "Last year, we had a few guys that jumped into the portal and the next day they're announcing where they're going. You can look at that and know that something went on before they were in the portal."
Harrell entered the transfer portal on April 12 and 10 days later, he announced his decision to join Nick Saban at Alabama. Ten days isn't an unusual amount of time for a player to make a choice, however, the same day he entered there were multiple reports linking the wide receiver to the Crimson Tide.