WATCH: Nick Saban responds to offer made by LSU fan at SEC meetings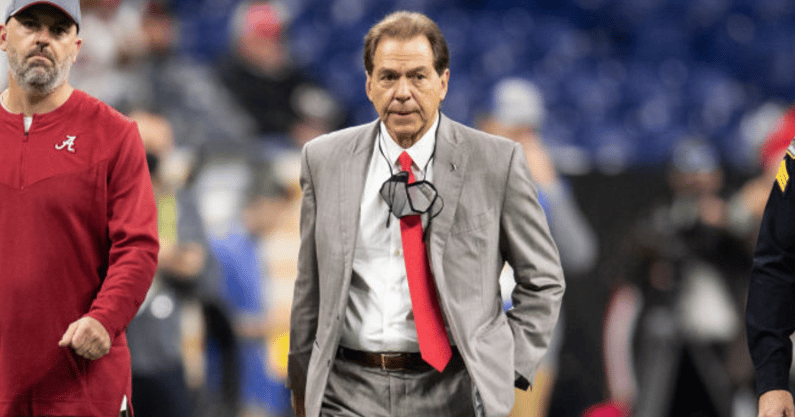 As the SEC conducts its spring meetings in Destin, Florida, one young intruder stole the headlines on Wednesday afternoon by reaching Nick Saban with a proposition. According to Outkick.com's Trey Wallace, a high school junior from Louisiana travelled to offer the Alabama head coach $5,000 to stop beating his favorite team.
The LSU fan tried to be reasonable, according to Nick Saban, asking him to either retire or come back to Baton Rouge in exchange for the cash.
"He made an offer for me to retire or come back to LSU, one or the other," Saban told reports at a charity event, via WVTM 13. "But I think LSU has a good coach. They have a lot of good players. We've had a lot of competitive games with them, and I'm sure it'll be no different in the future."
LSU had a head coaching vacancy this offseason, but filled it quickly with former Notre Dame head coach Brian Kelly. His early work shows reason for hope from the young fan and his friends after a big haul in the transfer portal and early wins on the recruiting trail.
While the ability for a fan to enter a restricted area where Nick Saban and others are eating lunch is certainly under review. It has provided one more intriguing storyline from the round of meetings about various serious topics in college football.
Nick Saban on NIL legislation
While talking to the media at the annual SEC meetings, Nick Saban made a plea to create NIL guiderails and seek government assistance in enforcement of the agreed rules.
"I think right now everybody is looking for solutions," said Saban, via On3's Jesse Simonton. "Every conference is looking for a solution. I'd assume that the NCAA continues to look for solutions. And again, I think the solution is, how do we still have equitable, national competition, which has always been the goal. I also think that we all want to continue to benefit the players. I'm certainly not opposed to benefitting the players every way we can, but also in a model where the player continues to stay focused on what they need to do to create value for their future.
"You go to college so that you prepare yourself for the day you can't play football. You see if you can develop a career as a football player and play at the next level. So there's a certain amount of focus that needs to stay in place for you to be the best version of yourself in doing that. I think every conference – conference commissioners, university presidents – I think everybody's trying to come up with the best possible solution and I think there's a lot of good people there that have a lot of good ideas. Hopefully we'll be able to get something done. But I also think that there may be some reason for the federal government to create some standard."