Not all schools are handling NIL issues the same way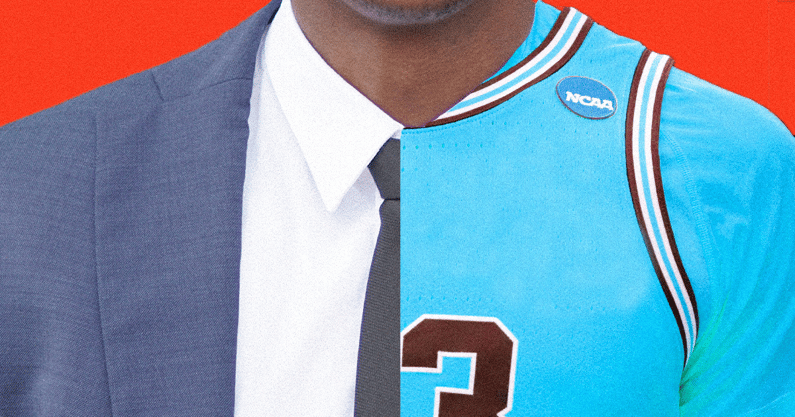 After the NCAA opted to take a hands-off approach to the NIL era, one conference commissioner told On3 that college athletics had officially entered the "year of the compliance officer."
But it takes a village — or an entire university — to navigate the thicket of loopholes and nuance, possibility and gray area within the ever-changing NIL landscape. State laws are disparate, the prospect of universal federal legislation looms and the use of NIL as a recruiting tool already is an open secret.
Three months into NIL, education at the university level never has been more critical. Some universities are turning to NIL specialists for help. Altius Sports Partners, for instance, has a client list of 15 high-profile schools, including LSU, Texas, North Carolina, Duke, Georgia and USC. Casey Schwab, Altius CEO and co-founder, told On3 that Washington and South Carolina have just signed long-term extensions of their deals. That news follows Texas and LSU signing three-year extensions in August. Clients typically pay between $100,000 and $120,000 for Altius' premium services. 
"The schools we're working with are really the ones that are thinking about this like we are, which is, 'Where's the puck going?' Not where it is," Schwab said. "Where is this going to go in a year or two or three? How do we get there fast? How do we get there faster than our competitors? And how can I out-recruit the school down the road? You cannot have a cookie-cutter approach that everybody else has because these high school kids, these recruits, they can smell BS from a mile away."
The NIL landscape has evolved at a feverish pace. So much so, Schwab said, that the least aggressive schools now are as aggressive as the most aggressive schools were when the era dawned July 1. In another way to assess the NIL world, the gulf remains massive on the continuum charting the least NIL-educated schools all the way to those most knowledgeable. In an example of policy variance, Schwab said the NIL policies of schools he has seen range from a single page to 12 pages in length.
Among the Altius clients are North Carolina, which this summer became the first on a lengthening list of schools to announce group licensing deals; Indiana, which introduced the innovative Hoosier Hysterics NIL Collective; and Texas, where all tight ends are receiving compensation through a first-of-its-kind NIL deal created by message board organizers.
Given the complexities of NIL and the still-flickering embers from the worst economic and health crisis in a century, Peter Schoenthal, the CEO of Athliance, said schools were underprepared for NIL. Schoenthal, whose company aims to educate and protect universities and athletes from challenges surrounding NIL, said the NIL-related questions he fields from school administrators often vary considerably. 
"We're getting a whole lot of different questions from universities because the rules across the board are all over the place and there is no uniformity," he said. "Schools, based on their lack of preparation and the lack of uniformity, just don't know what to do. Nobody wants to be the first to make a mistake. That's where the space is right now."
No one way to deal with NIL
Schwab spent three years at the NFL Players Association's for-profit arm, NFL Players Inc. As vice president of business and legal affairs for the NFLPA, Schwab's duties included working with the NFL on figuring out how to maximize sponsorship relationships with the players. 
Altius, which launched in August 2020, often leans on its advisors, including Oliver Luck, the former XFL commissioner and West Virginia athletic director; Kenneth Shropshire, the CEO of the Global Sport Institute; and Gabe Feldman, the director of the Tulane Sports Law Program. Topics may include group licensing or philosophical discussions around intellectual property. The most common question Schwab said he is asked by administrators: How can we support our athletes without crossing the line of facilitation?
Altius also works directly with coaches to help them build the narrative involving their school that will benefit recruiting efforts. While one of the NCAA's few NIL rules is that coaches cannot broker deals, it's naïve to think NIL activity isn't being used to help entice prospects. 
"Anybody who says innovation like this is not to be used in recruiting is just not paying attention — they are asleep," Schwab said. "It's like getting frustrated when the Model T came out and trying to fight (the introduction of) cars. Let's just make cars safe. We're going to be using cars. These coaches have to talk about it."
Altius' full-time staff of seven and its team of advisors also get in front of athletes to talk NIL. Schwab said he made six trips to Athens, Ga., this summer for hour-long speaking sessions to Georgia's football team. Those conversations both educate and build a rapport with players.
One aspect that is worrisome to those in the NIL space is that some schools have been making lofty promises to players that they can't keep. The result of that, Schwab said, is that at the end of the season, "I have to imagine those schools are going to lose some of their players because players will say, 'You put a figure in front of me and told me this is what my NIL value would be if I came to your school. But this is what I made.' … It won't take athletes long to figure it out, and they have a real easy way to push the eject button."
Overall, Schoenthal said it's reasonable for some schools to choose to be aggressive while others take a more deliberate approach. After all, these are the early stages of a permanent transformational shift. What is non-negotiable is the need for education. 
He offers sound advice for any school looking for advisory services while traversing these uncharted waters: Schools "can't be an expert in something that has never existed before," he said. "The only approach that is quote-unquote correct is educating yourself and being amenable and able to pivot where need be because legislation is going to change."