NIL success of players at on-the-rise UTSA an encouraging by-product of new era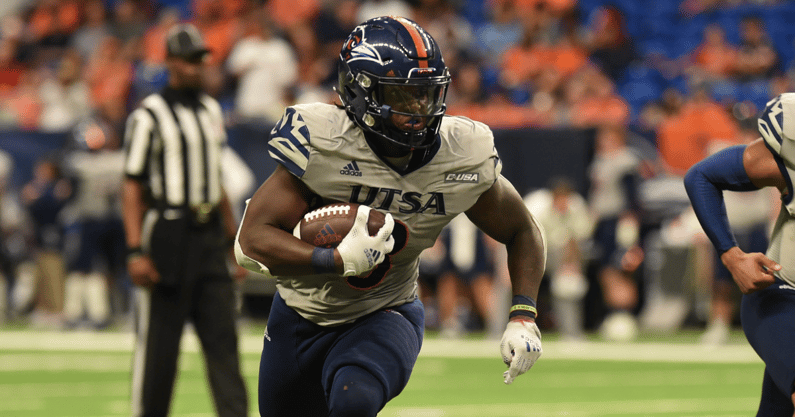 Steve Lautz, UTSA's senior associate athletic director for compliance, sat in his office and counted the athlete NIL disclosure forms that already had landed on his desk by 1 p.m. Of the five, three of them related to newly secured deals by football players.
One of only 11 remaining undefeated FBS teams, No. 24 UTSA (7-0) has cracked the Associated Press top 25 for the first time in school history. For its football players, it's a particularly opportune time for the program to get off to its best-ever start because this is the first season in which athletes can monetize their NIL.
While NIL deals for college football's marquee stars have been well-publicized, On3 examined the NIL activity at one of the nation's hottest Group of 5 programs. It found a diverse collection of deals with a coffee company, non-fungible tokens (NFTs) and even a dog kennel secured by an array of players — even the long snapper. And it's happening at a university that has opted to provide a multi-layered in-house NIL education program for athletes instead of hiring a third party to handle the bulk of those duties.
The NIL success of football players at a program like UTSA is an encouraging by-product of the young NIL era: a non-Power 5 school creating an internal program, 'Runners Go Bold, to educate athletes on everything from tax implications to social media engagement to brand management, and players then capitalizing on on-field success and heightened marketability to put dollars in their pockets — legally. 
Some 15 percent of UTSA's football team — which competes in Conference USA but has applied for membership in the AAC — has engaged in NIL activity since it became legal July 1. That figure is slightly higher than the 10 percent of all UTSA athletes who have secured deals.
After an initial flurry of NIL activity this summer, Lautz said, there has been a recent uptick in the number of deals for UTSA athletes overall and football players in particular. Though not a dramatic rise, Lautz said it is unclear whether the uptick should be attributed to the football team's on-field success or industry trends in a fast-evolving space.
"The deals that I have seen disclosed in the last month haven't been for larger dollar amounts," Lautz said. "There have just kind of been more of them. … A lot of credit to the coaching staff, a lot of credit to the young men that they have been able to prioritize things. I don't know how well I would have done in that same position."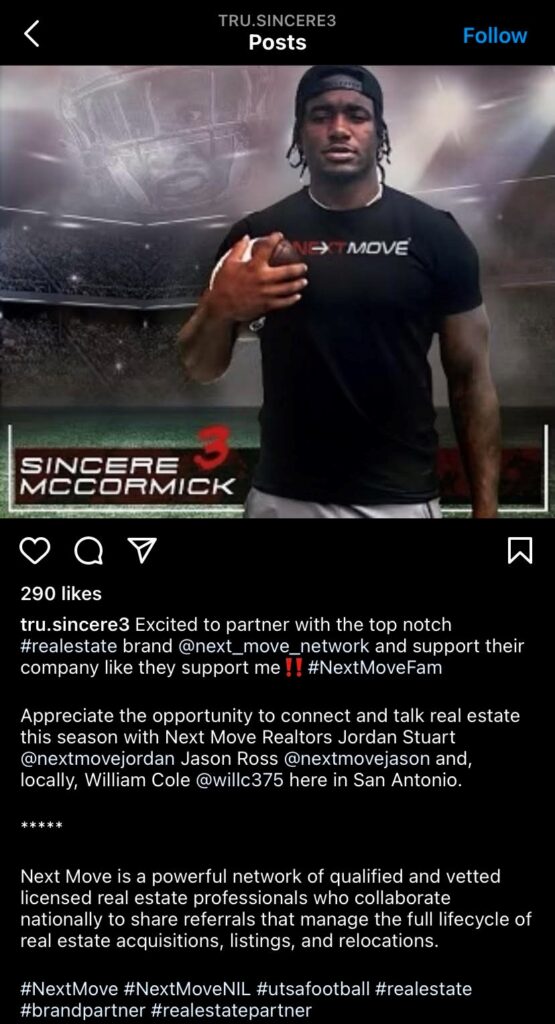 There are headliners, like running back Sincere McCormick receiving $1,000 a month for social media posts promoting 7 to 7 Dental and Orthodontics. McCormick also has a deal with a real estate company and with the UTSA fan page "Meep Meep Nation" for merchandise bearing the logo "Run 3MC."
Quarterback Frank Harris has a deal with Alamodome Audible, a UTSA Roadrunners podcast, while safety Rashad Wisdom was one of four UTSA athletes to partner with Ancira Auto Group, a San Antonio-based car dealership. Wisdom also has entered into the emerging space of non-fungible tokens. Thirty-nine limited edition digital football cards — available for about $500 apiece — could increase in value as Wisdom's stature rises. 
Defensive lineman Lorenzo Dantzler has a deal with Artesian Builds, which builds personal computers live on Twitch.tv. And more than a half-dozen players have a partnership with Fritz Kennel, a Houston-based full-service kennel owned by real estate developer and UTSA alum Pat Clynes. Each player receives $100 for posting photos of their dogs on social media.
Even long snapper Caleb Cantrell, an honorable mention all-conference performer, has a deal with Dirty Duck Coffee Company. "Use code 'DIRTY53' at checkout for 15 percent off your purchase!" Cantrell posted on his Instagram account. 
As Lautz said, "We anticipated that we'd have a few, as we've termed them, 'local celebrities.' " 
But not all business deals are for everyone. Lautz also has engaged in conversations with players who decline deals because the compensation of, say, $100 is not worth the time commitment, given their responsibilities with school and football. 
And there are regulations, of course. Per Texas state law, Lautz said, athletes can't use university branding in endorsement deals or engage in activities with alcohol, tobacco or gambling companies. There also are some restrictions, as well as leeway, regarding athletes endorsing a company in a category in which the school is a partner of a competing brand. For instance, it's OK for Adidas-sponsored UTSA to green light an athlete's deal with athletic apparel company Lululemon as long as the athlete wears the products on weekends away from competition or practices. But would an athlete deal with Nike be OK? 
"I don't know how that would come out if it were Nike," Lautz said. "For Lululemon, that was enough of a distinction that that's more casual wear than athletic performance."
He said UTSA decided not to hire a third party to lead the NIL education duties with athletes because it was more cost-effective to go in-house and also because it believed it had industry experts within its own business school. They tackle issues with athletes that range from financial literacy to how to create an LLC to the difference between social media followers and engagement. 
As the surging UTSA football team's foray into NIL illustrates, endorsement deals aren't reserved only for athletes in high-profile conferences. And they aren't reserved only for athletes in major markets. The Roadrunners are making an impression on the football field and in the business world, everywhere from the digital NFT space to dog kennels.