Blowout city: No. 4 Ohio State puts on a show in the 'Shoe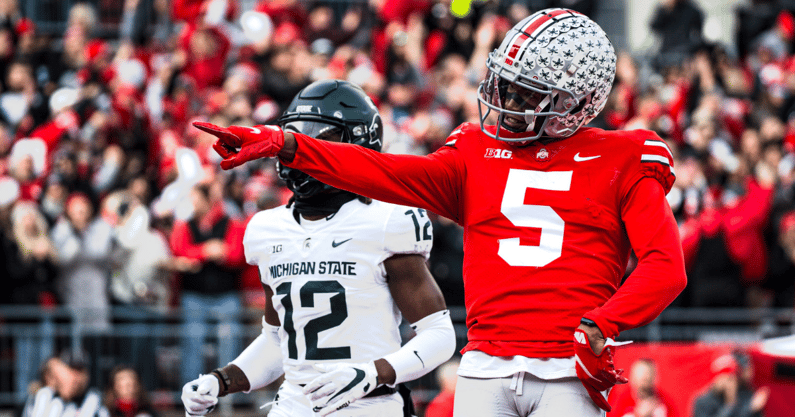 Saturday's Big Ten East showdown instead turned into a chance for Ohio State to show off.
The Michigan State-Ohio State game at Ohio Stadium in Columbus matched two teams in the top 10 of the College Football Playoff rankings. The fourth-ranked Buckeyes proved to be on a different level, routing the seventh-ranked Spartans 56-7. Ohio State quarterback C.J. Stroud tied the school single-game record with six touchdown passes; Stroud matched that in the first half, when he was 32-of-35 for 432 yards and the six touchdowns. He played one series in the second half.
The easy victory sets up a winner-take-all game in the Big Ten East next week at archrival Michigan. The Buckeyes have won eight in a row and 15 of the past 16 in that series.
Saturday's victory could be enough to propel Ohio State, who rolled up 655 total yards and 36 first downs, into the top three of the CFP rankings when they are released Tuesday night.
Stroud threw TD passes on Ohio State's first six possessions; the Buckeyes' seventh possession ended with a TD run by Miyan Williams for a 49-0 halftime lead. It was the second consecutive game the Buckeyes scored on their first six possessions.
Ohio State had 500 yards and 26 first downs in the first half; they faced just two third downs and converted both. Michigan State punted five times, missed a field goal and fumbled on its first-half possessions.
What happened in the second half? It doesn't really matter because the game was over less than a minute into the second quarter, when the Buckeyes took a 28-0 lead.
Saturday's game was the fourth time this season Ohio State had 600 yards of offense, the eighth time with 500 and the 10th with at least 495. It also was the eighth time with at least 40 points and the sixth with at least 50.
Michigan State, meanwhile, saw its division title and CFP hopes disappear. The margin of the loss also hurts the Spartans' hopes for a New Year's Six berth. Michigan State seems assured of dropping out of the top 10 in the next set of CFP rankings; how far the Spartans drop — will they be behind Baylor, for instance — is worth keeping an eye on. They finish the regular season at home against Penn State next week.