Notre Dame AD Jack Swarbrick: 'I could argue that our independence has never been more valuable than it is right now'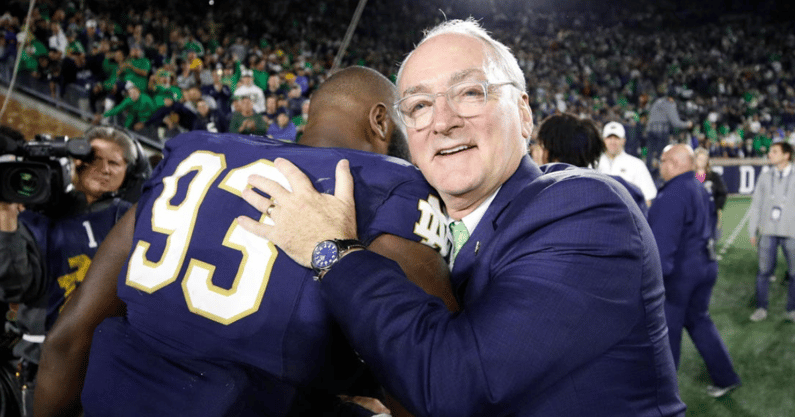 Notre Dame athletic director Jack Swarbrick has heard all the talk you have heard, read a lot of the speculation you have read. The numbers don't work anymore. The price of independence is too high. Notre Dame is going to the Big Ten.
Swarbrick doesn't sound like a man getting ready to join a conference.
"I could argue," Swarbrick said Monday morning, "that our independence has never been more valuable than it is right now."
It is easy to assume that Notre Dame will maximize its revenue, chase the last dollar to whatever destination that it takes the Irish. Why not? In a world where USC and UCLA can throw a century of tradition and a map out the window and leave the Pac-12 for the Big Ten, we have been trained to expect every school to judge its athletic existence by the size of its media rights fees.
"We would do better with at least one or two conferences," Swarbrick said.
But there is context, and there is history, and Notre Dame will not make a decision this important without taking both into account. To hear Swarbrick tell it, the university will not put its independence on the auction block.
"If you have two conferences that are separating themselves, but then we're frequently mentioned with them, that's good," he said. "There have been times when people thought giving it (independence) up was inevitable. I don't get that sense right now."
Notre Dame sees its independence as more than a lack of membership in a conference. A century or so ago, when the Western Conference – what we call the Big Ten – refused to allow the Catholic institution to join, Notre Dame took the blackball and ran with it.
"It's such a part of our identity and history," Swarbrick said. "When we wanted to be a member of a conference, we couldn't get in one."
Jess Harper, Knute Rockne's predecessor as Notre Dame football coach, decided that his school should play a national schedule, and play it in the big cities where so many Catholic immigrants lived. That's how you develop subway alumni.
"No (other) school has ever played in Los Angeles, Chicago and New York in the same year. We've done it nine times," Swarbrick said. "We play in more NFL stadia than anyone else. We play in California every year. We play in New York or somewhere close almost every year. We are able to use our flexibility every year to continue that level of a national schedule. We will play in Las Vegas this year. We open next year in Ireland. We play in Green Bay in '26."
There are a lot of Green Bays in the Big Ten. They're called Champaign and West Lafayette, Iowa City and East Lansing. Part of that must appeal to Swarbrick. His women's volleyball team could ride a bus to Bloomington or Evanston instead of riding on a plane to Tallahassee or Raleigh. The savings in expenses and wear and tear on Irish players would be significant.
Circumstances could dictate that Notre Dame abandon its football independence. They dictated so two years ago, when the pandemic forced the Fighting Irish to throw in with the ACC, where all its other sports live. Notre Dame went undefeated in the regular season, made it to the College Football Playoff, and became so enamored with conference life that Irish football returned to independence as soon as possible.
Those circumstances can be filed under "extraordinary." The only way that money will turn Notre Dame's head is if the networks decide that Fighting Irish athletics are not the TV draw that they have been for the past three decades.
Notre Dame's current deal with NBC, its partner since 1991, expires in 2025. The university brings in a reported $15 million annually from NBC, and another $7 million from its non-football life in the ACC.
That's a long way from what Big Ten schools are going to rake in from their new deals. But the university will be thinking less Big Ten and more 10th Commandment, as in, "Thou shalt not covet thy neighbor's television contract." It turns out independence also refers to thinking of your needs and your needs only.
"It's about having the resources to compete," Swarbrick said. "We've always asking ourselves that question, not, 'Are there situations with more revenue?' "
Things change. You're the Pac-12 commissioner driving your car across Montana and you get a phone call delivering the news that your two Los Angeles schools want a divorce. You're the Big 12 and four schools that you wouldn't deign to invite in 2016 fit your needs five years later. In 1990, with no notice, Notre Dame bailed out of the College Football Association TV deal and went on its own with NBC.
But that move bolstered Notre Dame's independence. Then and now, Notre Dame likes being on its own. Someday, the Irish may join the Big Ten, the conference that wouldn't have them a century ago. But someday isn't sometime soon.