5-star ATH Nyckoles Harbor gives the latest on decision timeline, top contenders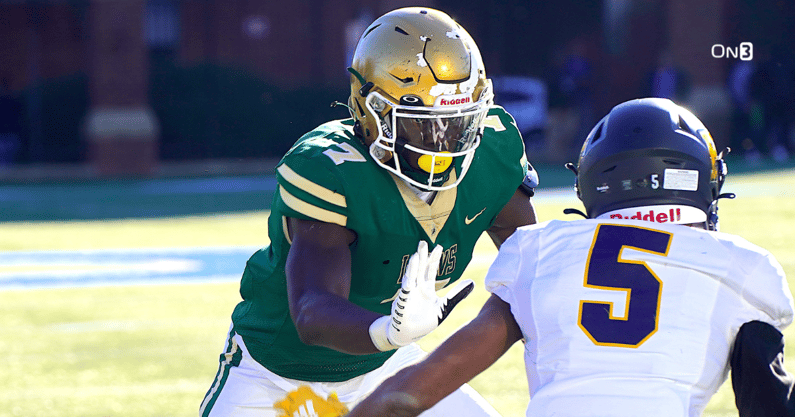 Fans anxiously awaiting a commitment from District of Columbia Archbishop Carroll five-star athlete Nyckoles Harbor will be waiting until February before he makes his decision but they now have clearer picture of who's in the mix.
Ahead of Saturday's All-American Bowl, Harbor talked with On3 about his future and the five schools that his decision will come down to.
"What's next for me is deciding on a school," Harbor said. "I have one more visit to Oregon and then February 1 is the commitment. I don't really have a finalist but I guess you can put Maryland, South Carolina, USC, Oregon and Michigan.
"The main three factors going into the decision are academics, athletics and track. That's it."
Here's what Harbor had to say about each of those five schools:
Michigan: "They've got great academics. You've seen that they've gone to the playoffs back-to-back. Even though they lost, it was still a good season as they went 13-1."
South Carolina: "It's a great up-and-coming program. You see that the program is going to be strong. Coach (Shane) Beamer is doing something good down there."
Maryland: "The same can be said for Coach (Mike) Locksley. They had their best record in about 10 years so you know they're building and that's something I want to be a part of. I don't want to go to a losing culture. I want to go to a winning culture.
USC: "Coach (Lincoln) Riley is doing something special out there. I can see myself partnering with Zach (Branch), Malachi (Nelson) and everyone else out there. Malachi was telling me to come home.
Oregon: "Last but not least, Coach Dan Lanning, you see what he did during the Early Signing Period. He was flip-flopping everybody. I feel like they also have the best of both worlds in terms of football and track.