Greg Sankey bans Lane Kiffin from Dan Patrick Show to discuss Nick Saban vs Jimbo Fisher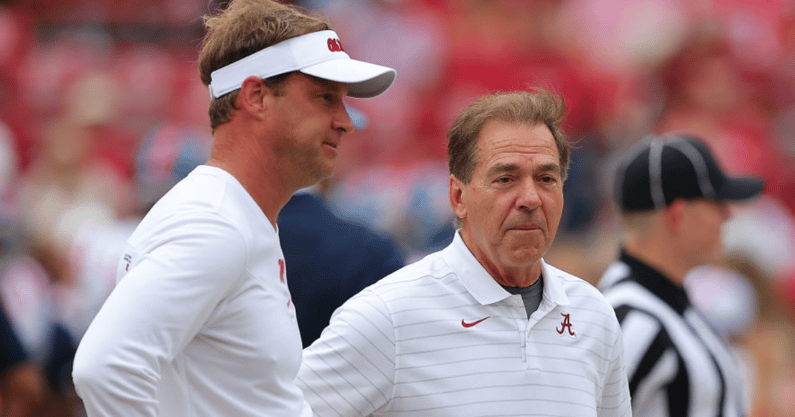 Nick Saban and Jimbo Fisher have lit the college football world on fire, directly taking shots at each other over NIL and recruiting. Tensions were boiling for both the Alabama and Texas A&M head coach, setting up for what should be a fascinating matchup between the two on Oct. 8. Coaches from across the country have even chimed in on the feud, with Ole Miss' Lane Kiffin being one of the more prominent.
Kiffin has commented the only way he normally knows how — through his Twitter account. However, he was supposed to appear on The Dan Patrick Show before SEC commissioner Greg Sankey supposedly banned Kiffin from discussing the situation.
"Lane Kiffin was going to come on, but the commissioner of the SEC asked him not to comment on the Nick Saban, Jimbo Fisher situation," Patrick said. 
Later on, a producer for the Show, Paul Pabst said no SEC coaches were allowed to speak to the media on Friday. So, the ban is not specific to Kiffin, even if he is a frequent guest on Patrick's radio show.
"Supposedly he's not letting the coaches talk to the media today," Pabst, said.
Kiffin has never been one to stray away from controversy, especially when it comes within the SEC. Hearing the head coach talk publicly about the situation would have been a treat for everyone but alas, Sankey was not in favor of any more damage being done.
Lane Kiffin would have reacted to Nick Saban's comments on Texas A&M recruiting
Saban dropped a bombshell on Wednesday night, publically calling out Fisher and how he recruited the Aggies' 2022 class. He said they bought every player brought to College Station, doing something we have never seen in the game of college football.
"I know the consequence is going to be difficult for the people who are spending tons of money to get players," Saban said via AL.com. "You read about it, you know who they are. We were second in recruiting last year. A&M was first. A&M bought every player on their team. Made a deal for name, image and likeness.
"We didn't buy one player. Aight? But I don't know if we're going to be able to sustain that in the future, because more and more people are doing it. It's tough."
Fisher responded on Thursday morning, bringing even more heat. He called Saban a narcissist and even said the Alabama head coach needed to be slapped. Hearing Kiffin's thoughts, outside of his Twitter account, could have brought even more drama to the table.