Ole Miss football trolls Tennessee's checkerboard theme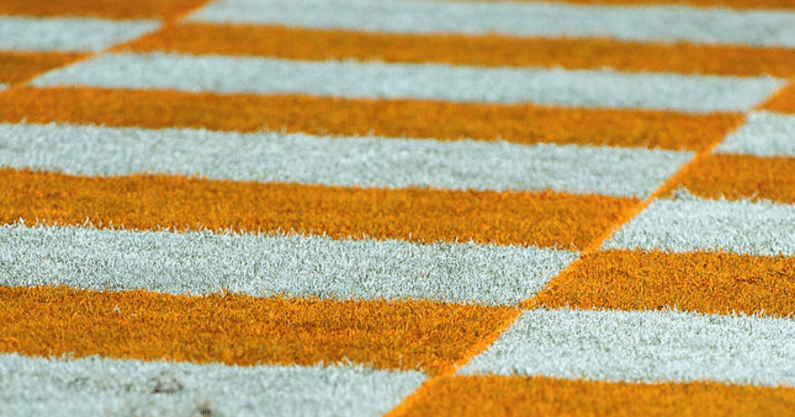 The Ole Miss social media team is back to its trolling ways, taking early shots at Tennessee. After hearing that the Volunteers are planning to #CheckerNeyland with alternating sections of orange and white t-shirts, the Rebels could not help themselves.
Ole Miss posted a graphic of an orange and white checkerboard covered by Power-T checkers pieces on one side and powder blue chess pieces on the other.
"Let's play," Ole Miss posted on Twitter. "Chess vs. Checkers."
After starting the season 4-1, the Rebels have moved to No. 13 in the country. Last week's 52-51 thriller against Arkansas turned heads after a flop against Alabama the previous week. Looking to keep pace in the SEC West, they now have a chance to make things interesting. Ole Miss travels to Tennessee on Saturday, playing at 7:30 p.m. ET on SEC Network.
The matchup between Ole Miss and Tennessee promises to bring high-powered offense. According to Tennessee's social media team, Neyland Stadium is set for its first sellout in more than four years. The last time Tennessee sold out a home game was Sept. 30, 2017, when they lost 41-0 against Georgia.
Lane Kiffin's return to Knoxville
During his Monday press conference, Ole Miss coach Lane Kiffin addressed his return to Neyland Stadium and whether there's added pressure from the opposing fans.
"I would think that, I think you would think that would normally be the case," said Kiffin. "But there's two things here: One, it's a long time ago, and two – we've done this thing."
He continued: "Since USC I've gone and played against USC, I've played against Tennessee, I've played against Alabama. So it's not like all the sudden you're going 'hey. All the sudden you're going back to a place coach too.' And again, I went there twice at Alabama."
More Ole Miss trolling
Prior to trolling Tennessee, the Ole Miss Rebels had plenty of fun after with Arkansas on Saturday. They took to Twitter to troll the Razorbacks over and over. The Rebels used Arkansas coach Sam Pittman's signature catchphrase to poke fun at the Hogs with a website called DidArkansasLose.com.
In another tweet, Ole Miss posted a video of Pittman saying, "Turn that jukebox up," and the Razorbacks players dancing in celebration.
Arkansas will hope Ole Miss is the last troll job it receives this season as the Razorbacks look to get back on track next week against Auburn. The Rebels and their high-octane offense will try to keep the win streak alive against Tennessee in Knoxville.