On3 2021 Basketball Player Rankings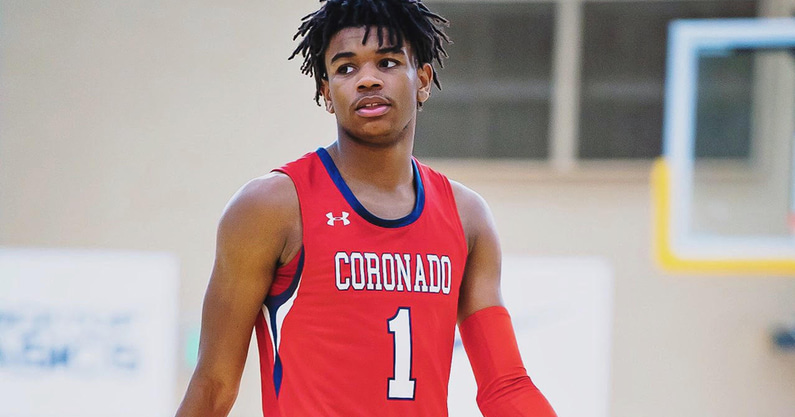 Welcome to the On3 100, our final basketball prospect rankings for the 2021 recruiting cycle. Our goal is to assess a prospect's long-term potential in college basketball, ultimately manifested by the NBA Draft.
In the On3 100, each prospect is listed with their position, On3 grade, hometown, high school and commitment status if applicable.
The rating scale is as follows: Five-star prospects have grades 98-100, four-star recruits have grades 90-97, while 80-89 grades are for three-stars.
The first 21 prospects are five stars with a rating of 98 or higher. Each recruiting cycle could vary with the number of five stars. The rankings for current cycles will be updated on a regular schedule throughout the year.
2021 On3 100
1. CG Jaden Hardy (100)
Henderson (Nev.) Coronado – G-League Ignite
2. PF Paolo Banchero (100)
Seattle (Wash.) O'Dea – Duke
3. PF Chet Holmgren (100)
Minneapolis (Minn.) Minnehaha Academy – Gonzaga
4. SF Emoni Bates (99)
Ypsilanti (Mich.) Ypsi Prep Academy – Memphis
5. SF Patrick Baldwin Jr. (99)
Sussex (Wis.) Hamilton – Wisconsin Milwaukee
6. PF Jabari Smith (99)
Tyrone (Ga.) Sandy Creek – Auburn
7. PF Jalen Duren (99)
Montverde (Fla.) Montverde Academy – Memphis
8. SF Peyton Watson (99)
Long Beach (Calif.) Poly – UCLA
9. CG Scoot Henderson (99)
Marietta (Ga.) Kell – Pro
10. PG J.D. Davison (98)
Letohatchee (Ala.) Calhoun School – Alabama
11. PF Caleb Houstan (98)
Mississauga (Ontario) Montverde Academy – Michigan
12. PG Kennedy Chandler (98)
Eads (Tenn.) Sunrise Christian – Tennessee

13. CG Hunter Sallis (97)
Omaha (Neb.) Millard North – Gonzaga
14. PF Mouhamed Gueye (97)
Saly (Senegal) Prolific Prep – Washington State
15. PF Michael Foster (97)
Milwaukee (Wis.) Hillcrest Prep – G-league Ignite

16. PG TyTy Washington (97)
Phoenix (Ariz.) Compass Prep – Kentucky
17. SF A.J. Griffin (97)
White Plains (N.Y.) Archbishop Spalding – Duke
18. PF Daimion Collins (97)
Atlanta (Texas) – Kentucky
19. C Moussa Diabate (97)
Paris (France) IMG Academy – Michigan
20. SG Max Christie (97)
Rolling Meadows (Ill.) – Michigan State
21. SF Kendall Brown (97)
St. Paul (Minn.) Sunrise Christian – Baylor
22. SG Trevor Keels (97)
Fairfax (Va.) Paul VI Catholic – Duke
23. SG Bryce McGowens (97)
Greenville (S.C.) Legacy Charter – Nebraska
24. C Nathan Bittle (97)
Central Point (Ore.) Prolific Prep – Oregon
25. SF Matthew Cleveland (97)
Alpharetta (Ga.) Pace Academy – Florida State
26. SF Harrison Ingram (96)
Dallas (Texas) St. Mark's – Stanford
27. SG Kowacie Reeves (96)
Macon (Ga.) Westside – Florida

28. PF Brandon Huntley-Hatfield (96)
Clarksville (Tenn.) Scotland Campus – Tennessee
29. SG Aminu Mohammed (96)
Lagos (Nigeria) Greenwood Laboratory – Georgetown
30. C Enoch Boakye (96)
Mississauga (Ontario) George Harris Prep – Arizona State
31. SG Tamar Bates (96)
Kansas City (Kan.) IMG Academy – Indiana
32. C Jonas Aidoo (96)
Durham (N.C.) Liberty Heights Institute – Tennessee
33. PG Tyrese Hunter (96)
Racine (Wis.) St. Catherines – Iowa State
34. C Efton Reid (96)
Richmond (Va.) IMG Academy – LSU
35. SF Josh Minott (96)
Boca Raton (Fla.) St. Andrews School – Memphis
36. SG Langston Love (96)
Cibolo (Texas) Montverde Academy – Baylor
37. CG Jalen Warley (96)
Norristown (Pa.) Westtown – Florida State
38. C Charles Bediako (96)
St. Catherines (Ontario) IMG Academy – Alabama
39. PG Nolan Hickman (96)
Sammamish (Wash.) Wasatch Academy – Gonzaga
40. SF Jaylon Tyson (96)
Allen (Texas) John Paul II – Texas
41. PF Benny Williams (96)
Potomac (Md.) IMG Academy – Syracuse
42. SG Malaki Branham (96)
Akron (Ohio) St. Vincent-St. Mary – Ohio State
43. SG Jordan Longino (96)
Fort Washington (Pa.) Germantown Academy – Villanova
44. PF Bryce Hopkins (96)
Oak Park (Ill.) Fenwick – Kentucky
45. SG Kobe Bufkin (96)
Grand Rapids (Mich.) Grand Rapids Christian – Michigan
46. PF Caleb Furst (96)
Fort Wayne (Ind.) Blackhawk Christian – Purdue
47. SG Manny Obaseki (95)
Allen (Texas) John Paul II – Texas A&M
48. PF Arthur Kaluma (95)
Irving (Texas) Dream City Christian – Creighton
49. PG Jaden Akins (95)
Farmington (Mich.) Ypsi Prep – Michigan State
50. PF Kaden Perry (95)
Battle Ground (Wash.) – Gonzaga
51. PF DaRon Holmes (95)
Goodyear (Ariz.) IMG Academy – Dayton
52. SG Jordan Hawkins (95)
Hyattsville (Md.) DeMatha Catholic – UConn
53. PF Jeramy Sochan (95)
London (England) Ratiopharm Ulm – Baylor
54. SF Pierre Brooks (95)
Detroit (Mich.) Douglass Academy – Michigan State
55. PF Trey Kaufman (95)
Sellersburg (Ind.) Silver Creek – Purdue
56. SG Will McClendon (95)
Las Vegas (Nev.) Bishop Gorman – UCLA
57. PG Frankie Collins (95)
Henderson (Nev.) Coronado – Michigan
58. SG Dallan Coleman (95)
Callahan (Fla.) West Nassau County – Georgia Tech
59. PF Ernest Ross (94)
Alachua (Fla.) Santa Fe – N.C. State
60. C John Butler (94)
Greenville (S.C.) Christ Church Episcopal – Florida State
61. PG Ryan Nembhard (94)
Aurora (Ontario) Montverde Academy – Creighton
62. SG Brandin Podziemski (94)
Delafield (Wis.) St. John's Northwestern – Illinois
63. PF Julian Reese (94)
Owings Mills (Md.) St. Frances – Maryland
64. SF Dontrez Styles (94)
Kinston (N.C.) Kinston – North Carolina
65. SF Jahmal Mashack (94)
Rancho Cucamonga (Calif.) Etiwanda – Tennessee
66. SG Taine Murray (93)
Auckland (New Zealand) Rosmini College – Virginia
67. PG Zion Harmon (93)
Antioch (Tenn.) Marshall County – Western Kentucky
68. SG Terquavion Smith (93)
Farmville (N.C.) Farmville Central – N.C. State
69. PF Fanbo Zeng (93)
Harbin (China) Windermere Prep – Pro
70. SG D'Marco Dunn (93)
Fayetteville (N.C.) Westover – North Carolina
71. PF Mason Miller (93)
Germantown (Tenn.) Houston – Creighton
72. C Lawson Lovering (93)
Cheyenne (Wyo.) Central – Colorado
73. CG Jaylen Blakes (93)
Somerset (N.J.) Blair Academy – Duke
74. C Samson Johnson (93)
Elizabeth (N.J.) St. Patrick's – UConn
75. PF David Joplin (93)
Brookfield (Wis.) Central – Marquette
76. PG Isael Silva (93)
Carmichael (Calif.) Prolific Prep – Stanford
77. PG Rahsool Diggins (93)
Wayne (N.J.) Archbishop Wood – UConn
78. C Roosevelt Wheeler (93)
Richmond (Va.) John Marshall – Louisville
79. PF K.J. Adams (93)
Austin (Texas) Westlake – Kansas
80. SF Wesley Cardet (92)
Fort Lauderdale (Fla.) West Oaks Academy – Samford
81. SG Trey Alexander (92)
Oklahoma City (Okla.) Heritage Hall – Creighton
82. SG Malik Thomas (92)
La Verne (Calif.) Damien – USC
83. SF Ike Cornish (92)
Greenville (S.C.) Legacy Charter – Maryland
84. SG C.J. Noland (92)
Waxahachie (Texas) Waxahachie – Oklahoma
85. SF Jakai Robinson (92)
Fort Washington (Md.) Rock Creek – Miami
86. SG Brandon Murray (92)
Baltimore (Md.) IMG Academy – LSU
87. CG K.J. Simpson (92)
West Hills (Calif.) Chaminade – Colorado
88. SF Michael James (92)
Orlando (Fla.) Oak Ridge – Louisville
89. SG Emarion Ellis (92)
Davenport (Iowa) Assumption – Marquette
90. C Logan Duncomb (91)
Cincinnati (Ohio) Archbishop Moeller – Indiana
91. SG Blake Wesley (91)
South Bend (Ind.) Riley – Notre Dame
92. PF Zach Clemence (91)
San Antonio (Texas) Sunrise Christian – Kansas
93. PG Bobby Pettiford (91)
Creedmoor (N.C.) South Granville – Kansas
94. C Nnanna Njoku (91)
Hockessin (Denmark) Sanford School – Villanova
95. SG Chance Moore (91)
Atlanta (Ga.) McEachern – Arkansas
96. SG Devin Carter (91)
Miami (Fla.) Brewster Academy – South Carolina
97. SG Cameron Hildreth (91)
Worthing (England) – Wake Forest
98. SG Shane Nowell (91)
Sammamish (Wash.) Eastside Catholic – Arizona
99. C Jackson Grant (91)
Olympia (Wash.) Olympia – Washington
100. SG Miles Kelly (91)
Lilburn (Ga.) Hargrave Military Academy – Georgia Tech