On3 2022 Basketball Player rankings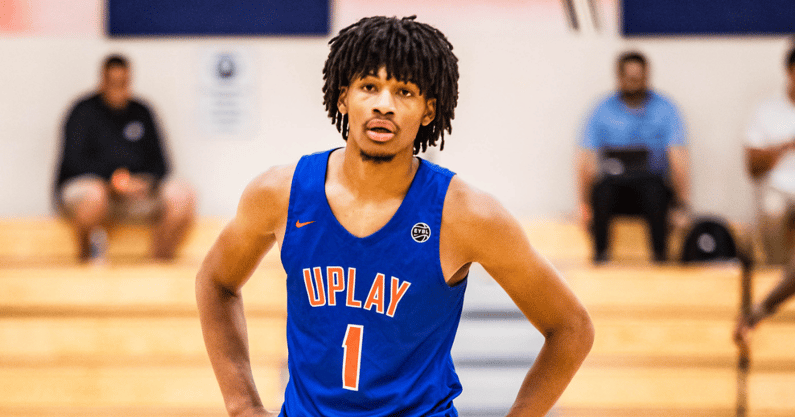 Welcome to the On3 100, our basketball player rankings for the 2022 recruiting cycle. Our goal is to assess a prospect's long-term potential in college basketball, ultimately manifested by the NBA Draft.
Each prospect is listed with their position, On3 grade, hometown, high school and commitment status if applicable.
The basketball player rankings scale is as follows: Five-star prospects have grades 98-100, four-star recruits have grades 90-97, while 80-89 grades are for three-stars.
The first 10 prospects are five stars with a rating of 98 or higher. Each recruiting cycle could vary with the number of five stars. The rankings for current cycles will be updated on a regular schedule throughout the year.
2022 Top 100
SG Shaedon Sharpe (100)
Wichita (Kan.) Dream City Christian – Kentucky commit
2. C Dereck Lively II (99)
Bellefonte (Pa.) Westtown School – Duke commit
3. SG Keyonte George (98)
Lewisville (Texas) IMG Academy – Baylor commit
4. SF Chris Livingston (98)
Akron (Ohio) Oak Hill Academy – Kentucky commit
5. SF Dariq Whitehead (98)
Newark (N.J.) Montverde Academy – Duke commit
6. SG Amari Bailey (98)
Chatsworth (Calif.) Sierra Canyon – UCLA commit
7. CG Cason Wallace (98)
Richardson (Texas) Richardson
8. SF Mark Mitchell (98)
Mission (Kan.) Sunrise Christian
9. PG Dior Johnson (98)
Corona (Calif.) Centennial – Oregon commit
10. C Kel'el Ware (97)
North Little Rock (Ark.) North Little Rock – Oregon commit
11. SG Zion Cruz (97)
Hillside (N.J.) Donda Academy
12. PF Yohan Traore (97)
Paris (France) Dream City Christian
13. C Adem Bona (97)
Lagos (Nigeria) Prolific Prep – UCLA commit
14. CG Arterio Morris (97)
Dallas (Texas) Kimball – Texas commit
15. PG Jazian Gortman (96)
Columbia (S.C.) Keenan – Overtime Elite
16. PF Sadraque Nganga (96)
Chandler (Ariz.) Compass Prep
17. SF Brandon Miller (96)
Antioch (Tenn.) Cane Ridge – Alabama commit
18. CG Anthony Black (96)
Coppell (Texas) Duncanville
19. C Kyle Filipowski (96)
Wilbraham (Mass.) Wilbraham & Monson Academy – Duke commit
20. PG Jaden Bradley (96)
Concord (N.C.) IMG Academy – Alabama commit
21. PG Skyy Clark (96)
Nashville (Tenn.) Montverde Academy – Kentucky commit
22. SF Jordan Walsh (96)
Dallas (Texas) Link Year Prep – Arkansas commit
23. C Vince Iwuchukwu (96)
San Antonio (Texas) Montverde Academy – USC commit
24. SF Kamari Lands (96)
La Porte (Ind.) Hillcrest Prep
25. CG Mark Armstrong (96)
Jersey City (N.J.) St. Peter's Prep – Villanova commit
26. C Felix Okpara (96)
Chattanooga (Tenn.) Link Year Prep – Ohio State commit
27. SG Jalen Hood-Schifino (96)
Charlotte (N.C.) Montverde Academy – Indiana commit
28. PF Jalen Washington (96)
Gary (Ind.) West Side – North Carolina commit
29. PF Isaac Traudt (95)
Grand Island (Neb.) Grand Island – Virginia commit
30. SF Jett Howard (95)
Miami (Fla.) IMG Academy – Michigan commit
31. CG Nick Smith (95)
Sherwood (Ark.) North Little Rock – Arkansas commit
32. PF Jarace Walker (95)
Bradenton (Fla.) IMG Academy
33. SF M.J. Rice (95)
Durham (N.C.) Prolific Prep – Kansas commit
34. C Ernest Udeh Jr. (95)
Orlando (Fla.) Dr. Phillips – Kansas commit
35. PF Julian Phillips (95)
Blythewood (S.C.) Link Year Prep – LSU commit
36. SG Brendan Hausen (95)
Amarillo (Texas) Amarillo – Villanova commit
37. SF Dillon Mitchell (95)
Spring Hill (Fla.) Montverde Academy – Texas commit
38. PF Zuby Ejiofor (95)
Garland (Texas) Garland – Kansas commit
39. SF Leon Bond (95)
Milwaukee (Wis.) Wauwatosa East – Virginia commit
40. SG Daniel Skillings (95)
Philadelphia Roman Catholic – Cincinnati commit
41. CG J.J. Starling (95)
Baldwinsville (N.Y.) La Lumiere – Notre Dame commit
42. SF Gradey Dick (95)
Wichita (Kan.) Sunrise Christian – Kansas commit
43. PF Jaxon Kohler (95)
Mount Pleasant (Utah) Southern California Academy – Michigan State commit
44. C Donovan Clingan (95)
Bristol (Conn.) Briston Central – UConn commit
45. SF Chance Westry (95)
Camp Hill (Pa.) Hillcrest Prep – Auburn commit
46. CG Bryce Griggs (95)
Missouri City (Texas) Hightower – Overtime Elite
47. PG Seth Trimble (95)
Menomonee Falls (Wis.) Menomonee Falls – North Carolina commit
48. SG Roddy Gayle Jr. (95)
Youngstown (N.Y.) Lewiston Porter – Ohio State commit
49. PF Eric Dailey (94)
Bradenton (Fla.) IMG Academy
50. PG Bruce Thornton (94)
Alpharetta (Ga.) Milton – Ohio State commit
51. PF A.J. Casey (94)
Chicago Whitney Young – Miami commit
52. CG Dylan Andrews (94)
Los Angeles Compass Prep – UCLA commit
53. PG Milos Uzan (94)
Las Vegas (Nev.) Desert Pines – Oklahoma commit
54. C Dylan Anderson (94)
Gilbert (Ariz.) Perry – Arizona commit
55. PG Rowan Brumbaugh (94)
Washington (D.C.) Northfield Mount Hermon – Northwestern commit
56. SF Terrance Arceneaux (94)
Beaumont (Texas) United – Houston commit
57. SF Cam Whitmore (94)
Severn (Md.) Archbishop Spalding – Villanova commit
58. SF Aidan Shaw (94)
Stilwell (Kan.) Blue Valley – Missouri commit
59. SG Isaac McKeely (94)
Poca (W.V.) Poca – Virginia commit
60. SG Derrian Ford (93)
Magnolia (Ark,) Magnolia – Arkansas commit
61. PG Austin Nunez (93)
San Antonio (Texas) Wagner – Arizona State commit
62. PG Tre Holloman (93)
Minneapolis (Minn.) Cretin Derham Hall – Michigan State commit
63. PF Kijani Wright (93)
Los Angeles Sierra Canyon – USC commit
64. SG Collin Chandler (93)
Farmington (Utah) Farmington
65. SF Tyrell Ward (93)
Hyattsville (Md.) DeMatha Catholic – Xavier commit
66. SF Devin Ree (93)
Terry (Miss.) Terry – LSU commit
67. C Tarris Reed (93)
Saint Louis (Mo.) Link Year prep – Michigan commit
68. SG Emanuel Sharp (93)
Tampa (Fla.) Bishop McLaughlin Catholic – Houston commit
69. SF Ty Rodgers (93)
Grand Blanc (Mich.) Grand Blanc Community
70. PG Richard Isaacs Jr. (93)
Las Vegas (Nev.) Coronado
71. SG A.J. Storr (93)
Las Vegas (Nev.) IMG Academy
72. PF Kaleb Banks (93)
Fayetteville (Ga.) Fayette County – Indiana commit
73. SG Dillon Hunter (93)
Atlanta (Ga.) Sunrise Christian – Baylor commit
74. PG B.J. Edwards (92)
Knoxville (Tenn.) Knoxville Catholic – Tennessee commit
75. PF Malik Reneau (92)
Hialeah (Fla.) Montverde Academy – Florida commit
76. SF Tre White (92)
Little Elm (Texas) Prolific Prep
77. SF Barry Dunning (92)
Mobile (Ala.) McGill-Toolen – Arkansas commit
78. SF Quion Williams (92)
Mansfield (Texas) Legacy – Oklahoma State commit
79. PF Mady Traore (92)
Cumberland (Md.) National Christian Academy
80. CG Jayden Epps (92)
Suffolk (Va.) King's Fork – Illinois commit
81. C Favour Aire (92)
District Heights (Md.) Bishop McNamara
82. CG Rodney Rice (92)
Potomac (Md.) De Matha Catholic – Virginia Tech commit
83. SF Justin Taylor (92)
Charlottesville (Va.) St. Anne's-Belfield – Syracuse commit
84. CG Zocko Littleton (91)
Avondale Estates (Ga.) South Cobb – Appalachian State
85. CG Judah Mintz (91)
Washington (D.C.) Oak Hill Academy – Pittsburgh commit
86. PF Cameron Corhen (91)
Dallas Sunrise Christian – Florida State commit
87. SG Sencire Harris (91)
Akron (Ohio) St, Vincent-St. Mary – Illinois commit
88. SG T.J. Caldwell (90)
Mansfield (Texas) Waxahachie Faith Family – Ole Miss commit
89. PF Taylor Hendricks (90)
Fort Lauderdale (Fla.) Calvary Christian – UCF commit
90. SG Ramel Lloyd Jr. (90)
Woodland Hills (Calif.) Sierra Canyon – Nebraska commit
91. PF Noah Clowney (90)
Roebuck (S.C.) Dorman – Alabama commit
92. SG Corey Floyd (90)
Roselle (N.J,) Roselle Catholic – UConn commit
93. PF De'Ante Green (90)
Arden (N.C.) Asheville Christian – Florida State commit
94. SG Chandler Jackson (90)
Memphis (Tenn.) Christian Brothers – Florida State commit
95. SF Tyler Nickel (90)
Elkton (Va.) East Rockingham – North Carolina commit
96. SG Joseph Hunter (90)
Fresno (Calif.) San Juaquin Memorial – Fresno State commit
97. SG Rylan Griffen (90)
Richardson (Texas) Richardson
98. SF Alex Karaban (90)
New Hampton (N.H.) New Hampton – UConn commit
99. SG Denver Anglin (90)
Montclair (N.J.) Gill St. Bernard's – Georgetown commit
100. PG Dug McDaniel (90)
Fairfax (Va.) Paul VI Catholic – Michigan commit