On3 2022 Preseason True Freshman All-American Team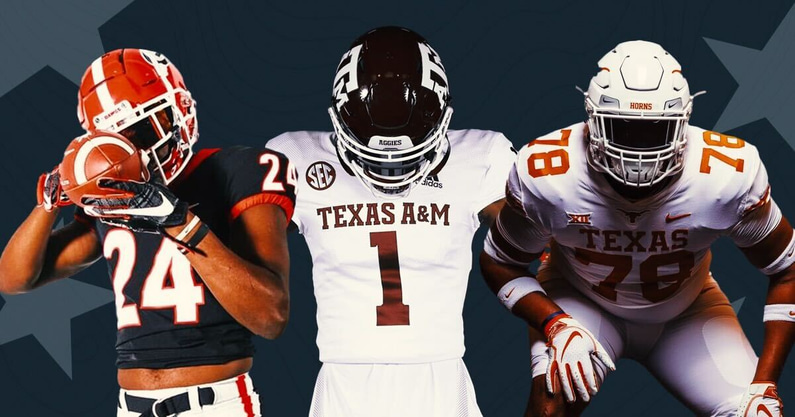 The story of every college football season can't be told in full without the inclusion of true freshmen. We annually see true freshmen alter the course of each season and make major impacts throughout the sport. In recent memory, names like Jalen Hurts (2016), Trevor Lawrence (2018), Derek Stingley Jr. (2019), Will Anderson (2020), and Brock Bowers (2021) come to mind.
The 2022 season should be no different. Now that we're in the midst of fall camp, it's time to take a look at true freshmen primed to make waves this fall.
This preseason true freshman All-American team is our attempt at picking the first-year players we feel will have the best seasons. Though long-term upside is considered, this is more about the projected impact for this season. While hard to predict, team situations and projected playing time played roles in selecting this team along with the overall talent level of the individual players.
The countdown of selections is below. Here is the On3 2022 Preseason True Freshman All-American Team:
QB Cade Klubnik – Clemson
Similar to this time last year, there does not appear to be a top true freshman quarterback who is likely to start the season at a Power Five program. True freshman quarterbacks are sometimes thrust into action by events outside of their control. That's all to say who is playing midway through the season can be difficult to predict. With that said, we're going with Cade Klubnik here as he has a firm grip as Clemson's No. 2 quarterback, at the minimum. The freshman from Austin (Texas) Westlake entered camp as the backup to incumbent DJ Uiagalelei and will look to push the former five-star for snaps this season. Dabo Swinney has said he 'absolutely' trusts Klubnik's readiness to play. Swinney has expressed confidence in Uiagalelei entering the season and it's entirely possible — if not likely — he'll take control from start to finish. Klubnik was rated as a five-star and ended as the No. 21 overall prospect and No. 1 quarterback in the 2022 On3 Consensus.
Texas A&M's Conner Weigman is another name to watch and is competing with Haynes King and LSU transfer Max Johnson in College Station. Devin Brown (Ohio State), Ty Simpson (Alabama) and Brady Allen (Purdue) are three more touted true freshmen who are competing for backup spots.
RB Nick Singleton – Penn State
Nick Singleton finished the 2022 cycle as the top running back prospect in the On3 Consensus and On300. At On3, we viewed the Gatorade National Player of the Year as the clear top back in the cycle. Singleton is a top physical talent with a rocked up build and outstanding burst, top end speed and physical running style. He was highly productive at the high school level, rushing for 2,043 yards (12.3 yards per carry) and 41 touchdowns on just 165 carries as a senior at Reading (Pa.) Governor Mifflin. Singleton and fellow true freshman Kaytron Allen should add some much-needed juice to a Penn State run game that totaled just 1,404 yards and 11 touchdowns in 2021. Singleton was a five-star and finished as the No. 1 running back and No. 27 overall prospect in the 2022 On3 Consensus.
WR Evan Stewart – Texas A&M
Evan Stewart appears to be Texas A&M's top pass-catcher entering the season. The former Five-Star Plus+ prospect was the Aggies' offensive MVP from spring practice and caught eight passes for 78 yards and a touchdown in the spring game. Stewart's ascent has continued into fall camp, as he's earned steady praise from Jimbo Fisher and anyone associated with the Texas A&M program. The Frisco (Texas) Liberty product is a dynamic receiver who pairs high-end athleticism with advanced route-running ability and ball skills. Stewart figures to be a high-volume target for Texas A&M as early as week one. He ranked as the No. 8 overall prospect and No. 2 wide receiver in the 2022 On3 Consensus.
WR Luther Burden – Missouri
Luther Burden was a landmark recruiting win for Eli Drinkwitz at Missouri. The Five-Star Plus+ pass-catcher had a monster senior year at East St. Louis (Ill.) High, catching 71 passes for 1,174 yards and 20 touchdowns in addition to returning eight of 21 fielded punts for scores. He backed that up with a strong showing as On3's top receiver at the Under Armour All-America Game in January. Burden has a well-rounded skill set and is particularly strong after the catch. He's a natural with the ball in his hands and has excellent spatial awareness along with the ability to force missed tackles. We expect Missouri to get him the ball in a variety of ways as a freshman. Burden finished as the No. 4 overall prospect and No. 1 wide receiver in the 2022 On3 Consensus.
WR Jordan Hudson – TCU
Jordan Hudson faces the stiffest competition for targets among this wide receiver group. The freshman is part of a deep receiver corps in Fort Worth, headlined by potential first-rounder, Quentin Johnston. Still, we think Hudson is likely too talented to not make an impact this fall given his high school career and what he's shown throughout fall camp. The 6-foot-1, 190-pounder has been making big plays and finding the end zone when targeted. Hudson was one of the more productive and skilled receivers in the 2022 cycle, catching 67 passes for 1,141 yards and 22 touchdowns as a senior. His combination of sure hands, ball skills and silky smooth route-running ability was among the best we saw in the nation. Hudson ranked as No. 72 overall in the 2022 On3 Consensus but was a five-star and the No. 15 overall prospect in the On300.
Several other true freshman wide receivers appear primed to make contributions. That group includes Dane Key (Kentucky), Tetairoa McMillan (Arizona), Adam Randall (Clemson), Tobias Merriweather (Notre Dame), Antonio Williams (Clemson) and Andre Greene (North Carolina) among others.
AP Kobe Prentice – Alabama
Kobe Prentice is one of several top receivers to sign with the Crimson Tide in the 2022 cycle. The in-state product had a big scrimmage on Saturday, drawing praise from Nick Saban. Alabama has some injuries at the wide receiver position with JoJo Earle and freshman Aaron Anderson expected to miss some time. If Saturday was any indication, Prentice looks to be taking advantage of the opportunity. The 5-foot-10, 171-pounder showed elite change of direction with the ability to cut at top speed. He also has plus top-end speed (10.81 seconds in the 100 meters) and good ball skills. That manifested in a big senior season at Calera (Ala.) High, with Prentice accounting for 1,229 yards and 19 touchdowns. Those skills could provide a versatile weapon for Bryce Young and the Alabama offense. Prentice ranked as the No. 74 overall prospect in the 2022 On3 Consensus. On3 was a bit higher on the Tide pass-catcher, with him ranking as the No. 38 overall prospect and No. 5 wide receiver in the On300.
TE Jake Johnson – Texas A&M
Jake Johnson was the most technically advanced route-runner and pass catcher at tight end in the 2022 cycle. The NFL legacy has a nuanced game, with the ability to create separation within his routes while showing a large catch radius at the high school level. Johnson is one of three talented true freshmen tight ends in College Station along with Donovan Green and Theo Melin Ohrstrom. We know Jimbo Fisher loves targeting tight ends in the passing game, and our feeling is Johnson is the most skilled pass-catcher of the group on campus at this time. The talent is there to provide another needed target early on. Johnson was the No. 73 overall prospect and No. 1 tight end in the 2022 On3 Consensus.
Keyan Burnett (Arizona), Jaleel Skinner (Miami), Oscar Delp (Georgia), Mason Taylor (LSU) and Eli Raridon/Holden Staes (Notre Dame) are a few others to keep an eye on.
OL Will Campbell – LSU
Will Campbell has essentially been penciled in as LSU's starting left tackle since the spring. The 6-foot-6, 325-pounder has proven to be a quick study and figures to be a foundational building block on a rebuilt offensive line. Campbell is a technically sound and physical blocker. He was dominant on the high school level at Monroe, Louisiana powerhouse Neville High. The in-state product is the epitome of a high-floor prospect with the makings of a three-to-four year starter in the SEC. Campbell ranked as the No. 38 overall prospect in the 2022 On3 Consensus.
OL Kelvin Banks – Texas
Kelvin Banks was the jewel of Texas' splendid offensive line haul in the 2022 cycle. The 6-foot-5, 318-pounder was a summer enrollee, but has quickly assimilated. Banks is reportedly already seeing some reps as the first-team left tackle and could be in line to start on the blindside as early as week one. Banks' combination of length, flexibility, nimble feet and ready-made size make him one of the prime contenders to make a splash as a true freshman offensive lineman. The Humble (Texas) Summer Creek product was a five-star and ranked as the No. 19 overall prospect and No. 1 offensive tackle in the 2022 On3 Consensus.
OL Blake Miller – Clemson
Blake Miller has impressed since arriving on campus at Clemson, drawing praise from the Tigers staff and fellow players. The 6-foot-6, 315-pounder is a big, physically-developed offensive tackle with burly strength. Miller looks to be making a move on the Tiger offensive line and could challenge to start at right tackle as early as week one. His emergence and readiness to play would allow some shuffling within the offensive line group that would allow the Tigers to get their five best on the field. Miller was highly impressive as a senior and was a rankings riser for On3, finishing as the No. 104 overall prospect and No. 8 offensive tackle in the On300.
OL Zach Rice – North Carolina
Zach Rice was one of the more highly-touted offensive line prospects to sign with North Carolina in recent memory. The Lynchburg (Va.) Liberty Christian Academy product has been working at both right tackle and right guard and is competing at both spots. Rice could earn a starting spot early on or could prove to be more of a rotation player. The 6-foot-5, 320-pounder was a dominant run-blocker at the high school level. He may need some time to continue refining his technique but has the ability to project as a multi-year starter, perhaps as soon as this season. Rice was a five-star and ranked as the No. 20 overall prospect in the 2022 On3 Consensus.
OL Josh Conerly Jr. – Oregon
Oregon has sustained a rash of injuries along the offensive line with approximately half of the Ducks' 14 scholarship players at the position missing time. That's created an opportunity for Josh Conerly Jr. to step up as a potential true freshman starter in Eugene. The 6-foot-4, 295-pounder has been working with the first unit. It remains to be seen how things will shake out when and if the health at the position improves, but Conerly's chances of starting will likely increase the longer this goes. The Seattle Rainier Beach product was among the headliners in Dan Lanning's first signing class at Oregon and ranked as the No. 40 overall prospect in the 2022 On3 Consensus. We also wouldn't be surprised to see one of Oregon's talented true freshman corners – Jalil Tucker, Jahlil Florence and Khamari Terrell – make an impact.
Braelin Moore (Virginia Tech), Emery Jones (LSU) and Cole Hutson (Texas) are a few more names to look out for as potential true freshman contributors along the offensive line.
DL Deone Walker – Kentucky
Deone Walker has created significant buzz throughout fall camp as a potential, if not likely, day one starter along Kentucky's defensive line. The 6-foot-6, 330-pounder has received heaps of praise from Mark Stoops and fellow Wildcat players according to KSR. Walker has been a standout in large part due to his combination of size, length and quickness. The Detroit Cass Tech product is one of several four-star prospects to sign with Kentucky in the 2022 cycle and is among the handful who could be serious contributors this fall. Walker was the No. 269 overall prospect in the On3 Consensus.
DL Walter Nolen – Texas A&M
Walter Nolen was the headliner of Texas A&M's historic 2022 signing class — one that included four Five-Star Plus+ prospects and nine On3 Consensus five-stars. The Powell (Tenn.) High product has missed some of fall camp with an injury but is working his way back into action. Nolen has cut significant weight and is down to under 300 pounds after getting up over 340 prior to his senior season. Even though he's playing on a defensive line that is very likely the deepest group at the position nationally, we would not be surprised to see Nolen make an impact once he gets up to speed. The On3 Consensus' No. 1 prospect in the cycle has a unique combination of size, athleticism, power and pass rush ability.
EDGE Mykel Williams – Georgia
The bar to play as a true freshman on Georgia's defensive front is quite high. With that said, Mykel Williams certainly has the skills and high-end talent to make a splash in Athens this fall. The Columbus (Ga.) Hardaway product was the most skilled pass-rusher we saw on the national all-star circuit in the 2022 cycle. Williams' plus length, big frame, athleticism and deep bag of pass rush moves bode well for his long-term projection. He's younger for the class and could still be developing physically. Though he may not be an early starter like some, we expect Williams to shine when he sees the field. Williams was a five-star and ranked as the No. 2 overall prospect in the On300.
EDGE David Bailey – Stanford
David Bailey was a rare early enrollee at Stanford, allowing for a potentially earlier impact than we typically see from Cardinal true freshmen. The 6-foot-3, 238-pounder figures to land on the two-deep and could ultimately push for a starting role. He had a big senior season at national power Santa Ana (Calif.) Mater Dei with 20.5 tackles for loss and 15.5 sacks. The SoCal product and fellow true freshman Ernest Cooper IV bring an infusion of athleticism to the edge for Stanford and were the crown jewels in the Cardinal's 2022 class. Bailey was the No. 51 overall prospect in the On300.
LB Lander Barton – Utah
Lander Barton has the potential to be one of the next defensive stars at Utah. It appears to be a question of when, not if the true freshman fills the void left by All-American linebacker Devin Lloyd's departure to the NFL. Barton is currently competing for a starting job and figures to see extensive action as a true freshman. The Utah and NFL legacy is physically and technically advanced at 6-foot-4, 230 pounds. He was a big rankings riser for On3 and finished as a five-star prospect and No. 28 overall in the On300 following a standout showing at the All-American Bowl in January. Barton's ability to play in space and cover at his size is unique among young linebackers.
LB Harold Perkins – LSU
Harold Perkins brings an infusion of athleticism and playmaking ability to LSU's linebacker room. The 6-foot-2, 220-pounder is simply a different athlete at the position. Perkins was a dynamic high school player doubling as a dangerous running back, rushing for 1,194 yards and 18 touchdowns at a gaudy 17.8 yards per carry as a senior. The Cypress (Texas) Cy Park product was a summer enrollee, so he may need some time to become acquainted with the defense, but we wouldn't be surprised to see Perkins carving out a major role by SEC play. The Louisiana native ranked as a five-star and the No. 10 overall prospect in the 2022 On3 Consensus.
LB Jihaad Campbell – Alabama
Jihaad Campbell was one of the more versatile defenders in the 2022 cycle. The 6-foot-3, 225-pounder lined up as a pass rusher, linebacker and even cornerback for IMG Academy as a senior. That versatility could help in Campbell seeing time as a freshman at Alabama, where he's currently competing at the WILL linebacker spot. Campbell recently drew praise from Crimson Tide defensive coordinator Pete Golding and could bring some added juice as a blitzer and pass rusher should he crack into the rotation in Tuscaloosa. The New Jersey native was a five-star prospect in the 2022 cycle and ranked No. 3 overall in the On300.
AP Travis Hunter – Jackson State
You'd be hard-pressed to find a true freshman expected to dominate the competition more than Travis Hunter. The Five-Star Plus+ prospect shocked the recruiting world back in December when he flipped from Florida State to play for Deion Sanders at Jackson State. Hunter was a unique high school prospect in that he showed five-star ability as both a receiver and cornerback while leading his Suwannee (Ga.) Collins Hill team to a state title as a senior. He's expected to play on both sides of the ball at Jackson State. If the spring game was any indication, Hunter should have his way with the competition at the FCS level. His ball skills are as good as we've seen from a high school prospect. Hunter finished as the No. 2 overall prospect in the 2022 On3 Consensus.
S Malaki Starks – Georgia
Malaki Starks looks primed to make a splash in Georgia's secondary as a true freshman. The in-state product arrived in Athens as a five-star and top-10 prospect per the On3 Consensus and has reportedly lived up to the hype thus far. A former high school quarterback with elite top end speed, Starks has impressed with his ability to stick with athletic pass catchers in coverage. Georgia is looking to replace first-round pick Lewis Cine, and Starks could step in to fill the void sooner than later.
CB Jaden Mickey – Notre Dame
Notre Dame is expected to field one of the nation's more experienced defenses in Marcus Freeman's first season as head coach. With that said, true freshman Jaden Mickey has played his way into the mix as a contributor to this point in fall camp. The 5-foot-11.5, 176-pounder has impressed with his ability in coverage since arriving on campus. This is a continuation of what he showed as a high school prospect at Corona (Calif.) Centennial. He's a technically sound corner with ball skills and athleticism. Mickey, who doesn't turn 18 years old until after Notre Dame's third game, ranked as the No. 148 overall prospect in the On300.
CB Will Johnson – Michigan
Will Johnson looked like one of the more ready-to-play defensive backs in the 2022 cycle. The Grosse Pointe (Mich.) Grosse Pointe South product has received positive reviews since arriving at Ann Arbor in the spring and is currently competing with the cornerback rotation. Johnson has ready-made size at 6-foot-2, 195 pounds along with some fluidity and instincts in coverage. While he may not start early on, it wouldn't be a surprise to see Johnson carve out a significant role as a true freshman. Johnson was Michigan's top-rated signee in its 2022 class, finishing as a five-star and No. 16 overall in the 2022 On3 Consensus.
CB Devin Moore – Florida
Devin Moore is a versatile defensive back with a strong combination of size and athleticism. The Naples (Fla.) High product and one-time Notre Dame commit looks like a big recruiting win for Billy Napier and staff down the stretch. Moore has been the subject of positive reviews through fall camp and has seen some time with the starters due to injuries. He's currently competing at the corner spot opposite Jason Marshall, who has missed time with an injury. Moore's versatility, size and ability to quickly assimilate to the college game has put him in a position to contribute as a true freshman in Gainesville. On3 was high on the Gator cornerback, ranking him as the No. 67 overall prospect in the On300.