Junior season evaluations lead to overhauled 2023 On300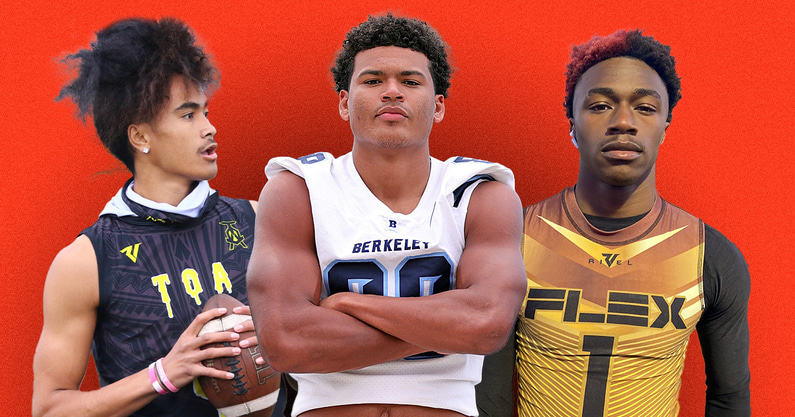 On3 has updated its football prospect rankings for the 2023 cycle. This rankings release marks the first update since the fall and is one of the more extensive overhauls over the course of the year.
With the 2022 cycle behind us, we've been able to fully dive into evaluating the junior seasons of 2023 prospects. We've also seen dozens, if not hundreds of prospects emerge on FBS and Power Five radars. Plus, coaches got on the road in January, with many focusing on 2023 prospects.
The next few months will see several big offseason events that include camps and 7-on-7's, along with the high school track season. Those new data points and exposure will help drive future updates in addition to continuing to sift through junior season film.
Our goal is to assess a prospect's long-term potential in college football, as manifested by the NFL draft. We now have 14 prospects rated as five-stars and will finish with 32 five-stars every cycle. 
Let's get into some of the storylines surrounding this update.
Movement within top 5 of On300
Though the top two prospects remain unchanged, we did see some movement within the top five in this update.
Quarterback Arch Manning continues to hold down the No. 1 spot, while USC quarterback commit Malachi Nelson remains at No. 2. Both Manning and Nelson have been at the top of On3's 2023 ranking since the initial release last August. The pair of Five-Star Plus+ quarterbacks have talent that made them easily identifiable early on in their high school careers. We highly value the senior season in evaluations, particularly with highly-rated quarterbacks. That's all to say, this race is far from called and will be decided over the next 12 months.
Notre Dame EDGE commit Keon Keeley jumps up a spot from No. 4 overall to No. 3. Keeley had a huge junior season at Tampa (Fla.) Berkeley Prep, totaling 34 tackles for loss and 16.5 sacks. The 6-foot-6, 230-pounder uses his outstanding length and curvilinear movement to create mismatches with opposing offensive linemen. That pass-rush skill and upside make Keeley the top non-quarterback prospect in the cycle at this point, in our opinion.
Cornerback Cormani McClain remains in the top five, checking in at No. 4 overall. The Lakeland (Fla.) Lake Gibson standout continued to showcase his ball-hawking skills as a junior, snaring six interceptions and breaking up 14 more passes. McClain has high-end ball skills at defensive back and is one of the better athletes regardless of position in a combine setting. Alabama, Georgia, Florida, Florida State and Miami are among the schools in pursuit of the 6-foot-1 1/2 cornerback.
Quarterback Nico Iamaleava moves from No. 8 to No. 5, shortening the gap between himself and the top two-ranked quarterbacks. The 6-foot-6, 200-pounder may be the top pure arm talent in the cycle and touts one of the bigger arms we've seen in the last few cycles. He's also a good athlete who doubles as a top volleyball player, making for what some call a "toolsy" quarterback prospect. Oregon, Alabama, Georgia and Tennessee are among the schools in the mix for the five-star passer.
4 new five-stars in On300
On3 announced four new five-stars on Thursday. The group of ascending prospects comprises much of the remainder of the top 10.
Offensive tackle Charles Jagusah (No. 7): The 6-foot-6, 300-pounder is a highly fluid and functional athlete, showing flexibility, coordination and balance. He stars on both sides of the ball for Rock Island (Ill.) Alleman and consistently flashes light-footed movement skills and top-notch play strength both as an offensive tackle and defensive lineman.
Jagusah hits high-end measurement thresholds at offensive tackle when it comes to length and frame. He also doubles as a top wrestler and is one of the best heavyweights in the Midwest. Jagusah recently wrapped up a 41-0 season on the mat, culminating in a state championship. Notre Dame currently leads in Jagusah's On3 Recruiting Prediction Machine.
EDGE Qua Russaw (No. 8): The 6-foot-3, 230-pounder is a rugged, athletic defender at one of Alabama's top talent-producing high school programs, Montgomery Carver. He immediately jumps off the screen due to the considerable take-on strength, effort level and speed in pursuit.
We watched a few of Russaw's games during the season and he was among the most impactful defenders we saw on a snap-to-snap basis throughout the fall. The eye test bears out on the stat sheet as well. Russaw finished his senior season with 27.5 tackles for loss and 16 sacks in 11 games. The new five-star holds offers from virtually all of college football's bluebloods. He attended games at Alabama and Georgia in the fall and returned to each campus for a junior day in January.
WR Zachariah Branch (No. 9) – Branch, a USC commitment, is one of the best track athletes in the country. Most importantly, he plays like it on Friday nights. As a sophomore, he set the Nevada state record with a wind-legal 10.33 second 100-meter time last spring. He also has personal bests of 21.01 seconds in the 200 meters and 24 feet in the long jump.
That elite athleticism seamlessly transfers over to the field, where Branch is dynamic as a deep threat and in the open field. He's not just a straight-line speedster — Branch's change of direction and ability to create separation with his route-running is among the best in the cycle. He's also shown plus ball skills. Branch finished his junior season at Bishop Gorman with 1,094 yards (22.7 yards per catch) and 14 touchdowns on 48 receptions. It's a lofty comparison, but we see a lot of Jaylen Waddle in Branch's game. He committed to USC on Christmas Eve, joining his brother Zion, an On300 safety who signed with USC as a member of the 2022 cycle.
IOL Jven Williams (No. 11) – The Reading (Pa.) Wyomissing product and Penn State commit oozes upside.
He is an easy, athletic mover as a run blocker. Williams excels at the second level and is a hellacious puller in the run game due to the combination of athleticism and heavy hands. The 6-foot-4, 290-pounder doubles as a defensive tackle for Wyomissing and is a top thrower in track with an outstanding 57 foot shot put toss. He was also a state champion in the discus as a sophomore. If that wasn't enough, Williams is very young for the class and won't turn 18 years old until late August of his freshman year, making him younger than many top 2024 prospects.
Commit leaderboard
Georgia currently leads the way with six current commits within the On300. Notre Dame is comfortably in second with five On300 pledges while USC and Penn State each have three apiece.
For a more accurate and up-to-date picture of where things currently stand, check out the On3 Consensus Team Recruiting Rankings. We strongly feel this formula provides the most accurate real-time ranking of recruiting classes, especially separating itself in the early and middle stages of the cycle. Read more about what makes the On3 Consensus Team Recruiting Rankings different here.