Recruiting Roundtable: The biggest surprises of the 2022 cycle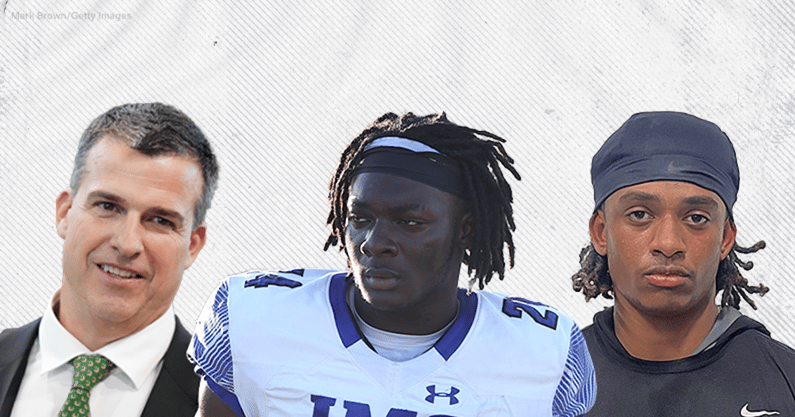 Five-Star Plus+ athlete Travis Hunter pulled off the biggest signing day shocker since the dawn of the recruiting site era on Wednesday. And while his decision to spurn Florida State for an HBCU garnered the headlines, there were plenty of surprising results — not only on National Signing Day, but over the course of the past few weeks and months.
Entire recruiting classes were altered by coaching changes, both head coaches and assistants. Programs who have never recruited in the upper echelons signed historic classes. And while the long-term returns are yet to be determined, some schools built major momentum and recruiting cachet, while others are stumbling their way into the next cycle.
On3's Expert Recruiting Roundtable discusses the biggest eye-openers, most important coaching moves, and how the 2022 recruiting cycle will impact many of programs going forward.
What individual recruitment was the most surprising to you?
Chad Simmons, On3 Director of Recruiting: Nothing shocks me with Kamari Wilson, but he had been considered almost a lock to Georgia until this past weekend. There had been whispers that he gave a silent commitment to Georgia over the summer, so seeing him end up at Florida was pretty surprising. 
Gerry Hamilton, On3 Senior National Recruiting Analyst: One in which a final decision is yet to be made. Four-star wide receiver Tetairoa McMillan having Arizona in it with Oregon as the decision is somewhat shocking. 'Zona went 1-11 and possesses zero momentum. That would be a major upset over a Pac-12 power should he actually select Arizona. 
Jeremy Crabtree, On3 Senior Recruiting Editor: Gabriel Brownlow-Dindy going to A&M wasn't necessarily a shock, but it is always a surprise when you see a player that has so many connections with a school end up somewhere else. It's a similar situation to Marvin Jones Jr. going to UGA. While you'd think it'd be easy to lock up and land somebody with family connections at places like Oklahoma and Florida State, seeing both of them end up somewhere else is still somewhat of a surprise. That's especially true for Brownlow-Dindy, who when he committed talked a lot about how he felt right in Norman and picking the school for the environment.
Charles Power, On3 Director of Scouting and Rankings: Terrance Brooks flipping to Texas would've surprised me a few weeks ago. The same could be said for Sonny Styles reclassifying and Jake Johnson ending up at Texas A&M, presumably with his brother Max (former LSU quarterback) as well. Going into NSD, I didn't expect James Pearce to sign, so aside from Hunter that might be my biggest surprise from the actual day.
What head coaching change had the biggest impact?
Chad Simmons: Lincoln Riley to USC hands down. And it is not just about today, but what will happen Friday, where I expect Five-Star+ cornerback Domani Jackson to pick USC. Riley has been at USC for a few weeks, and he has changed the culture already and has kids wanting to be part of it. 
Gerry Hamilton: Mario Cristobal to Miami. Not because of what he has done at Miami, as he hasn't had time, but what it did for others when he left Oregon. Texas signed five-star offensive tackle Kelvin Banks and four-star Cameron Williams after they decommitted from Oregon. That helped Texas snag late momentum and sign a top-five class. 
Jeremy Crabtree: You can look at the jobs that Brian Kelly did to keep a lot of the LSU class in place, and the same thing can be said about Brent Venables at Oklahoma. But both did lose some battles down the stretch. I do like what Billy Napier did at Florida. The Gators closed as strong as anybody in the days leading up to Wednesday and then on Signing Day. Yes, they do have the 30th-ranked class, but it was a class that was in shambles when he arrived. And it's a real testament that he was able to do as well as he did. Landing Kamari Wilson, Shemar James and Devin Moore was significant. Then keeping Chris McClellan away from Oklahoma also was something that maybe didn't get as much attention as it deserved Wednesday.
Charles Power: It's tough to grade all the new head coaches on an even scale as they each had varying circumstances. Their class is not highly-ranked, but I'll still go with Lincoln Riley. The Trojans appear to be in good position to land Domani Jackson to go along with top-100 safety Zion Branch. I think there's a huge impact in 2023 as well with Five-Star+ quarterback Malachi Nelson and top-100 wide receiver Makai Lemon. Landing Zion Branch also puts them in great position for his younger brother Zachariah Branch, one of the top receivers in the cycle. 
What assistant coach made the biggest difference?
Chad Simmons: You could probably name four or five guys that really jumped out, but I like Elijah Robinson at Texas A&M. The defensive line unit the Aggies are putting together is extremely impressive. He and Terry Price combined on a lot of the guys, and five-star Shemar Stewart is still out there, so Robinson and company may not be done. 
Gerry Hamilton: Corey Raymond going from LSU to Florida. Five-star cornerback Denver Harris is expected to sign and announce for Texas A&M Saturday night. Harris ideally wanted to go to LSU and play for Corey Raymond. Can LSU win out for Jacoby Mathews in February without Mickey Joseph and Raymond at LSU? Raymond leaving hurt LSU's ability to close strong. 
Jeremy Crabtree: Jeff Lebby going from Ole Miss to Oklahoma helped the Sooners salvage their offensive class and land a pretty darned good quarterback along the way. Lebby, OU's offensive coordinator, helped keep star RB Gavin Sawchuk, talented OT Jake Taylor and under-appreciated IOL Jacob Sexton on board. But then he helped the Sooners reel in uber-talented quarterback Nick Evers – who is a perfect fit for his offensive scheme. Landing WR Jayden Gibson was big, too.
Charles Power: Ra'Shaad Samples heading to TCU almost immediately resulted in SMU's most highly rated commits flipping to the Horned Frogs. Wide receiver Jordan Hudson was the crown jewel of the SMU class and is now signed for TCU. The same goes for his teammate and On300 safety Chace Biddle. TCU didn't have a ton of commitments when Sonny Dykes and staff took over, but finished with the No. 34 class. 
What class ultimately surprised you the most?
Chad Simmons: I could name a few, but I really like what Kentucky put together overall. Keeping five-star offensive tackle Kiyaunta Goodwin is key, they landed five-star wide receiver Barion Brown, and they had great success in Tennessee and their home state. They currently sit at No. 12 in the On3 Consensus Team Rankings. 
Gerry Hamilton: Everyone might have the same answer here, but it's Missouri for me. You don't often see the Tigers hanging out inside the top 15 of the team rankings. But that is what happens when you sign four of the top eight players in a talented and undervalued state. And then you sign five-star East St. Louis wide receiver Luther Burden from just across the state line in Illinois. Keeping four-star EDGE D.J. Wesolak home on Signing Day was a big win, too. 
Jeremy Crabtree: Missouri is fifth in the SEC, but this class was a major step forward for Eliah Drinkwitz. Not only do you get a five-star playmaker in Luther Burden, you get offensive upgrades all over the place with players like running back Tavorus Jones and quarterback Sam Horn. There's also a lot to like about the defensive class with Marquis Gracial and Isaac Thompson. Probably most importantly, the Tigers kept the top local players at home, which will be critical for the long-term growth for the Mizzou program.
Charles Power: Kentucky signed their best class in the internet recruiting era, ranking No. 12. They held on to Kiyaunta Goodwin and have a class with notable headliners. But also a lot of quality depth throughout. Oklahoma State would be my next choice. 
Which program had the most underwhelming close?
Chad Simmons: It would have to be Florida State. And it is not just because of Travis Hunter. That was an extremely rare situation. But they lost Florida State legacy Marvin Jones Jr. to Georgia, Devaughn Mortimer flipped to Louisville, and Tyre West, a four-star defensive lineman most expected them to land, signed with Tennessee. It was a tough day in Tallahassee.
Gerry Hamilton: Clemson, easily. The Tigers signed just 12 players, and two are specialists. The class was gutted with the departures of both coordinators, but especially on defense. Daylen Everette to Georgia, Jihaad Campbell to Alabama, and Keon Sabb to Michigan were body blows to the class.
Jeremy Crabtree: It's maybe not truly a surprise in a bad way or a shocker. Notre Dame struggled down the stretch but still has a top-five class. Still, if you're an Irish fan, you were hoping Marcus Freeman would have been able to do a little more damage in the run up to Signing Day. Granted, I think a lot of what he was tasked with doing when he was hired was to keep the pieces of the top-five class in place. I'll be curious to see how he does with a full recruiting cycle to work with.
Charles Power: Florida State is probably low-hanging fruit and they did rebound some after losing Travis Hunter. I'll go with Clemson. They lost several big commits like Jihaad Campbell (Alabama) and Daylen Everette (Georgia) in the wake of Brent Venables taking the Oklahoma job. 
Which program's unexpected momentum can be used to build off this class heading into the 2023 cycle?
Chad Simmons: I really like how Michigan closed. They did not get them all, but landing Keon Sabb, Derrick Moore, and Darrius Clemons Wednesday, combined with the Wolverines playing in the College Football Playoff has a lot of momentum in Ann Arbor right now. Raylen Wilson, a top 2023 linebacker in Florida recently committed, and there is a lot of positive talk about Jim Harbaugh's program right now. 
Gerry Hamilton: Tough call, but going with Texas here. They survived an awful 5-7 first season under Steve Sarkisian, and grabbed some really good momentum for the 2023 cycle. Quinn Ewers coming back home is big for offensive recruiting. Ewers and the flip of Terrance Brooks will slow the Ohio State cherry-picking of the state of Texas somewhat. The Longhorns flips on Signing Day came from players committed to Ohio State, Michigan and Oklahoma. That hasn't been done much in Austin in the last decade this late in the game. 
Jeremy Crabtree: I go back to Mizzou. There's a lot of really good talent in the Tigers' backyard in the 2023 cycle. Can they keep up the momentum and replicate what they did with the 2022 class? I also think you have to keep a close eye on Mario Cristobal at Miami. He did some good things in the short, short window he had after he was hired. But that should be a good indication of what he can do with more time to work with recruits and their families. Miami is going to be a real threat for sure.
Charles Power: I might go with Michigan State here. The Spartans exceed expectations in 2020 and were able to sign Mel Tucker to a long-term deal. I've noticed they're already making in-roads in 2023.