On3 standouts from week zero of high school football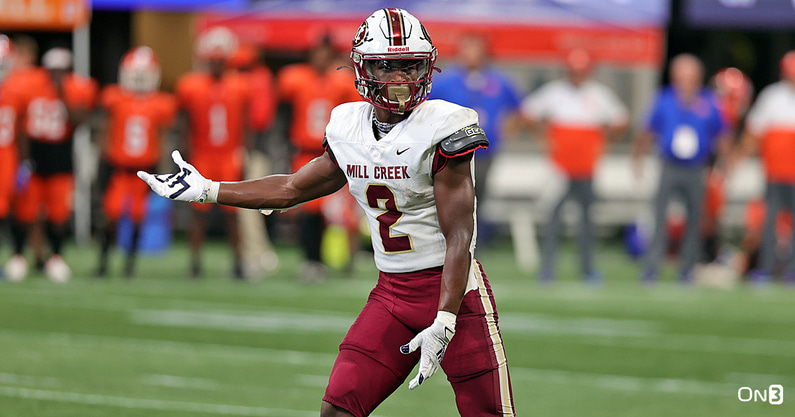 High school football kicked off in several states over the weekend. The action provided On3 with the opportunity to watch many prospects from the 2023, 2024 and 2025 in their season debuts.
While most of the nation will start their seasons this week, with some big showcase contests, we were still able to take in double-digit games and get a good first look at a number to top prospects. A number of those recruits turned in impressive showings. Here's a rundown of some prospects who caught my eye.
Please note that while extensive, this is not a comprehensive list of every top performer in high school football.
DL Daevin Hobbs
If we were to give out a 'Freak of the Week' award, it would undoubtedly go to Daevin Hobbs. The uncommitted defensive lineman had a breakout performance on both sides of the ball. Hobbs scored all 15 points for his Concord (N.C.) Jay M. Robinson team against Charlotte Independence – a school with over 1,400 more students.
The 6-foot-4, 270-pounder showed off rare movement skills and overall coordination for a prospect of his size. Hobbs got things going early on with an eye-popping 60-yard catch and run, extending for the ball over the middle of the field and out-racing the secondary for the score. Hobbs split out wide and come down with a jump ball on the two-point conversion. Later on he beat and beat 1-on-1 coverage down the sideline for a 65-yard gain. The second touchdown came on a direct snap that saw Hobbs beat defenders to to the corner. He also played significant snaps on defense making a handful of plays behind the line while also running chasing down ball carriers downfield.
Hobbs has been a steady riser in the On300 and recently moved up to No. 83 overall in the last update. He was a standout on the college camp circuit, consistently clocking 40-yard dashes in the 4.7 second range along with a 35-inch vertical. Hobbs looks to have added around 20 pounds since his junior season while also continuing to add burst and speed. That top flight athleticism more than checked out on the field on Friday night. It's hard to imagine many other defensive line prospects having the type of on-field athleticism that Hobbs showed.
The Charlotte area standout has taken official visits to North Carolina and Auburn and has officials to Alabama and Tennessee set for the fall. Georgia is also in the mix for an official visit.
S Caleb Downs – Alabama
Most of the marquee games over the revolved around the state of Georgia. Many of the Peach State's top teams and prospects were in action. None shined brighter than Alabama commit, Caleb Downs. The five-star safety prospect willed his Hoschton (Ga.) Mill Creek team to a 44-41 win over a talented Marietta (Ga.) Walton team.
Downs rarely left the field and made some huge plays. On offense, he lined up at running back, receiver and direct snaps in short yardage situations, finishing with 151 all-purpose yards and two touchdowns. The first score came on a 46-yard run up the middle. Downs was equally, if not more impactful on defense. He set up his short scoring run with an interception and made a number of strong open field tackles. His most impressive play came in a critical situation late in the fourth quarter. Walton took a deep shot on 3rd and 19 that if converted, would likely end the game. Downs was lined up in center field and quickly identified the route, racing to the boundary to break up the pass. The play showed off the touted safety's high-level instincts and range in coverage.
We've long considered Caleb Downs as one of the best overall football players and safest bets in the 2023 cycle. The five-star lived up to that reputation with a truly gutty performance that showcased his wide variety of skills.
2024 ATH Mike Matthews
Mike Matthews was an obvious stock up prospect over the summer, turning in a breakout performance as a pass-catcher at Overtime's OT7 event back in June. The 6-foot-0.5, 180-pounder has some of the best ball skills we've seen in person in 2022, regardless of cycle. Matthews showed off his advanced coordination and functional athleticism on Wednesday night. The Lilburn (Ga.) Parkview standout was completely dominant in the first-half of a blowout win, making a number of impressive grabs in rainy conditions. Matthews easily beat man coverage on two touchdown grabs, elevated for an interception in traffic and tracked a wet football over his shoulder on a long reception.
The No. 73 overall prospect in the 2024 On300 is an obvious riser given his showing over the summer and early on this season. Though he's ranked as an athlete and has considerable playmaking ability at safety, we haven't seen a 2024 wide receiver prospect with better ball skills to this point. Clemson, Georgia, Alabama, Notre Dame and USC are in the mix for Matthews according to his On3 Recruiting Prediction Machine.
DL Stephiylan Green – Clemson
Stephiylan Green was all over the field in his Rome (Ga.) High team's 16-6 win over Fairburn (Ga.) Creekside on Friday night. The Clemson pledge's high effort level was palpable and jumped off the screen on a snap-to-snap basis. Green was highly active and had a profound effect on the game's outcome. He broke through the line to force a safety in the first half. He sniffed out a screen en route to a pass break up. He generated pressure that forced a late interception and forced another pick earlier that was negated due to a penalty. Green also had a number of additional pressures and made second effort plays in pursuit downfield.
It's always refreshing to see top prospects play with such energy and effort. Green ranks as the No. 81 overall prospect in the On300 and looked the part on Friday.
CB Chris Peal
Chris Peal showed why he's considered one of the more explosive athletes at cornerback in the 2023 cycle. Th 6-foot-1, 190-pounder scored nearly every time he touched the ball in Charlotte Providence Day's 42-7 win over Rock Hill (S.C.) Legion Collegiate Academy. Peal caught four short passes from top 100 2024 quarterback Jadyn Davis for 150 yards and three touchdowns. The 10.78 second speed was on full display, as Peal used a long stride to easily pull away on his touches. He also had a long touchdown run that was called back due to a penalty.
The top 100 corner also locked horns with South Carolina commit Judge Collier in coverage. Peal ranks as the No. 70 overall prospect in the On300. Georgia is the big leader in his On3 Recruiting Prediction Machine.
2025 OT David Sanders
David Sanders debuted as a member of On3's 2025 Top 100 Watch List last week. The 6-foot-6, 240-pound sophomore was highly impressive in Providence Day's win, lining up at both offensive tackle and defensive end. Sanders showed off plus movement skills and feet in pass protection. He was also quite disruptive as a pass rusher, registering a sack and several pressures that we saw. The stamina and athleticism to perform so well on both sides of the ball is not something we typically see from many offensive linemen, particularly underclassmen.
WR Eugene Wilson III – Florida
Eugene Wilson III looked like one of the quickest and smoother receivers in the 2023 cycle during the off-season camp circuit. The 5-foot-11, 170-pounder has been a top 75 prospect for On3 dating back to February. Wilson more than looked the part on Friday, putting on a show in preseason action. The Gators pledge had several high-level plays, scoring two touchdowns and picking off a pass in just one quarter of action. Wilson made multiple defenders miss in space on the first score. He created easy separation on the second touchdown and was effectively wide open. The NFL legacy's ball skills were on display on the interception, as he located and leapt for an over-the-shoulder grab before a long return where he hurdled a would-be tackler at full speed.
Wilson worked at quarterback some in the spring, but looks to be settling back in at wide receiver and defensive back. That's a positive for his long-term development, as wide receiver is a true skill position – most top receivers play the position in high school rather than converting over in college. If Friday was any indication, Wilson could be in line for a big year. The No. 62 overall prospect in the On300 committed to Florida in July.
WR Noah Rogers – Ohio State
Noah Rogers has been one of the more productive wide receivers in the 2023 cycle, dating back to his sophomore season. He entered his final campaign at Rolesville (N.C.) High with 2,270 receiving yards and 33 touchdowns. Rogers continued his stat-stuffing ways on Friday, hauling in three touchdowns in a 52-28 win over state-ranked Southern Pines (N.C.) Pinecrest. The five-star receiver continued to show off his ability as one of the best deep threats in the 2023 cycle. Rogers stacked opposing cornerbacks when facing man coverage and gained separation downfield. He nearly had four touchdowns on the night, but had a walk-in score go through his hands – possibly losing the ball in the lights. Rogers also showed effort and physicality as a blocker on the edge.
The Ohio State receiver pledge ranks as the No. 17 overall prospect and No. 3 wide receiver in the On300.
2024 ATH Jaylen Mbakwe – Alabama
Jaylen Mbakwe wasted no time getting started on Friday night. The touted Alabama commit took his first touch to the house from 75 yards out. Mbakwe showed off his high-end play speed, taking a quick out and beating defenders to the corner before racing down the sideline for the long score. The 5-foot-11, 170-pounder was dynamic every time he touched the ball both at receiver and as a return man. Mbakwe wasn't needed much as the defending state champions cruised to an easy 48-0 win over Briarwood Christian and Clemson quarterback commit Christopher Vizzina.
Mbakwe ranks as the No. 5 overall prospect and No. 1 athlete in the 2024 On300.
TE Jelani Thurman – Ohio State
Jelani Thurman flashed his massive catch radius in his Fairburn (Ga.) Langston Hughes' team's win over Spartanburg (S.C.). The 6-foot-6, 225-pounder easily reached over an opposing defensive back for an outstanding high-point touchdown grab on a jump ball. We also saw Thurman play some defensive end throughout the night. He made an eye-catching play on that side of the ball, chasing the ball carrier down the line and finishing with some violence.
Thurman ranks as the No. 114 overall prospect and No. 6 tight end in the On300.
Additional notes
+ Five-Star Plus+ USC quarterback commit Malachi Nelson had a near flawless outing in a  41-0 win over Bakersfield (Calif.) Garces Memorial, going 14-of-15 for 345 yards and five touchdowns. This was probably not the best competition, but it's certainly an encouraging start. We'll hone in on Nelson's game this week against a traditional Florida power, American Heritage.

Syracuse quarterback commit LaNorris Sellers is one of the more underrated signal callers nationally, in our opinion. The Florence (S.C.) South Florence product had a huge first game in his opener, accounting for six touchdowns (four passing, two rushing) in just one half.
+ Michigan State wide receiver commit Demitrius Bell, is back at Nashville McGavock after a dalliance at Murfreesboro (Tenn.) Blackman. The On300 receiver had a big game in his opener with three touchdown grabs in a win over Clarksville (Tenn.) High.
+ Tennessee wide receiver commit Nathan Leacock had a big debut, hauling in five receptions for 204 yards and two touchdowns. The 6-foot-3, 197-pounder showed off physicality and the ability to finish through contact on some impressive grabs. He could be in line for a big season, filling the shoes of former teammate and top 50 2022 prospect, Wesley Grimes.
+ As noted above, South Carolina Judge Collier flashed some against a loaded Charlotte Providence Day team. Collier ran back a kickoff for a touchdown and tangled with top 100 cornerback Chris Peal while lining up on offense. Collier projects in the secondary at South Carolina and looked the part athletically on Friday night.
+ Georgia powerhouse Buford High cruised to a 38-7 win over Alabama state champion Alabaster (Ala.) Thompson. Top 100 running back and Alabama commit Justice Haynes rushed for 92 yards on 17 carries for Buford and returned a kickoff 97 yards for a touchdown. Top 2024 prospects defensive lineman Eddrick Houston and safety KJ Bolden also made plays for the Wolves. Houston showed off strength and block-shedding ability en route to disruption. Bolden's athleticism was on display on offense, catching a touchdown pass and making some plays with the ball in his hands.