On3 standouts from week one of high school football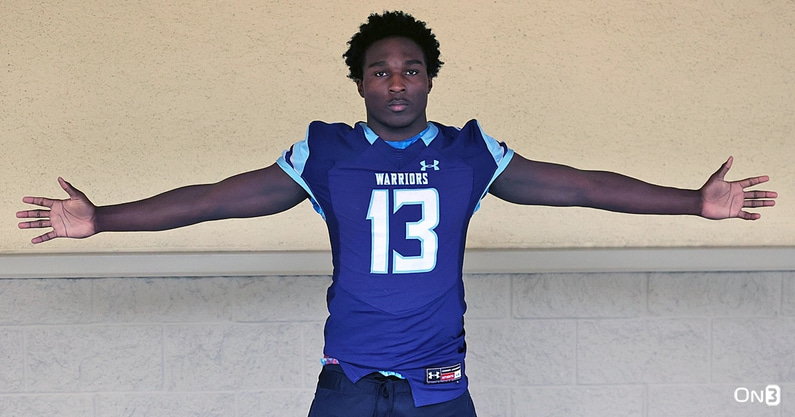 Last weekend marked the official beginning of high school football, with games underway in most states. Several games were nationally-televised, including some big showcase contests. We also saw action fully underway across Texas and California. Thus, On3 had the opportunity to watch many prospects from the 2023, 2024 and 2025 cycles over the course of the weekend.
As was the case last week week, a number of those prospects turned in impressive showings. Here's a rundown of some prospects who caught my eye.
Please note that while extensive, this is not a comprehensive list of every top performer in high school football. Also, this list does not include repeat standouts from last week in an effort to cast a wide net.
Freak of the Week: WR Jurrion Dickey – Oregon
Jurrion Dickey more than lived up to his five-star billing in his season debut on Saturday afternoon. The Oregon commit has transferred from San Jose Valley Christian to Atherton (Calif.) Menlo-Atherton and was ruled eligible shortly before the opener. Menlo-Atherton was down three scores in the first half when Dickey decided to take the game into his hands. The 6-foot-2.5, 210-pounder took over, scoring on four touchdowns in the final three quarters, sparking a 48-34 come-from-behind win. He finished with six catches for 169 yards and three touchdowns along with a 50-yard touchdown run.
Dickey flashed the complete skill set that makes him the No. 15 overall prospect and No. 2 wide receiver in the 2023 cycle for On3. He has a rare combination of size, play speed, physicality and technical polish. On one touchdown, we saw Dickey put on an exquisite move off the line and catch a quick slant, subsequently roasting the secondary for a 63-yard catch and run. He showed his ability to make defenders miss after the catch on the first (a deep corner route) and third (50-yard reverse) touchdowns. The final score was an impressive play on the ball, as Dickey out-jumped the cornerback for a high-point grab on a fade pass. The Bay Area standout also played a bunch of snaps at linebacker. Dickey showed competitiveness and an effort level that is highly encouraging for a prospect who is already so highly touted.
QB Jackson Arnold – Oklahoma
We've had the chance to watch the majority of the top quarterbacks in the 2023 cycle play over the past two weeks. Oklahoma pledge Jackson Arnold's season opener against Rockwall (Texas) Rockwall-Heath was among the better showings from the group to this point. Arnold didn't have a ton of opportunities in the first half as his Denton Guyer team scored three defensive touchdowns. With that said, the 6-foot-0.5, 195-pounder flashed his high-end arm talent and good speed in the second half. Arnold showed why he's considered to have one of the stronger arms in the 2023 cycle, hitting a deep shot for a long touchdown and throwing a dart into a tight window for another score. He also took a zone read keeper 64 yards for a score, out-running the Rockwall-Heath secondary. Arnold finished 12-of-18 for 204 yards and three touchdowns with 87 rushing yards on four carries. Denton Guyer is sure to receive tougher tests throughout the season, but Arnold flashed the skill set that has him as a top 50 prospect for On3 and one of the top quarterbacks in the 2023 cycle.
QB Christopher Vizzina – Clemson
Christopher Vizzina carried his Birmingham (Ala.) Briarwood Christian team to a 23-21 comeback win over Hoover (Ala.) Spain Park. The Clemson commit led a game-winning drive with less than one minute on the clock, culminating in a touchdown throw with no time remaining. Vizzina was clutch in the high leverage moment, completing 7-of-9 passes on that final drive. The two incompletions were a drop and a throwaway to avoid a sack.
Vizzina played a high usage role, carrying the Briarwood offense both as a passer and runner. He completed 22 of 31 passes for 262yards and the one touchdown and ran for 96 yards and another score. The 6-foot-4, 205-pounder is an athletic signal caller with advanced movement skills. We were able to see some of his play speed and individual playmaking ability as a runner against Spain Park. Vizzina's supporting cast looks to be on the low end relative to most other top 2023 quarterbacks and somewhat limits the ability to hit on deep balls – at least thus far. With that said, we saw some improvements and fortitude in bouncing back from a shutout loss to nationally-ranked Clay-Chalkville in week zero.
2024 QB DJ Lagway
DJ Lagway has long been considered one of the more talented quarterbacks in the 2024 cycle. The 6-foot-2.5, 225-pounder has a high-end combination of arm talent, readymade size and athleticism. He showed flashes as a sophomore starter at Willis (Texas) High but like most underclassman quarterbacks, had some areas to improve as a player. That brings us to the opener on Friday night. Lagway was phenomenal in a 73-14 win over Bryan (Texas) Rudder. The junior completed 21 of 27 passes for 343 yards and six touchdowns, also running for 102 yards and another touchdown on seven carries.
Lagway showed off his considerable physical skill set along with continued progression as an efficient signal caller at the high school level. He hit downfield strikes from the pocket, including a few into tight windows. We saw him rip off some big gains on designed runs. The two-sport standout also showed some impressive improvisational and reactive playmaking both as a passer and rusher. Lagway eluded the pass rush, spinning out of tackles and made defenders miss in space. He also made second-reaction plays and delivered some nice passes from off-platform. Overall, it was a very strong first game for On3's No. 18 overall 2024 prospect.
Texas A&M, LSU, Oklahoma, Clemson, USC, Florida and Alabama are among the many teams in pursuit (On3+) of the Baylor legacy.
WR Makai Lemon – USC
Makai Lemon put forth a yeoman's effort for Los Alamitos (Calif.) High in a nationally-televised game against Fort Lauderdale American Heritage. The USC commit was the obvious bright spot in what was an otherwise tough afternoon for Los Alamitos in a 56-27 loss that saw a running clock instituted in the second half. Lemon seemingly did whatever he wanted against an American Heritage secondary full of Power Five prospects and finished with over 200 yards receiving and three touchdowns. He also had a 65-yard touchdown on a catch-and-run and another score on a kickoff return called back due to penalties.
Lemon showed off his polished, well-rounded skills over the course of the afternoon. He's an advanced route-runner and has the ability to separate at multiple levels. The burst and quickness after the catch presented issues even against top talent. We also saw some ball skills on display, with Lemon coming down with an impressive back shoulder grab. The competitive nature was also notable. As noted, Los Alamitos was trailing by multiple scores for most of the game. Lemon's teammate and fellow USC commit, Five-Star Plus+ quarterback Malachi Nelson had a very up-and-down game – much more so than his final stats would indicate. Still, Lemon was competing at max effort even when the game was far out of reach.
WR Jonah Wilson – Texas
Jonah Wilson had a big senior season debut on Friday night, putting forth what is likely the best single-game performance of his career to date. The 6-foot-2, 200-pounder finished with nine catches for 190 yards and two touchdowns in Houston Dekaney's 32-25 loss to Klein Oak. We've always viewed Wilson as talented pass catcher with a big catch radius and coordinated movements. With that said, he simply hasn't had the volume of targets or production of most other top receivers to this point. On Friday, we saw an improved Dekaney passing game better showcase Wilson's skills.
The Texas commit made a number of high-level plays. He out-leapt a cornerback to come down with a high-point touchdown catch. The ball skills stayed on display when Wilson came down with a jump ball in a crowd of three defenders. He later tracked an underthrown pass for a diving grab. Wilson capped off the big night with a 59 yard catch-and-run touchdown that saw him juke multiple defenders in space while cutting across the field.
EDGE Rueben Bain
One of, if not the biggest upset nationally occurred in Bradenton, Florida in Friday night with Miami Central taking down powerhouse IMG Academy, 20-14. IMG annually boasts the nation's most-talented roster and this season is no different. Miami Central pass rusher and On300 prospect Rueben Bain was the star of the game. In a savvy move, the Miami Central coaching staff moved Bain inside in order to take advantage of favorable matchups along the IMG offensive front. Bain ate as an interior pass rusher – finishing with three sacks. His initial quickness and active hands simply proved too much for the IMG interior to handle. Bain also sniffed out a screen and had some key pressures.
The 6-foot-2.5, 250-pounder is one of the more productive pass rushers in the 2023 cycle. He's a bit of a tweener physically and his showing on Friday provided an interesting glimpse of his potential as an interior pass rusher. Bain has taken official visits to Alabama and Auburn. Miami leads in his On3 Recruiting Prediction Machine.
EDGE Princewill Umanmielen
Princewill Umanmielen was all over the field for Manor (Texas) High in a big 33-20 win over Austin LBJ. The 6-foot-4.5, 215-pounder flew off the edge and was highly disruptive, finishing with eight tackles, five tackles for loss and a sack. Umanmielen showed considerable speed in pursuit, making several high-level plays in tracking the ball down from the backside. The overall burst and finishing ability also stood out.
Umanmielen was productive as a junior at Manor, finishing with 25 tackles for loss and 13 sacks. If Friday is any indication, he's in line for another big season. Houston and SMU are in the mix for the Austin area prospect per his On3 Recruiting Prediction Machine.
LB Tony Rojas – Penn State
Tony Rojas is a dynamic two-way player, doubling as a productive running back with over 1,500 yards, 24 touchdowns as a junior. The Penn State pledge showed why he's considered one of the more athletic linebacker prospects in the 2023 cycle on Friday. Rojas started his senior season off with bang, rushing for six touchdowns against Arlington (Va.) Wakefield – in the first half.
Rojas is a fluid, explosive mover with an easy gait. He knifed through the Wakefield defense at will. Rojas also spun out of tackles and came down with a one-handed catch. On defense, the 6-foot-2.5, 195-pounder primarily lines up as a stand up pass rusher. Rojas continued to put his considerable speed on display, running down plays in backside pursuit.
LB Whit Weeks – LSU
Whit Weeks made a ton of plays in Watkinsville (Ga.) Oconee County's 33-9 win over Athens (Ga.) Clarke Central. The LSU pledge made big plays in all three phases. He finished with 106 yards and two touchdowns from scrimmage. On defense, Weeks registered 12 tackles, three tackles for loss, a sack and two pass breakups on defense. To cap things off, the 6-foot-2, 205-pounder returned a kickoff 99 yards for a touchdown. As the stat line and usage would indicate, Weeks is a high effort player with a versatile array of versatile skills. He plays fast on both sides of the ball and is advanced with his ability to diagnose and make plays on defense.
On3 is markedly higher on Weeks than the rest of the industry to this point, as the only outlet that currently ranks the LSU commit as a four-star prospect.
Additional notes
+ Five-star defenders defensive lineman James Smith and EDGE Qua Russaw made their senior debuts on Thursday, helping Montgomery (Ala.) Carver to a comeback win over Daphne (Ala.) High. Smith has slimmed down to around 295 pounds after getting up to 320 during the offseason. He showed off his athleticism as a jumbo ball-carrier, running in a touchdown. Russaw continued to show one of the best motors among 2023 defenders, making high-level plays as a pursuit defender.
+ The nation's top two safeties made big plays over the weekend. Alabama commit Caleb Downs continued to show out in a nationally-televised game. The five-star prospect recorded a pick-six in addition to a number of impactful plays. Five-star Notre Dame commit Peyton Bowen also had one of the more impressive individual plays we saw all weekend, jumping a pass and turning on the jets for a pick-six.
+ Miami commit Robert Stafford ran back two punts for touchdowns in a blowout win. The top 100 prospect is a versatile playmaker in all three phases with upside as a cornerback long-term.
+ Nasvhille Lipscomb Academy pulled off a big win over Alabama power Thompson in a nationally televised game on Friday. Lipscomb Academy 2023 linebacker Bryan Longwell had a breakout performance, highlighted by a pick-six. The 6-foot-1, 220-pounder was highly active. It would not be surprising to see more offers come his way as a result of his performance. 2024 On300 prospects linebacker Edwin Spillman and cornerback Kaleb Beasley also made some big plays for Lipscomb Academy.
+ Michigan running back commit Cole Cabana earned his fourth star and moved into the On300 back in July. Cabana looked the part in his opener at Dexter (Mich.) high, rushing for 237 yards and three touchdowns. He also showed off his notable pass-catching chops, reeling in three passes for 60 yards and another score.
+ Wide receiver Taeshaun Lyons is another 'stock up' prospect for On3 who turned in a big opener. The Hayward (Calif.) Tennyson pass-catcher showed burst and two-way playmaking ability while catching four passes for 125 yards and two touchdowns, returning a punt for a score and picking off a pass on defense.