On3's Midseason True Freshman All-America Team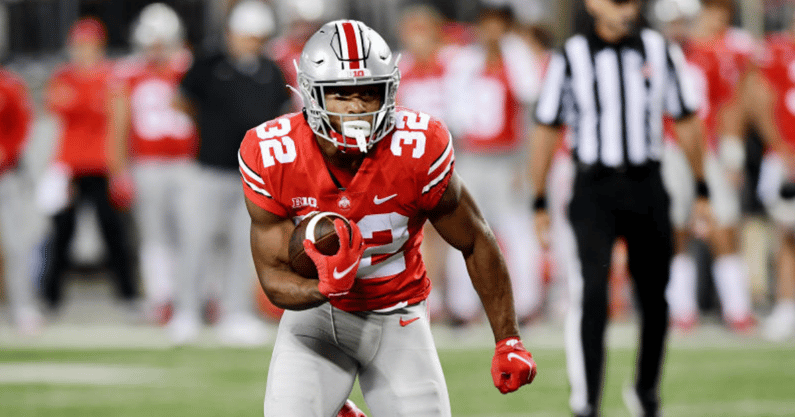 As we head into Week 7 of the season, we're seeing more and more true freshmen make significant impacts. Those impacts should only increase as talented newcomers continue to gain experience and increased opportunities.
With the season at its midway point, now is a good time to assemble our Midseason True Freshman All-America team. In putting this team together, we placed a heavy emphasis on the degree of contribution of each freshman along with the ability shown thus far.
The team has some familiar names – 10 members were part of On3's Preseason True Freshman All-America team. Still, there are several true freshmen who have surprised and come from off the radar.
Here is the team.
MIDSEASON ALL-AMERICA OFFENSE
THE BACKFIELD
QB Seth Henigan, Memphis
RB TreVeyon Henderson, Ohio State
RB Jarquez Hunter, Auburn
The buzz: Henigan has started every game for Memphis this season, playing by far the most of all true freshman quarterbacks. He's acquitted himself well. Henigan, from Denton (Texas) Ryan, has completed 60.5% of his passes for 1,938 yards (9.0 yards per attempt), 14 touchdowns and three interceptions. He led the Tigers to a 3-0 start and a win over Mississippi State. They've come back to earth in recent weeks, dropping three in a row. Henigan is sure to get some competition for the postseason True Freshman All-America team from Oklahoma's Caleb Williams, assuming the former No. 1 overall prospect starts for the Sooners moving forward. Henderson was On3's No. 1 running back in the 2021 cycle and he more than looks the part thus far. A five-star prospect from Hopewell (Va.) High, Henderson has been one of the Buckeyes' best players this season and emerged as a reliable big-play threat. He's rushed for 612 yards and nine touchdowns while averaging 8.74 yards per carry; he also has seven receptions for 154 yards and two more scores. It's not out of the question Henderson could see himself in the Heisman conversation if he keeps it up. He looks like one of the best true freshman backs in years. Hunter was a February signee for Bryan Harsin and the new Auburn staff, and looks like a considerable steal. The speedster from Philadelphia (Miss.) Neshoba Central has served as a strong complement to Tank Bigsby in the Tigers' backfield. He leads the nation in yards per carry with 9.89. Hunter had a big outing in the Tigers' win at LSU a few weeks ago and looks as if he will be a key cog in their offense for years to come.
THE RECEIVERS
WR Xavier Worthy, Texas
WR Jack Bech, LSU
TE Brock Bowers, Georgia
The buzz: Worthy has emerged as the clear top receiver for Steve Sarkisian's Texas offense, highlighted by his 261-yard, two-touchdown breakout game in the Red River Showdown last week. Worthy, from Fresno (Calif.) Central East, has shown why he was a five-star prospect for On3 in the 2021 cycle. Worthy is among the faster wide receivers nationally, with the ability to separate and pull away from defensive backs. He also can track and locate the ball downfield. Bech, from Lafayette (La.) St. Thomas More, is one of several young pass catchers to see considerable targets for LSU this season. He's a hybrid wide receiver/tight end who has emerged as a reliable target for quarterback Max Johnson. That's likely to increase with the season-ending injury to the Tigers' top receiver, Kayshon Boutte. Bowers is the leading receiver for top-ranked Georgia, with 315 yards and four touchdowns on 20 catches. That's heady stuff for a true freshman tight end. Bowers, from Napa (Calif.) High, already looks like one of college football's best at the position, with breakaway speed and the ability to present considerable mismatches with linebackers. Like Worthy, Bowers was a five-star prospect for On3 out of California despite not playing as a senior in 2020 because the season was canceled by COVID-19.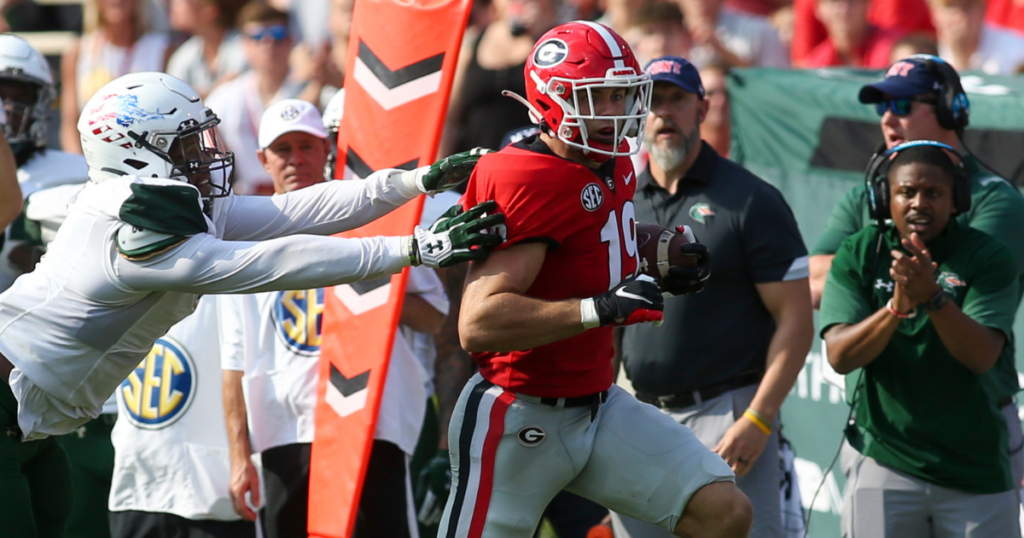 THE LINE
T Reuben Fatheree, Texas A&M
G Connor Colby, Iowa
C Bryce Foster, Texas A&M
G Marcus Tate, Clemson
T Joe Alt, Notre Dame
The buzz: Fatheree and Foster are both starting on Texas A&M's re-tooled line. Foster has had his up and downs while making the full-time transition to center. That said, he played his best game of the season in the big upset of Alabama last weekend. A former top-100 prospect from Katy (Texas) Taylor, Foster is also one of the top shot putters in his class and plans on participating with the Aggies' track team in the spring. Fatheree has manned the right tackle spot for Texas A&M in recent weeks and at times has looked like their best offensive lineman. The 6-foot-8, 320-pounder pairs plus length and athleticism and was the No. 53 overall prospect in the 2021 On300 out of Richmond (Texas) Foster. Colby has seen significant time at guard for No. 2 Iowa. Starting games as a true freshman offensive lineman for Iowa is an achievement in itself. Colby has played well, particularly excelling as a run blocker. He ranked as the No. 63 overall prospect in the 2021 On300 out of Cedar Rapids (Iowa) Kennedy. Clemson's offense and has been anything but pretty this fall. Still, while he's certainly had some bumps along the way, Tate, from Miami TRU Prep Academy, has seen significant time and is one of the few true freshman linemen to earn a starting nod to this point, let alone for a perennial top program. Last week saw Notre Dame turn to Alt at left tackle against Virginia Tech. The NFL legacy has played well in spots for the Irish and held his own against the Hokies. The former On300 prospect from Minneapolis Totino-Grace from flashed promise and could hold down that spot for the rest of the year depending on Notre Dame's injury situation.
MIDSEASON ALL-AMERICA DEFENSE
THE LINE
EDGE Collin Oliver, Oklahoma State
EDGE Jack Sawyer, Ohio State
DL Tyleik Williams, Ohio State
DL Maason Smith, LSU
The buzz: Oliver made his first start two weeks ago against Baylor and came up big with two sacks. Oliver, from Edmond (Okla.) Santa Fe, has been highly disruptive off the edge in 128 snaps this season. He's a quick, athletic speed rusher who gives offensive tackles problems with his first step. Sawyer leads Ohio State defensive ends with two sacks. The former five-star and No. 2 prospect in the 2021 cycle from Pickerington (Ohio) North is making strides on a weekly basis, as evidenced by his strong showing last week against Maryland. Though he's looked good in his 111 snaps thus far, we expect his impact to continue to increase as the season rolls on. Williams has been a strong rotational tackle for the Buckeyes. The former On300 prospect from Manassas (Va.) Unity Reed has racked up four sacks in 94 snaps. Smith, from Houma (La.) Terrebonne, has been a key defensive lineman for LSU thus far, playing 202 snaps. He had a three-sack game against an overmatched McNeese offensive line early in the season and has leveled off a bit, but still has been an impactful freshman tackle.
THE LINEBACKERS
LB Branden Jennings, Maryland
LB Junior Colson, Michigan
LB Eric Gentry, Arizona State
The buzz: Jennings was part of a strong front-seven group in Maryland's 2021 signing class. From Jacksonville Sandalwood, Jennings is a long-limbed linebacker who is at his best when moving forward as a run defender. Jennings has 18 tackles, a tackle for loss and a forced fumble in 126 snaps. Colson, from Brentwood (Tenn.) Ravenwood, was on our preseason team and has looked the part thus far while playing for an undefeated Michigan team. Colson has played 144 snaps, tallying 20 tackles. He's shown the athleticism that had him as a top-100 prospect for On3. Gentry has flashed on multiple occasions on a stingy Sun Devils defense. At 6-6, Gentry has some unique physical dimensions with supreme length. He's making plays off the edge and behind the line while also disrupting passing lanes. The former On300 prospect from Philadelphia Neumann Goretti has three tackles for loss and a pass breakup in 107 snaps.
THE SECONDARY
CB Denzel Burke, Ohio State
CB Duce Chestnut, Syracuse
S Andrew Mukuba, Clemson
S Tysheem Johnson, Ole Miss
The buzz: Burke could be Ohio State's next star cornerback. From Scottsdale (Ariz.) Saguaro, Burke has logged 351 snaps at corner for the Buckeyes and has played well, particularly for a true freshman. Burke has six pass breakups and an interception. Chestnut, from Camden (N.J.) High, was a preseason pick for this team and hasn't let us down. He's started for the Orange, playing 368 snaps at corner while breaking up three passes and nabbing two interceptions. There have been times when he looks like one of Syracuse's best defensive players. Like Chestnut, Mukuba was a preseason inclusion who has been a starter from the jump. The former top-50 prospect from Austin (Texas) LBJ has flashed a good bit at safety. Mukuba has 22 tackles, one tackle for loss and three pass breakups. Ole Miss entered the season in desperate need of upgrades on defense. Johnson, who was a high school teammate of the aforementioned Eric Gentry, has logged 232 snaps while racking up 29 tackles and two tackles for loss.