On3 Outliers: 2023 football recruits On3 ranks higher than the industry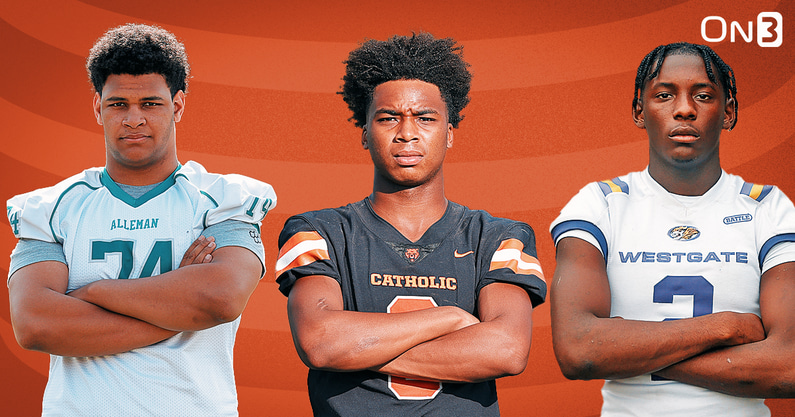 The updated On300 for the 2023 recruiting cycle is out and there are a handful of examples of players in this particular class that On3 is higher on. Among them are players committed to programs from coast to coast, including Notre Dame, Texas, LSU, Clemson, Ohio State and Georgia.
For a look at where top prospects rank throughout the industry, check out On3's Industry Comparison rankings. Here are 12 players that stand out:
Five-star S Peyton Bowen (Notre Dame commit)
On300 ranking: No. 15
Next highest ranking: No. 30 (ESPN)
A key piece on both sides of the ball for one of the nation's top high school football programs in Denton (Texas) Guyer, Peyton Bowen is a versatile difference-maker to move around the secondary as a free safety as well as in the nickel with a nose for the football and excellent range. His combine testing is through the roof, and it showed this summer at the Future 50 covering an array of talented pass-catchers and early on in his senior season against top Texas competition, including as a return specialist.
Five-star EDGE Adepoju Adebawore (Oklahoma commit)
On300 ranking: No. 7
Next highest ranking: No. 48 (247Sports)
Five-star Sooners EDGE commit Adepoju Adebawore is a first-one-off-the-bus type of player with an imposing build (6-foot-4, 225-plus pounds with a 7-plus-foot wingspan). He plays with a similar motor that was fully on display at Future 50 over the summer. Adebawore fires off the ball and has outstanding closing speed, and should be prolific under Brent Venables' watch in Norman.
Five-star S Derek Williams (Texas commit)
On300 ranking: No. 31
Next highest ranking: No. 40 (Rivals)
It is a star-studded year for safeties across the country, and one of the best resides in The Boot. Texas commit Derek Williams (6-foot-2, 190 pounds) is a difference-maker for defending Class 4A state champion New Iberia (La.) Westgate, wearing multiple caps and making signature plays as an in-the-box safety and in spot duty on offense and special teams. Williams is an instinctive freelancer at his natural position of safety and is rarely tested in coverage for a reason.
Five-star WR Shelton Sampson Jr. (LSU commit)
On300 ranking: No. 20
Next highest ranking: No. 36 (ESPN)
After his freshman season, LSU pledge Shelton Sampson Jr. clocked multiple 4.3-second 40s and has grown into a 6-foot-4, 190-pound long-strider with not only speed, but excellent stop-start quickness, coordination and catch radius on the perimeter and over the middle of the field. Sampson averaged north of 20 yards per reception as a junior and is off to a fast start this fall with 20 catches for 283 yards and 5 TD (14+ YPC) and a 97-yard kickoff return through three games.
Charles Jagusah (Notre Dame commit)
On300 ranking: No. 6
Next highest ranking: No. 25 (247Sports)
Uber-athletic offensive tackle Charles Jagusah boasts a multi-sport background and is a bonafide star on the football field as well as the wrestling mat. A state champion wrestler as a junior last year, some of those same traits translate to Jagusah's game. The 6-foot-6, 300-pounder plays with impressive balance and coordination, and he has continued to flash more and more as a driver up front.
Five-star EDGE Damon Wilson
On300 ranking: No. 4
Next highest ranking: No. 39 (247Sports)
Five-star Venice (Fla.) EDGE Damon Wilson is one of the more productive defensive players from Florida, as well as a decorated powerlifter. His blend of size (6-foot-3.5, 235 pounds) and first-step quickness and the flexibility to bend around the corner has him in rarified air, which has not gone unnoticed. Wilson can dunk and is a high-motor defensive lineman that's been hard to contain early on this fall, and his ability to fly off the edge downhill puts him in rarified air.
Alabama holds a slight edge over Georgia and Ohio State on On3's Recruiting Prediction Machine.
Five-star WR Noah Rogers (Ohio State commit)
On300 ranking: No. 17
Next highest ranking: No. 42 (247Sports)
One of the many stellar pieces of the Buckeyes' 2023 recruiting haul is the elite pass-catchers that Brian Hartline is bringing in, which includes 6-foot-2, 200-pound Noah Rogers, who was brilliant over the summer at the star-studded OT7 event in Las Vegas and as a junior for Rolesville (N.C.) averaging north of 22 yards per catch. The big-framed playmaker has excellent hands and adds a massive spark to any vertical passing attack.
Five-star OT Zalance Heard (LSU commit)
On300 ranking: No. 14
Next highest ranking: No. 63 (247Sports)
Zalance Heard was vaulted to a five-star and among the nation's best offensive tackles and players in the nation after a series of in-person evaluations from the spring through the summer. The 6-foot-6, 308-pounder boasts rare 36.5-inch arms and an uncanny wingspan paired with nimble feet and outstanding technique. Heard, who committed to LSU in September, has shined making the transition from the defensive line to right tackle and now as Monroe (La.) Neville's left tackle, where he's able to explode through blocks, drive through defenders and set a perimeter in pass-pro at a high level.
Five-star IOL Jven Williams (Penn State commit)
On300 ranking: No. 10
Next highest ranking: No. 44 (247Sports)
One of the nation's premier interior offensive linemen, Penn State-bound Jven Williams fits the bill from a physical standpoint (6-foot-5, 290 pounds) and shines as a pulling guard in a classic Wing T offense for Reading (Penn.) Wyomissing High School. Williams' frame and athleticism up front paired with his physical prowess and understanding of the position makes him a possible immediate-impact player with long-term position versatility up front in Happy Valley.
Four-star OT Monroe Freeling (Georgia commit)
On300 ranking: No. 27
Next highest ranking: No. 80 (247Sports)
Recent Bulldogs pledge Monroe Freeling looks the part of a tackle pieced together inside of a lab. The 6-foot-7, 285-pounder has length, great feet and athleticism that jumps off the tape and projects well for Saturdays as well as Sundays. He's an offensive lineman that can dunk and also serve up a pancake. Freeling is continuing to hone his skill set and add some more physicality to his game. He's played with a noticeable chip on his shoulder early on this fall.
Four-star EDGE Bai Jobe (Michigan State commit)
On300 ranking: No. 34
Next highest ranking: No. 73 (247Sports)
Michigan State commit Bai Jobe is entering just his third season of varsity football since coming to the U.S. from Senegal. Last year, the Norman (Okla.) Community Christian EDGE amassed 16.5 sacks and then lifted his basketball team to the state title game. Jobe has continued to add weight and add to his pass-rush arsenal while also making acrobatic plays for his 7-on-7 squad. As a senior, the uber-athletic EDGE defender has been dynamic making plays on both sides of the ball for his high school team.
Four-star CB Calvin Simpson-Hunt (Ohio State commit)
On300 ranking: No. 40
Next highest ranking: No. 152 (Rivals)
Industry Comparison
One of the gems of a top-loaded cornerbacks group in the 2023 cycle, top-50 overall player Calvin Simpson-Hunt continues to see action in his direction after a breakthrough junior year and has stood up to the test over and over again. The bonafide speedster who clocked awe-inspiring times on the track in the spring (10.67-second 100 meter, 21.77-second 200-meter) has been stellar in man coverage for Waxahachie (Texas) High. He's able to effectively blanket receivers and is proficient making plays on the ball in stride. The Ohio State-bound cornerback is one of the frontrunners to finish tops at his position in the nation.