On3 Roundtable: Why is the 2023 QB class difficult to evaluate?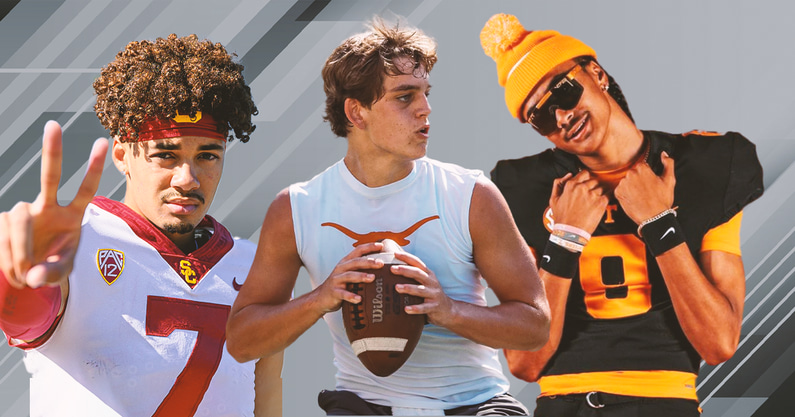 The 2023 quarterback recruiting class is shaping up to be one of the most fascinating in recent memory.
While New Orleans Isidore Newman five-star Arch Manning remains the No. 1 player, Long Beach (Calif.) Poly five-star Nico Iamaleava is right on his tale at No. 2 and five other quarterbacks rank inside the top 50 of the 2023 On300 ranking. They are all players with immense potential. Los Alamitos (Calif.) five-star Malachi Nelson is a Five-Star Plus+ talent. Detroit Martin Luther King four-star Dante Moore is a consensus top-10 player. Ankeny (Iowa) four-star JJ Kohl put on a show at Elite 11. Denton (Tex.) Guyer four-star Jackson Arnold and Birmingham (Ala.) Briarwood Christian four-star Christopher Vizzina are consensus five-star players.
Despite the bevy of talent at the top of recruiting boards, a lot of questions still remain about this group. On3's Director of Scouting and Rankings Charles Power, National Recruiting Analyst Gerry Hamilton and Scouting and Rankings Assistant Cody Bellaire are here to explain what makes this quarterback group such a difficult one to figure out.
Why is the 2023 QB recruiting class difficult to evaluate?
Charles Power: It definitely is one of the more difficult quarterback classes to unravel. There's a couple of factors that I think contribute to that. We have seven quarterbacks within the top 50. There's a pretty large number of quarterbacks within that top tier. If you're a top-50 quarterback, it means you're a contender to be a five-star. If you're a five-star quarterback, you're a little bit of a contender to be a top-10 or potentially No. 1 prospect in the country. It's a pretty deep group at the top. Typically in a recruiting cycle, if you had that many top quarterbacks, there's going to be a couple that separate themselves as dominant high school players. Bryce Young was a dominant high school player over multiple years. Trevor Lawrence was like that. Ideally speaking, you will often see the most physically talented quarterbacks will also be really great high school players. This class is not really like that.
For instance, Arch Manning and Nico Iamaleava, we view to this point as really showing the most physical traits and ability among that top tier. But they have not really produced on the field in a really demonstrative way that would make them like complete consensus No. 1 overall player that you feel good about relative to other cycles. Who we view as the most physically gifted quarterbacks in this class aren't necessarily the best high school players to this point yet. The group in general is not as productive as you would see in a typical recruiting cycle among the top quarterbacks. It's not something that's really exclusive necessarily to Arch and Nico. They're probably the best examples of that because they're the top ones. Within that top seven, aside from Dante Moore and Jackson Arnold a little bit — mainly Dante Moore — the rest of them aren't as productive or efficient as passers as you would typically see for that many highly-rated quarterbacks. Dante Moore has questions, too, because he probably isn't quite the athlete of some of the others. You can really go down the list and there's probably more questions about each quarterback than you would typically see for that many highly ranked quarterbacks.
Gerry Hamilton: I think there's so many factors that play into things nowadays that maybe didn't a few years ago. And there's certain special circumstances with some quarterbacks. Like Arch Manning, a lot people wonder, why didn't he go to Elite 11? Well, he's part of the Manning Passing Academy. If he trains, he trains with Peyton and Eli and the Manning family, so what's really the point? Then you have Nico, who bypasses Elite 11 for his last high school volleyball tournament. Arguably your two guys, they didn't compete head-to-head at the same event. They weren't at an event where you get to see a lot of other guys and compare — whether that's feet, whether that's body type, whether that's arm action or arm talent. So since a couple of your top guys just haven't been at the same events that a lot of quarterbacks normally do, I think that adds a little more intrigue to it as well.
Cody Bellaire: I think the toughest part about this group is that everyone has something they excel at but there's no single kid that has the complete package. What's going to be fun about this group — and what's currently fun really about it —is that everybody has their flavor. I always talk about it in flavors. Where I've come from, I will always kind of talk about having certain flavors at certain positions. There's gonna be certain flavors of quarterback that may not exactly taste good to you that tastes great to me.
You could probably poll 25 personnel directors in college football and I guarantee the top 10 would look completely different for all 25. That's just the way it is because it's such a flavor position this year and there's not one single guy that has all the traits combined into one package.
Are we seeing a trickle-down effect from the lost reps during the pandemic?
Charles Power: I've wondered about that. Specifically, if you're going to pinpoint quarterbacks that the pandemic might have affected, I would probably start first with the ones from California. Just because they played an abbreviated spring season as sophomores, I think that's contributed to Nico's lack of experience or game reps. He started four games in the spring. Same for Malachi Nelson, although Malachi Nelson has played a little more than Nico just because his team's gone a little deeper into the playoffs.
Some of these offenses these quarterbacks are playing in are maybe just not quite as explosive or efficient. I track yards per attempt with the quarterbacks every year. We only have a handful that are throwing over 10 as juniors and typically, you see probably over half of them are. Just not crazy efficient passing offenses for a lot of these quarterbacks. Pretty low passing totals, too. I think our top five, none of them eclipsed 3000 yards passing as juniors. It's just not as productive a group. I could see maybe some of that lack of experience factoring in. I could see maybe some of that lack of experience factoring in. Some of these guys really were playing their first significant high school football last fall, so that could affect it as well.
Gerry Hamilton: No, I'm seeing it more generally in the '24 group. I think the '24 group, those kids maybe missed some of the time in the weight room and missed some of that developmental time. I think we're seeing more of that — not quarterback wise, but more in a broad scope of that class, maybe physically being behind other classes so far.
How does this class compare to previous quarterback classes?
Cody Bellaire: If you want to talk about it from an evaluation scouting standpoint, previous groups I think have been more high-floor guys. Whereas this year, I think you're having a lot of high-ceiling guys rise to the top. These guys may have more long-term potential in this 2023 group, compared to previous years where you're finding guys that can come in and play right away. This group in 2023 may not necessarily have that outside of guys like Arch Manning. I think Vizzina is a guy that can come in and play early. Dante Moore can come in and play early. But Nico, Malachi and JJ really are those three — Eli Holstein, I would even throw in there, too — these guys are going to need some time. But potentially, you look three or four years down the line, you might have some top five, top-10 potential NFL Draft selections in this group. I just think you have potentially generational players in this '23 group where you say, you're never gonna see a guy like Nico Iamaleava again or somebody like Malachi Nelson. Especially a guy like JJ Kohl. We're higher on him than most, but you don't see 6-6, 235 guys that can short shuttle and three cone and run around like that every day. I don't there was a guy like that in last year's group or in the couple years prior. JJ Kohl is an anomaly. I think more people would be talking about JJ Kohl if Nico Iamaleava didn't exist. But it's the fact that you have two guys like that that are in the same group really shows you how rare this '23 group is in terms of diversity and skill set compared to years prior.
Is Arch Manning's lack of camp appearances a big deal?
Charles Power: I think relative to his ranking, it just it makes it a little more difficult because you just don't get to see him in the same settings to compare to others side by side. I did see him in a camp in a neutral camp setting, one of the few he's participated in, so I think that helped. But ideally you would want to see him in these other neutral settings, these camp settings or whether it's like a 7-on-7 tournament. That's maybe not with his high school team. I think that factors in, too. And also, too, maybe see him play against more speed, just with the level of competition. If you don't play great competition at the high school level, I think it could help the evaluation, maybe also help your development, to play against some speed or some playing against better defensive backs and also better receivers on the 7-on-7 circuit. That could maybe help with your development, at least in terms of being ready to play or not having to adjust quite as much to the college level.
Nico Iamaleava, No. 2 in the On300, was also not a big camp guy. Do you think their lack of camp reps while maintaining top rankings will change how you evaluate quarterbacks in the future?
Gerry Hamilton: For me, it doesn't because I'm so big on games. I'm big on the Friday nights. I'm big on seeing a kid play with pads under duress, when the chips are down, when there's pressure on, when the walls are closing in. It doesn't affect anything for me. I think that just shows how far we've come in recruiting and as an industry that so many of these kids attend camps and 7-on-7's and events. We get more of a AAU basketball look at kids than we did five, 10 years ago. But no, it's not going to change anything for me because for quarterbacks, it's between the lines.
What should we be looking for from these quarterbacks during their senior seasons?
Gerry Hamilton: I think production is huge, production with a caveat of some guys are going to play on better teams. They're going to play with more talent around them, whether that's the offensive line or more speed at skill positions versus a schedule they may play. I think you have to look at all of it. Experience is huge at the quarterback position. The guys that have already started two or three years and now they get that third or fourth year as a starter and try to see some improvement. Now, some of the team stuff can change that. Maybe their team's not as good as it was. But still, the more experience you gain, the more consistency you show, the better production you have in general. I think that's a big thing to look at. Are you adding to your game? You become a little more athletic. That may be things you see watching a huddle. That may be the things you see statistically.
Charles Power: There's a couple of ways you can assess how they play. Obviously statistically, I think it's important to understand the context of the different high school teams and systems that all these guys are in. Strictly going off of pure stats can be a little misleading. I would just look for generally how they play. I think whoever shows the physical ability they have, that's projectable by way of performing at a high level. I will look for guys to improve. I think just generally speaking, you wanna bet on quarterbacks who are continuing to get better while also understanding there is some variance in the context of a different team-to-team setting.