On3 Top 20 2024 Countdown: No. 17, DL Williams Nwaneri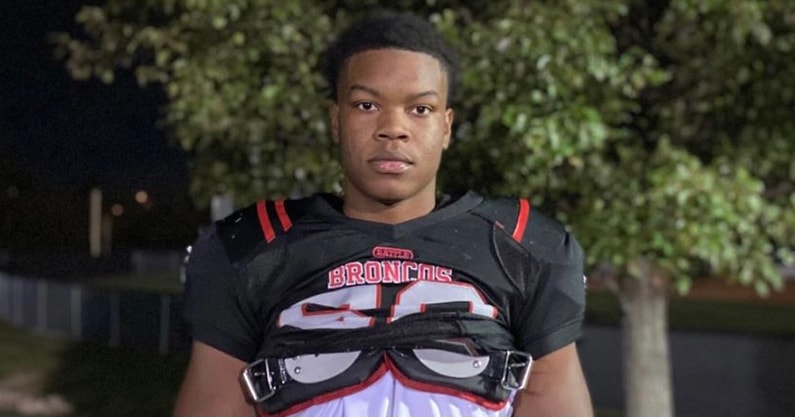 As the 2024 class is just finishing their first or second season of varsity football, their skill sets — and ultimately evaluations — will change drastically in the next two years. The physical transformations that happen in between sophomore and junior season are the biggest at any point in the recruiting process. That makes it challenging to nail down the truly elite prospects that deserve five-star status.

As such, On3 has given out just three of those honors in its second full ranking of the 2024 class. There are, however, a number of players vying to break into that group over the next 12-18 months. Within our most recent rankings release, we're counting down the top 20 sophomore prospects in the country. Checking in as the No. 17 prospect in the Class of 2024 is Lee's Summit (Mo.) North defensive lineman Williams Nwaneri.

Williams Nwaneri, a 6-foot-6, 240-pounder, already holds more than two dozen offers, including elite national programs like Georgia, Oregon, USC, Alabama, Texas A&M, Michigan and many others. Regional programs like Iowa State, Missouri, Nebraska, Iowa, Kansas and Kansas State are also heavily involved for Williams Nwaneri.
Williams Nwaneri recently landed new offers from both Georgia and Texas A&M. His visits this spring have taken him to Iowa State, Oregon and Missouri.
With the 2023 cycle about to hit a fever pitch, much of the attention around the recruiting world is on the rising senior class. But the recruitments of the country's best 2024 prospects are taking off as well. Schools across the country are already in the thick of things with the sophomore class. And top-end prospects already racking up double-digit offer lists and a few already committing. Those players won't be able to sign for another year and a half. But getting in early on their recruitment is becoming a bigger priority than ever.
Williams Nwaneri Scouting Summary
"The most physically-gifted defensive line prospect early on in the 2024 cycle. Has an elite frame, measuring in at over 6-foot-6 with a 7-foot wing-span and an 11-inch hand. Moves very well for his size. Clocked a sub-5.0-second electronically-timed 40-yard dash prior to his junior season. Also shows fluidity with change of direction in the camp setting. Flashed some of his high-end potential as a sophomore, showing the ability to create disruption from multiple spots on the defensive line. Has the range and athleticism to run down skill players from behind. Still developing in terms of technical skill at the position but has immense upside and capacity for improvement. Could project to a number of spots along the defensive front, but looks to be a defensive lineman long-term given his frame and potential to add substantial mass." — Charles Power, On3 Director of Scouting and Rankings