On300 4-Star QB Devin Brown decommits from USC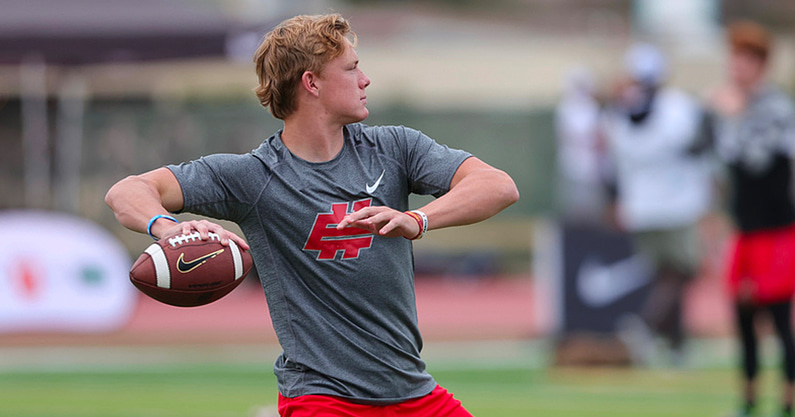 Four-star quarterback Devin Brown of Draper (Utah) Corner Canyon decommitted from USC on Wednesday.
"I would like to thank Coach Doege, Coach Harrell, and Coach Helton for believing in me and giving me an opportunity to play at the next level," Brown said. 
"They believed in me very early when many others didn't. I will forever be grateful for the opportunity they gave me. At this time, I believe it is best for me to open my recruitment. I will be de-committing from the University of Southern California."
The 6-foot-3, 190 pound four-star quarterback committed to the Trojans in September 2020. While committed to USC, Brown visited UCLA, Texas, Ole Miss, and Ohio State last weekend, while also becoming the most sought-after quarterback recruit in the 2022 cycle.
Devin Brown is ranked as the No. 27 player in the On300 Rankings. He ranks as the second-best quarterback and the top player in Utah.
With a decommitment from Five-Star Plus+ Domani Jackson and now Devin Brown, USC drops to eight commitments in the 2022 recruiting class.
Scouting Devin Brown
Devin Brown is one of the more live-armed passers in the 2022 cycle," said Charles Power, the Director of Scouting and Rankings for On3.
"He generates considerable zip on the ball with the ability to drive throws downfield and from the far hash to the boundary. The ball pops out of his hand and comes in hot. Stretches the field vertically with his considerable arm strength. May have the most high-level, small window throws of any 2022 quarterback as a senior. At his best when he can sit back in the pocket and push the ball vertically. Has light feet with average to above average mobility. Transferred from the Phoenix area to Utah powerhouse Corner Canyon for his senior season."
"Is putting up big passing numbers as a senior. Has a bit of a gunslinger mentality, leading to a higher interception total. Can miss read defenders, leading to picks. Showing some more rushing ability in the red zone as a senior. Put forth a strong showing at the Elite 11 Finals prior to his senior season."