On300 DL Quency Wiggins hints decision could be coming soon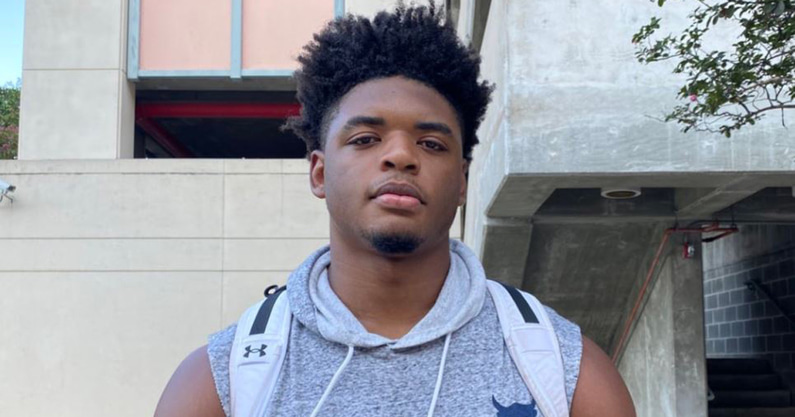 One of the nation's top uncommitted recruits indicated he's ready to start making a final decision. Four-star DL Quency Wiggins of Baton Rouge (La.) Madison Prep Academy tweeted Tuesday morning a decision could be coming soon.
The tweet was followed up with emojis from Florida, LSU, Alabama, USC and Texas – the top schools on his list.
Quency Wiggins was at UF last week
On3 ranks Quency Wiggins as the No. 56 player overall in the country and he's the ninth-ranked defensive lineman. He has more than 25 offers, but the Gators, Tigers, Tide, Trojans and Horns have been on the top of his list for quite some time.
Wiggins took his first official visit of the recruiting cycle this past weekend to Florida. After the visit, he talked about how the trip felt like home for him.
Wiggins, who is 6-foot-6 and 265 pounds, also talked about his strong bond with Gators' head coach Dan Mullen and how he's done a good job of developing players.
Texas next up for Wiggins
This upcoming weekend is shaping up as a massive recruiting weekend for the Longhorns. And Quency Wiggins is a big part of a visit list that also includes Arch Manning, the No. 1 junior in the country.
This will be a return visit to Austin for Wiggins. He was on campus over the summer, and he spoke highly of his time on campus.
On3's Gerry Hamilton says Texas has a better shot at landing Wiggins than many think.
"This weekend's visit is going to be key," Hamilton said. "Texas has done a very good job of recruiting him. Getting him on campus to see a gameday atmosphere is key."
Hamilton is also high on Wiggins' upside. Wiggins is a former basketball star that has a huge upside on the football field.
"He has an 85-inch wingspan," Hamilton said. "He'll be an instant contributor as a pass rusher no matter where he goes."
Other visits coming soon
Quency Wiggins is still working on setting up other visits with USC, LSU and Alabama.
Wiggins did say recently that Florida and in-state LSU have been recruiting him the hardest. With the Trojans going through a coaching search and speculation about Ed Orgeron's job status at LSU, the door could be open for UF, Texas and Alabama to be a real threat in Wiggins' recruitment.
LSU has been perceived as the longtime team to beat with Wiggins, largely because the Tigers do a great job with elite recruits in their backyard.
But LSU has now dropped two games in a row and sits at 3-3 on the season with Florida, Ole Miss, Alabama, Arkansas and Texas A&M still on the schedule.