Spring camp season drives 2023 On300 update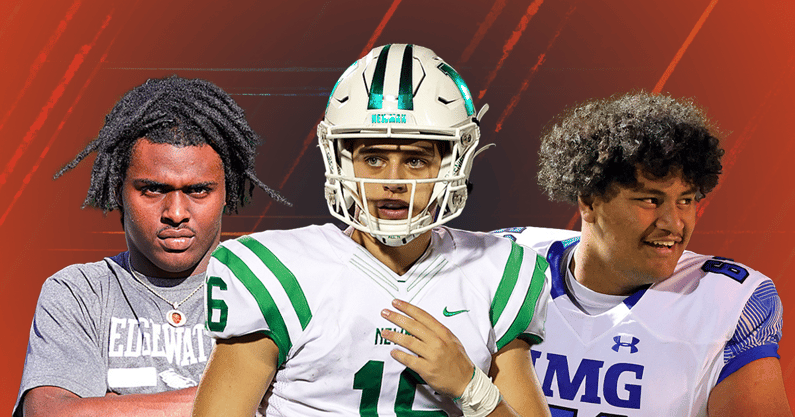 On3 has updated the On300 football prospect rankings for the 2023 cycle. This rankings release marks the second update this year and is primarily driven by the data and performances we've seen throughout the off-season camp circuit thus far.
This is not an exhaustive overhaul of the On300 like the last update. The vast majority of prospects in the On300 were not actively moved and saw their rating unchanged. With that said, there was some movement throughout the ranking with risers and 20 new entrants. We also added ratings to hundreds of prospects in the three-star ranks.
Furthermore, we find ourselves in the midst of the off-season. College coaches are getting on the road for the evaluation period and many prospects will emerge as a result. We took a preliminary look at track times for this update but will make a more conclusive sweep once the track season concludes. Moving forward, we still have several events, including national showcases like the Elite 11 Finals and the Future 50 along with 7-on-7 tournaments and college camps, to help with evaluations.
Let's get into some of the storylines surrounding this update.
Francis Mauigoa earns 5th star
There is one new five-star — offensive tackle Francis Mauigoa. The Bradenton (Fla.) IMG Academy standout now ranks as the No. 14 overall prospect and No. 2 offensive tackle in the cycle.
Mauigoa has long been considered a top prospect in the cycle, breaking onto the national radar as a freshman defensive tackle at San Bernardino (Calif.) Aquinas. He's since transferred to IMG and has blossomed into a top offensive lineman. We saw Mauigoa star for IMG in his first full year at offensive tackle. He manned the right tackle spot for the Ascenders and opened up some big holes for one of the nation's top high school teams.
A well-proportioned 6-foot-5.5 and 330 pounds, Mauigoa combines ready-made size with top-shelf quickness. He's very light on his feet on Friday nights and makes projectable plays as blocker at the second level. We see the elite quickness in the camp setting as well — Mauigoa recently ran a blistering 4.5-second short shuttle at ESPN's Underclassman Camp in Orlando. Mauigoa's ability to move at his size stands out in what looks like a very strong cycle along the offensive line.
The new five-star has offers from a bevy of the nation's top programs. He has taken visits to Florida, Miami, Michigan State and USC this year. The Trojans are currently ahead of Miami, Alabama and Oregon in On3 Recruiting Prediction Machine. Mauigoa's On3 NIL valuation currently sits at $13,300.
Additional movement within the 5-stars
The other main movement within the five-star ranks came by way of defensive lineman David Hicks of Katy (Texas) Paetow making a slight move up from No. 14 to No. 10 overall. Hicks now ranks as the No. 1 defensive lineman in the cycle.
Hicks had a very strong showing at Under Armour Next Camp Series' Dallas stop earlier this spring. He checked in at a shade under 6-foot-4 and 272 pounds. Hicks put up some impressive times, running an electronically-timed 5.04-second 40-yard dash and a 4.34-second short shuttle. He backed up the strong numbers in drill work and one-on-one where he showed twitch and some eye-catching burst and short-area explosion.
Oklahoma and Texas A&M are battling it out for Hicks, according to the On3 Recruiting Prediction Machine.
Movers within On300's top 50
A handful of other prospects made significant moves within the top 50.
EDGE Adepoju Adebawore moves up to No. 20 following an outstanding showing at Under Armour Next's Kansas City stop. We were already quite high on the North Kansas City (Mo.) High based on his junior season. Adebawore exceeded our high expectations with his Under Armour workout. For starters, his dimensions were verified — 6-foot-4, 227 pounds with a wingspan over 7-feet. He tested very well with strong marks in the short shuttle and vertical in particular. We also saw Adebawore showcase some unique movement skills. He looked the part of the twitchy edge rusher we saw on his junior video. Adebawore is still developing the technical aspects of his game. But the upside appears to be immense. He has visited Kansas, Oklahoma, Northwestern — where his older brother plays — and Georgia this year.
We've had Cedric Baxter Jr. (No. 30) of Orlando (Fla.) Edgewater ranked as the top running back in the cycle since last fall. He continues to move up in the rankings. We recently saw Baxter showcase his skills as a pass-catcher at ESPN's Underclassman Camp in Orlando. Baxter checked in at over 6-foot-1 and 216 pounds. In addition, he looked like a natural catching the ball out of the backfield, quickly breaking off linebackers with his quickness and catching the ball well. It's not a surprise, as Baxter spent some time at receiver earlier in his high school career. Miami, Florida, Texas and Alabama are pacing as the top group according to the On3 Recruiting Prediction Machine.
Additionally, the cornerback group nationally is not flush with many prospects who bring top-end size and speed to the table. That's not the case with Daniel Harris. The Miami Gulliver Prep cornerback has measured in at 6-foot-2 and 175 pounds this off-season and has verified above-average length at the position. That size along with his track speed (10.74 in the 100 meters) makes him one of the more toolsy corners in the cycle at this stage. Georgia leads Ohio State according to the On3 Recruiting Prediction Machine.
T.J. Searcy (No. 49) was among our top performers at Under Armour Next's Atlanta camp, so it's not a surprise that he's seen his stock continue to rise. The 6-foot-5.5 and 245-pounder is a highly functional and flexible athlete at his size. He has a great frame and moves like a top prospect. Above all, Searcy is a long-term physical projection who has the traits to play on Sundays should he continue to develop as a player as he gains experience in the trenches. Clemson currently leads, according to the On3 Recruiting Prediction Machine.
Checking on top tier of On300 quarterbacks
Arch Manning (No. 1), USC commit Malachi Nelson (No. 2) and Tennessee commit Nico Iamaleava (No. 5) saw their rankings unchanged and remain the top three quarterbacks in the On300. Though there isn't much new with the top three, it is worth noting that we've seen several other passers continue to show well in what is an emerging top tier of signal-callers nationally.
Christopher Vizzina (No. 19) recently committed to Clemson after having emerged as Dabo Swinney's top quarterback target over the past several months. The 6-foot-4, 205-pounder has what is perhaps the best foot quickness and pocket movement among top quarterbacks in the cycle. Furthermore, he recently showed off his skill set at the Elite 11's Atlanta regional. Vizzina is a twitchy mover and has strong, replicable mechanics. He was very consistent on a throw-to-throw basis.
Like Vizzina a week before, Dante Moore (No. 45) turned in a strong showing at the Elite 11 regional in Ohio. The 6-foot-2.5, 209-pounder showed off his patented quick release and polish as a passer. Moore threw with impressive timing and has continued to add velocity to his throws, particularly on short and intermediate passes. Notre Dame leads according to the On3 Recruiting Prediction Machine. In addition, Moore visited Miami last weekend and is scheduled to take an official visit to LSU this weekend.
Oklahoma commit Jackson Arnold (No. 56) is another who put together a strong Elite 11 workout. The Denton (Texas) Guyer signal-caller showed off a quick release and live arm in the camp setting, backing up what we saw from him as a junior while leading his team to a state title berth.
Finally, Eli Holstein (No. 120) rounds out the top seven quarterbacks in the cycle. The Zachary (La.) High passer has high-end measurables for the position and had a strong junior season, leading his team to a state title. Alabama leads Texas A&M — where he was previously committed — according to the On3 Recruiting Prediction Machine.