On3's top-10 recruiting classes with early signing period 30 days away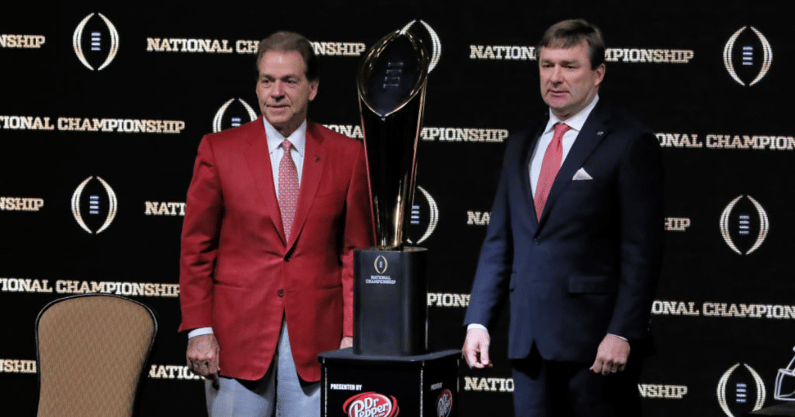 It's the most wonderful time of the year in college football. Not only are we getting to the hugely important games of the season, we're also now officially only 30 days away from the start of the early signing period in recruiting.
On3 previews the top 10 teams dominating recruiting heading into the most critical time of the year. The class ranking is based on the On3 Consensus Team Recruiting Ranking.
Five stars:4
Four stars: 15
Total commits: 19
Score: 94.238
Alabama once again is in line for an elite recruiting class. Nick Saban is the king of modern recruiting and the Class of 2022 is no different.
The Crimson Tide has four On3 Consensus five-star commits, headlined by EDGE Jeremiah Alexander and quarterback Ty Simpson.
What's scary is that with 19 commitments, there still is room for Alabama to build on its recruiting foundation with plenty of big-timers on the board.
This includes Five-Star Plus+ CB Domani Jackson, who backed away from his longtime USC pledge this past weekend. Five stars like OT Kiyaunta Goodwin, CB Denver Harris and DL Anthony Lucas are just a few of other the elite names still looking hard at the Tide.
Five stars: 2
Four stars: 14
Total commits: 22
Score: 94.073
Georgia had an October to remember, reeling in big-time commitments from five-star DL Mykel Williams and Bear Alexander. The big additions joined an already impressive foundation that has been built throughout the recruiting calendar.
UGA fans will be excited by five-star in-state ATH Malaki Starks when he arrives on campus. And RB Branson Robinson is somebody who has all the tools to carry on the Dawgs' strong running back tradition. Plus, four-star QB Gunner Stockton is a record-breaker who seemingly fits the UGA system perfectly.
There are a few head-to-head battles between Georgia and Alabama that could determine who finishes at No. 1, including former Florida commit and On3 Consensus four-star LB Shemar James. Five-star S Kamari Wilson is another prospect Georgia fans are monitoring closely.
Five stars:3
Four stars: 14
Total commits: 18
Score: 93.206
The Aggies have all – and we mean all – the recruiting momentum in the Lone Star State. That's especially true after a recruiting weekend that will never be forgotten in College Station, one that saw On3 Five-Star Plus+ DT Walter Nolen and top 100 WR Chris Marshall commit while on visits.
The Aggies are going to have to fight Tennessee to keep Nolen on board until signing day. But it was a significant commitment that sent ripples throughout the college football recruiting world.
There are other pieces of the A&M class to like, including On3 Consensus five-star S Bryce Anderson and five-star QB Conner Weigman.
A&M also has path to leapfrog both Alabama and Georgia if things go well down the stretch. Five-Star Plus+ WR Evan Stewart, five-star DL Shemar Stewart, five-star LB Harold Perkins and five-star OT Kelvin Banks are just a few of the names still high on the Aggies.
Five stars: 1
Four stars: 13
Total commits: 16
Score: 92.996
While a lot of attention has been on the SEC battles between Alabama, Georgia and A&M, Ohio State has put together a class full of talent. It's also a class that fills a lot of needs for the Buckeyes.
The headliner is five-star LB C.J. Hicks. Hicks earned the nickname "Captain Buckeye" after he committed to Ohio State in May 2020. He took on a significant role in helping the Buckeyes land other coveted recruits. There's also a lot of help coming at the receiver spots with four-star pledges from Caleb Burton, Kyion Grayes, Kaleb Brown and Kojo Antwi.
The Buckeyes aren't done yet and have some room to improve this already impressive class. They remain involved with Goodwin, a longtime Kentucky commitment who's looking around. Five-star S Xavier Nwankpa, four-star OL Earnest Greene and four-star DL Caden Curry, Hero Kanu and Omari Abor are some of the other big-time targets still on OSU's list.
Five stars: 1
Four stars: 10
Total commits: 13
Score: 92.494
Clemson put together most of its class early in the recruiting process. It's a crop headlined by On3 Consensus five-star QB Cade Klubnik and four-star CBs Daylen Everette and Jeadyn Lukus. The Tigers also got what appears to be a heck of a steal in four-star ATH Jaren Kanak, who wowed the country with a bruising touchdown run this past weekend.
The Tigers do have a few more pieces to add before the start of the signing period. The top target is four-star WR Andre Greene Jr., who was still on his official visit to Clemson on Monday. Clemson is battling North Carolina for his commitment.
Five stars: 1
Four stars: 20
Total commits: 22
Score: 92.429
The Fighting Irish loaded up with linebackers, receivers and offensive linemen in the 2022 class. And they got good ones at those key positions.
The headliner is On3 Consensus five-star LB Jaylen Sneed, but top-10 LB Joshua Burnham also is ultra-talented. Notre Dame fans are also going to enjoy watching four-star OT Joey Tanona over the years.
Notre Dame hopes to finish strong. Top targets like Lucas out of Arizona and Nwankpa out of Iowa would be icing on top of the cake for a quality 2022 recruiting effort for Brian Kelly and Co.
Five stars: 1
Four stars: 14
Total commits: 17
Score: 92.417
Oklahoma recruiting continues to be truly national. And the 2022 class is another perfect example of Lincoln Riley's ability to go anywhere and land top targets.
The Sooners have a commitment from the top player in Florida – five-star DL Gabriel Brownlow-Dindy. They have the No. 1 player in Oklahoma on board (four-star ATH Gentry Williams). OU landed the No. 2 player in California (four-star RB Raleek Brown) and the second-best player in Maryland (four-star EDGE Derrick Moore).
The Sooners also have done quite well in Texas with commitments from six players, led by four-star LB Kobie McKinzie.
There's still some room to add quality commitments to the class. The names OU fans should keep an eye on: five-star IOL Devon Campbell, On3's No. 1 recruit Marvin Jones Jr., five-star OT Josh Conerly Jr., four-star S Zion Branch, Kanu and Greene out of California and four-star DL Chris McClellan locally.
Five stars: 0
Four stars: 16
Total commits: 25
Score: 92.185
Penn State has assembled one of the nation's top classes. Even with a solid foundation in place, there's still a lot of interest surrounding Penn State recruiting. There's a handful of players the Nittany Lions still are targeting. Plus, there's been rampant speculation about James Franklin's future in Happy Valley with so many other jobs already open.
The most important target still on the board, according to BWI's Ryan Snyder, is four-star LB Jaishawn Barham.
"They do have two linebackers already committed in Abdul Carter and Keon Wylie," Snyder said. "Carter could grow into a defensive end, however, so they really want another box linebacker in this class and Barham is one of the best in the country."
Penn State is expected to sign 26 or 27 players, so there is room for one or two more players to jump on board.
But the biggest question might be what happens with Franklin. His name continues to be mentioned with other jobs, and there's a sense of uneasiness in Happy Valley after some recent struggles on the field.
"It's all about what happens with Franklin," Snyder said. "We know he wants to get more facility upgrades accomplished, and that's been his message to recruits, too. He's been consistent with that for years now.
"If he were to leave, I don't see any world where it happens after the early signing period. These programs are making moves early to make sure they can salvage their classes before Dec. 15. A departure would have a major impact on Penn State's Class of 2022."
Five stars: 0
Four stars: 15
Total commits: 22
Score: 91.985
What momentum the Longhorns had in recruiting is long, long gone after a historically bad loss to Kansas this past weekend. Couple that with A&M regaining control of the narrative of "Who is the best program in the Lone Star State?"
Longhorns coach Steve Sarkisian is going to have to conjure some recruiting magic to flip the script.
"Texas' best pitch right now is the ability to play right away for offensive line targets, Harold Perkins, Evan Stewart and defensive backs," On3's Gerry Hamilton said. "It has resonated somewhat with a couple of offensive line targets, but it remains to be seen if that will get pen to paper in December. The best thing for Texas' awful result on the field is Texas A&M, Oklahoma and LSU lost, too. So, it negates Sunday negative recruiting on the Longhorns – a little."
Texas still has a top-10 class, with a lot of quality commitments to get Longhorns fans excited. But before the losing streak started, there were dreams of a potential No. 1 class and multiple five-star prospects coming UT's way.
Five stars: 2
Four stars: 9
Total commits: 15
Score: 91.390
Mack Brown continues to prove he's one of the best recruiters in the country. For years, Brown built his legacy off recruiting wins at Texas. But he's showed the college football world that he can still recruit with the best of the best since his return to North Carolina. And the 2022 class might be his finest work yet.
The Tar Heels have the 10th-ranked class in the country and two anchor linemen who should be the foundation for the future. Five-star DL Travis Shaw was a massive recruiting victory for UNC over the summer. The October addition of five-star OT Zach Rice made national headlines.
There are other pieces of the 2022 class that are outstanding, including four-star LB Sebastian Cheeks and four-star RB George Pettaway. UNC also did a great job of filling a lot of needs with quality players. In the end, it's going to go down as one of Brown's best-ever classes. And that's saying a lot.