On3's top 20 running back recruits dominating the ground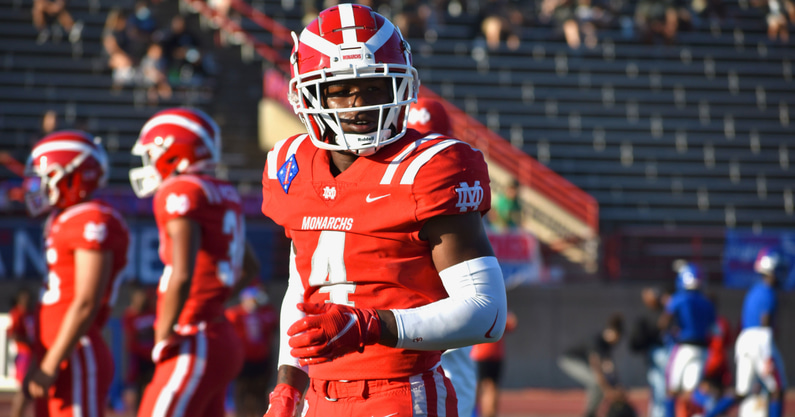 As high school football season sprints toward its midpoint, some of the nation's top running backs have put their skills on full display. An even 20 of On3's top-300 players in the 2022 class come from that position group, and while a small handful still remain uncommitted, most have made their college decision ahead of December's early signing period.
Among those unattached are No. 1 back Le'Veon Moss, a recent decommit from Alabama, and a trio of backs considering Notre Dame, Alabama, North Carolina, Penn State and Oregon and a handful of other major programs. But before they sign on the dotted line in a few months, they'll look to close out the masterful senior seasons they've kicked off.
1. Le'Veon Moss
Background: Baton Rouge (La.) Istrouma
Schools Considering: LSU, Ole Miss, TCU, Texas A&M
2022 On300 ranking: 39
Moss' stats through the first couple games are hard to come by, but it's not hard to see why he's such a prized recruit from this highlight clip. (Scroll to :45 to see him flash the burst and top-end speed that made the former Alabama commit such a priority.) He's now considering his hometown school LSU, as well Ole Miss, TCU and Texas A&M.
2. Nicholas Singleton—Penn State commit
Background: Reading (Pa.) Governor Mifflin
2022 On300 ranking: 45
Governor Mifflin has jumped out an impressive 4-0 start—outscoring opponents 202-33—and Singleton is a big reason why. He's carried 62 times for 741 yards and a whopping 15 touchdowns. With this touchdown run, he became the all-time leading rusher in Berks County.
3. Branson Robinson—Georgia commit
Background: Madison (Miss.) Germantown
2022 On300 ranking: 47
Branson Robinson has the juice, plain and simple. He didn't suit up for Germantown's game against Warren Central on Sept. 10, but a week earlier, he notched 20 carries, 61 yards and three touchdowns. And the week before that, he carried just 17 times but racked up 140 yards and two more scores.
4. Gavin Sawchuk—Oklahoma commit
Background: Littleton (Colo.) Valor Christian
2022 On300 ranking: 74
After rushing for more than 3,000 yards and 40 touchdowns in his previous two seasons, Sawchuk has continued his dominance for undefeated Valor Christian. He's already amassed 605 yards (151.3 per game) and nine touchdowns during a tough non-league schedule. Here's part of his four-touchdown performance in Valor's 30-7 win over Oaks Christian.
5. Jamarion Miller—Texas commit
Background: Tyler (Texas) Tyler Legacy
2022 On300 ranking: 82
Tyler Legacy won its first two games of the year but has been blown out by tough squads from Longview and Allen the past two weeks. Miller has been a massive bright spot, though, notching three 100-plus yard performances on his way to 626 total yards and four touchdowns on 68 touches.
6. Jovantae Barnes
Background: Las Vegas Desert Pines
Schools Considering: Alabama, Florida State, Oklahoma, Ole Miss, USC
2022 On300 ranking: 92
Very little information is out there about Barnes' senior season, but the No. 2 uncommitted running back in the class has an elite combination of size, strength and burst, as highlighted by this touchdown run.
7. Raleek Brown—Oklahoma commit
Background: Santa Ana (Calif.) Mater Dei 
2022 On300 ranking: 94
The Sooners have struggled to hold onto wide receiver commits—losing Luther Burden (No. 204 in the On300), as well as Talyn Shettron (No. 81) and Jordan Hudson (No. 29). But OU has retained the services of Brown, one of the most dynamic players at the high school level in 2022. Playing for California powerhouse Mater Dei, Brown has 171 yards and five touchdowns on just 14 carries through the Monarchs' first two games.
Four of those five came in a highlight-reel 49-7 win over Liberty (Nev.) this past weekend.
8. Trevonte' Citizen—LSU commit
Background: Lake Charles (La.) Lake Charles Prep
2022 On300 ranking: 107
Lake Charles had a game canceled by the effects of Hurricane Ida, but Citizen has been off to a booming start this season. The LSU commit had 295 rushing yards and three touchdowns on just 17 carries through the first two games, and he added to that with 213 yards and five touchdowns against Southwood last weekend.
9. Jaydon Blue—Texas commit
Background: Houston Klein Cain
2022 On300 ranking: 114
Blue opted out of the 2021 season back in May, citing work on his academics and training regimen to prepare for his career at Texas. In his career, he rushed for 3,767 rushing yards and 46 touchdowns on 432 carries.
10. Demond Claiborne—Wake Forest commit
Background: King William (Va.)
2022 On300 ranking: 155
Like others, Claiborne's stats cumulative stats aren't easy to come by, but he has put together a couple nice games early in the season for King William's squad. This past weekend against Caroline, he put up an eye-popping 268 yards and six touchdowns on just 10 touches. And five of those scores came in the first quarter alone. A week earlier, he carried just nine times but amassed 279 yards and four touchdowns in a 60-7 victory. Safe to say he's got some big-play ability.
11. Ollie Gordon—Oklahoma State commit
Background: Euless (Texas) Trinity 
2022 On300 ranking: 169
The 6-foot-2, 190-pound Gordon has been a jack-of-all-trades for Euless Trinity this year, rushing for 699 yards and nine touchdowns on 75 carries. He's also thrown for 205 yards and two touchdowns on 23 attempts. It's unlikely we'll see much of that during his time in Stillwater, but it could add an interesting dimension to Mike Gundy's play sheet.
12. Major Everhart
Background: Amarillo (Texas) Tascosa
Schools Considering: Notre Dame, TCU, Texas Tech, Virginia Tech
2022 On300 ranking: 216
Is there a better name for a running back than Major Everhart? We think not. He's one of the fastest and most elusive players in all of Texas, as evidenced by this 50-yard touchdown run. Fresh off a visit to Notre Dame, he remains one of the highest-ranked uncommitted players left on the board.
13. Ramon Brown—Virginia Tech commit
Background: Midlothian (Va.) Manchester
2022 On300 ranking: 231
Brown is another player whose season stats are unavailable, but he did put up an impressive 144 all-purpose yards and two touchdowns in Manchester's win over Powhatan last weekend.
14. Omarion Hampton—North Carolina commit
Background: Clayton (N.C.) Cleveland
2022 On300 ranking: 245
Following a shortened junior season, in which he rushed for 685 yards and 13 touchdowns in just five games, Hampton has picked up right where he left off. Through four games, he's rushed for 464 yards and 11 touchdowns on just 26 carries, while adding two catches for 79 yards. Check out his four-touchdown performance against Corinth Holders last weekend:
15. Terrance Gibbs—Florida commit
Background: Winter Park (Fla.) 
2022 On300 ranking: 256
Gibbs has not played this season for Winter Park after tearing his ACL at the beginning of his junior campaign.
16. Jordan James—Georgia commit
Background: Murfreesboro (Tenn.) Oakland
2022 On300 ranking: 261
Through three games for Oakland, James has notched 380 yards and five touchdowns on just 40 carries, and he's also hauled in three passes for 52 yards. Between he and fellow Georgia commit Branson Robinson, the Bulldogs have one of the best running back tandems in the country coming to Athens.
17. CJ Brown—Oklahoma State commit
Background: Beggs (Okla.) 
2022 On300 ranking: 267
Cumulative rushing stats for Brown aren't available, but he put together one of the more shocking stat lines you'll see a few weeks ago in a 74-48 win over Rejoice Christian. The OSU commit carried 22 times for 364 yards and six—yes, six—touchdowns. Two weeks later, he added 17 carries for 215 yards and two more scores.
18. Dallan Hayden—Ohio State commit
Background: Memphis (Tenn.) Christian Brothers  
2022 On300 ranking: 271
Hayden has done it all for 3-2 Christian Brothers midway through the season, carrying 71 times for 576 yards and 11 touchdowns, while adding seven catches for 96 yards and two more scores through the air. That follows up a dominant junior season where he ran for more than 2,000 yards and 24 touchdowns.
19. George Pettaway
Background: Suffolk (Va.) Nansemond-Suffolk Academy
Schools Considering: Penn State, Florida, North Carolina, Oregon
2022 On300 ranking: 286
Pettaway will make his commitment decision tomorrow between North Carolina, Penn State, Florida and Oregon, but he's been beasting for Nansemond-Suffolk early this season. Through just four games, he's totaled 749 yards and 11 touchdowns on 43 carries. He's also been a threat in the passing game, catching eight balls for 203 yards and two more touchdowns. Whoever lands him will be getting one of the best dual-threat playmakers in the 2022 class.
20. Gi'Bran Payne—Indiana commit
Background: Cincinnati LaSalle  
2022 On300 ranking: 300
The Indiana commit has struggled to get going on the ground early this season, totaling 145 yards and two touchdowns on 39 carries. A significant part of that can be attributed to a brutal early season schedule for LaSalle, which played IMG Academy on Sept. 3. LaSalle was held to just eight total passing yards in that contest, and Payne was limited to 16 rushing yards.