Optimistic, Pessimistic and Realistic: 2022 predictions for Alabama, Arkansas, Auburn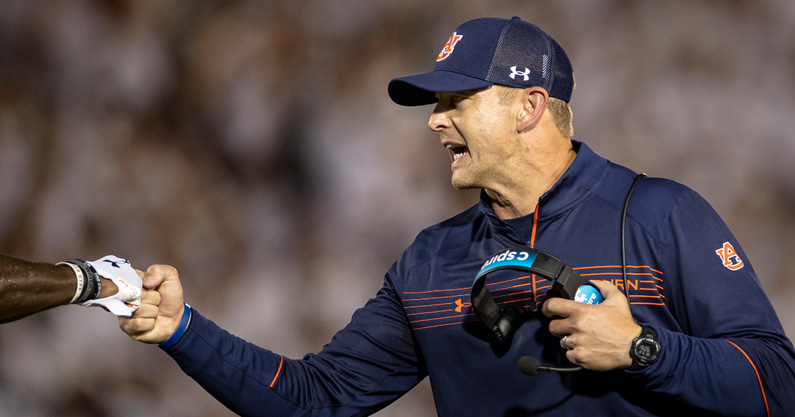 We don't have a crystal ball to predict the 2022 college football season. If we did, what would be the point of watching the greatest sport on earth?
But with July 4 officially in the rearview mirror, the start of the 2022 season will be here before you know it. So with all the information we do have — transfer portal movement, coaching changes, offseason buzz and more — let's have some fun with predictions. 
What happens if everything clicks for your favorite school? The dream season. 
What would it look like if disaster struck? If everything went wrong?
Then there's Option C: What's most likely to shake out?
Well, here are my optimistic, pessimistic and realistic predictions for Alabama, Arkansas and Auburn in 2022. 
ALABAMA
Optimistic: A perfect season. 12-0 with a win over Georgia in the SEC Championship Game and then a run through the College Football Playoffs. Bryce Young is awesome again but Will Anderson gets his shine and wins the Heisman Trophy. Nick Saban caps a magical year with his eighth national championship. 
Pessimistic: 10-2 with the Crimson Tide losing to Tennessee for the first time in 16 years. They also fall at Ole Miss, losing a potential SEC West tiebreaker. Young gets dinged up and Jalen Milroe isn't quite ready. The OL concerns from the spring prove true. The wide receiver transfers can't replicate Jameson Williams' impact. 
Realistic: A 12-0 regular season and then we'll see what happens when the schedule stiffens in the postseason. The Tide should be double-digit favorites in every regular season game this fall — including at Texas. Saban will get payback on Jimbo Fisher and Texas A&M. Alabama should field its best defense in a decade and Jahymr Gibbs will be one of the most impactful transfers in the country. The receiver room with Jermaine Burton, Tyler Harrell and a cast of 5-star prospects won't be as good as Tide WR units in the past, but they'll still provide enough explosiveness. 
ARKANSAS 
Optimistic: 11-1, losing only to Alabama. Sam Pittman leads the Hogs to their first 10-win season and a trip to the Sugar Bowl in a decade. They smoke Cincinnati in the opener and get revenge on Ole Miss in late November. Quarterback KJ Jefferson and a trio of tailbacks spearhead the best rushing attack in the SEC. Barry Odom's defense doesn't miss a beat despite returning just four starters, as transfers Drew Sanders, Latavious Brini, Jordan Dominick and Dwight McGlothern all become instant-impact contributors. 
Pessimistic: 6-6. The Razorbacks overachieved in 2021 but another brutal schedule catches up with them this fall. After hosting Alabama on Oct. 1, the Hogs are on the road the rest of the month, with trips to Mississippi State, BYU and Auburn. They lose all three. Jefferson doesn't improve his downfield accuracy and the transfer portal losses on defense (namely Greg Brooks Jr. and Joe Foucha to LSU) prove too much to overcome. Their red zone defense regresses and they still can't get to the quarterback (second-fewest sacks in the SEC in 2021).  No one steps up at receiver to replace the production of 1st Round pick Treylon Burks.
Realistic: 8-4 with a couple toss-up wins and losses. Arkansas's experience (both coordinators, four starting offensive linemen, Jefferson, etc.) helps them navigate a very tough slate. The Razorbacks get a little retribution on former Hogs coach Bobby Petrino and Missouri State. Linebacker Bumper Pool leads the SEC in tackles and safety Jalen Catalon emerges as one of the more underrated playmakers in the league. 
AUBURN 
Optimistic: 10-2, finishing No. 2 in the SEC West. Bryan Harsin silences the doubters, leading the Tigers to a stunning 10-win season. They fall at Georgia and Alabama, but beat Penn State in Week 3 and win all their home games (Missouri, LSU, Arkansas, Texas A&M). Tank Bigsby leads the SEC in rushing. Derick Hall proves unstoppable off the edge. Linebacker Owen Pappoe lives up to his 5-star billing. 
Pessimistic: 4-8, including barely scrapping a win over a pesky Western Kentucky team on Senior Day. Auburn can't navigate perhaps the toughest schedule in the nation (six preseason Top 25 teams) and Harsin is canned before Halloween. They get rocked by both their rivals and lose to Penn State for the second-straight year. Neither T.J. Finley or Zach Calzada establish themselves as the bonafide starting quarterback. The Tigers' lack of playmaking options on the perimeter keep their offense ranked near the bottom of the SEC. Defensively, Auburn's lack of depth catches up with them. Their secondary, albeit talented, doesn't take the leap most expect. 
Realistic: 6-6, ensuring another rocky offseason on The Plains. Harsin's carousel of coordinators doesn't work and the Tigers' offense still struggles to run the football with any efficiency (just 3.52 yards per carry). The Tigers' defense is solid (just 21.8 points per game), led by Hall, Pappoe and Nehemiah Pritchett, but depth is a legitimate issue and its too much to overcome. They finish with in the bottom of the SEC West and are looking for their third head coach in three years.