C.J. Verdell, Oregon strut their stuff, shock No. 3 Ohio State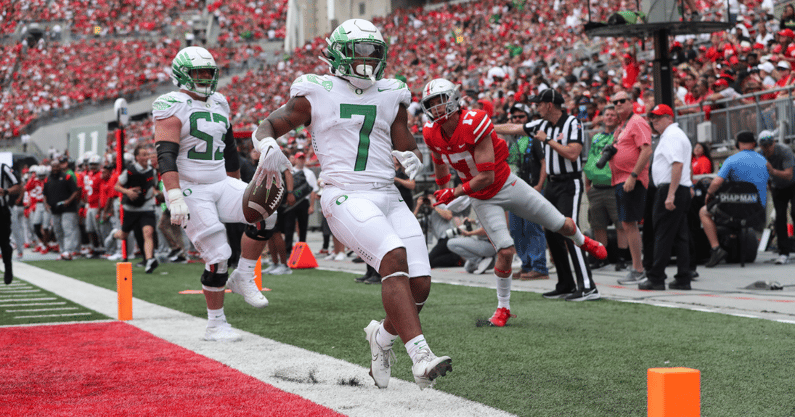 COLUMBUS, Ohio — If you are lucky enough to be an Oregon fan on this beautiful late-summer Saturday, you get to pick your favorite milestone among the many that the No. 12 Ducks achieved by stunning No. 3 Ohio State 35-28 at Ohio Stadium.
It could be that, after nine consecutive losses to the Buckeyes spanning 64 years, two Rose Bowls and a national championship game, the Ducks won. Simple, and yet so profound.
It could be that Oregon snapped Ohio State's 26-game winning streak in the Horseshoe. That would make any fan strut a little taller.
It could be that the Ducks made a statement for the Pac-12, arresting the conference's slide toward irrelevance. It's been five years since the Pac-12 reached the College Football Playoff, and in front of new conference commissioner George Kliavkoff, the Ducks looked Saturday as if they may have something to say about ending that drought.
Or it could be that Oregon, playing at 9 a.m. body clock time, with two of its best defensive starters in street clothes, never trailed.
Those are all worthy milestones, and if you are lucky enough to be an Oregon fan, you don't have to choose. They all belong to you.
"It's hard to express in words," Oregon coach Mario Cristobal said, "the magnitude of coming out here, down a couple of guys due to injury, just playing really gritty, gutsy football, executing at a high level."
Cristobal, in his fourth season at Oregon, has built a team that defies Pac-12 stereotypes. The Ducks are hard-nosed. Running back C.J. Verdell, who had 195 rushing/receiving yards and three touchdowns, is listed at 5 feet 8 and 211 pounds. When Fox Sports reporter Jenny Taft interviewed him on the field after the game, you'd have a hard time determining who stood taller.
Verdell and his backup, Travis Dye (eight carries, 43 yards, one touchdown) benefitted from the expertise of Oregon offensive coordinator Joe Moorhead. No one has called a better game since Vin Scully retired. Moorhead found something on the short side of the field — boundary, the coaches call it — and on Verdell's other two touchdowns, each a 14-yarder, no Buckeye got near him until the goal line.
Cristobal didn't explain a lot, and Moorhead wasn't made available. Oregon center Alex Forsyth said the Ducks watched Minnesota move the ball easily against Ohio State and incorporated some of the Golden Gophers' blocking combinations.
"The play-calling was great," Cristobal said. "It was excellent, but you've got to give an unbelievable amount of credit to the players, just coming out with heart, with toughness, with the discipline to execute at a high level against a great football team. That's what it came down to."
Someday, when this Ohio State team has gotten experienced enough to know how to gain 612 yards but score more than four touchdowns, the Buckeyes will appreciate what they learned Saturday in front of 100,482 mostly stunned fans.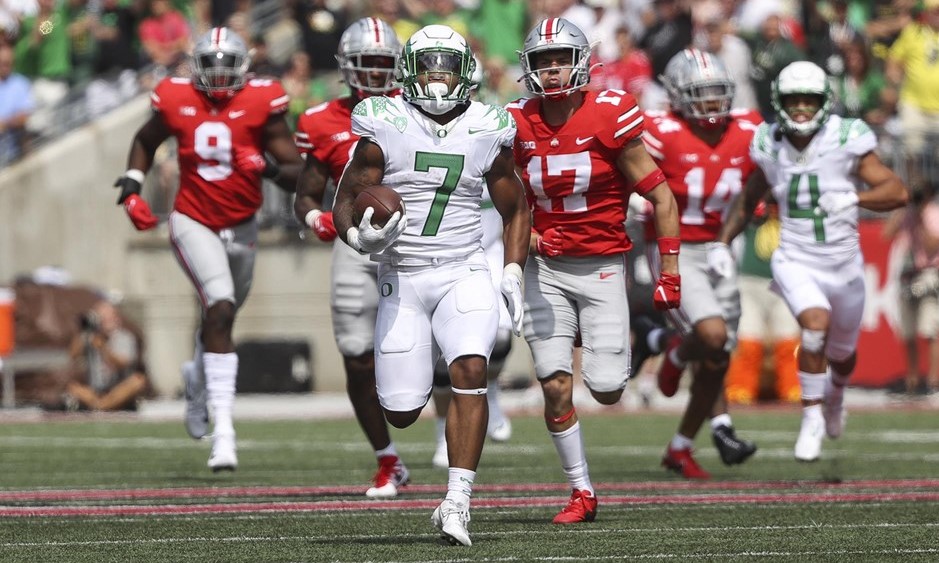 They must have been stunned because Oregon kept what can be a very loud crowd quiet. Watching the visiting team go 99 yards on 10 plays for its first touchdown will take the bravado out of most crowds. Forsyth noted that, in Oregon's "first true road game" (remember, no fans last season), the Ducks didn't need to use a silent snap count until the waning minutes.
How quiet was it? Let Verdell explain his 77-yard touchdown run on the third play of the second half, the score that gave the Ducks a 21-7 lead and let the Buckeyes know the second half would be as much of a fistfight as the first. No one touched Verdell until cornerback Cameron Brown made a desperate attempt to tackle him at the Buckeyes' 20.
"The dude that was chasing me, I don't remember his number," Verdell said. "I just heard his breath. That let me know how close he was behind me."
In a stadium with 97,000 Buckeyes fans — Oregon sold its allotment of 3,000 seats — Verdell could hear a sprinting defender breathe. That's one quiet Horseshoe.
"I felt like it was a game we were never in control of," Ohio State coach Ryan Day said. "I felt like they ran the ball and we didn't do a very good job of running the ball, and because of that, they kind of controlled the game. We have to learn from this. We have to grow from this."
Of the two quarterbacks, Ohio State freshman C.J. Stroud had the gaudier numbers, throwing for 484 yards and three touchdowns. Oregon senior Anthony Brown would have to settle for having more experience and more presence in critical moments. Brown, a transfer from Boston College in his second season in Eugene, was only 17-of-35 for 236 yards and two touchdowns. But he ran for 65 yards, and if he made a mistake, he kept it to himself.
"I can't even explain it," Brown said. "It's something that hasn't been done here at Oregon. Just to be the first team to do it, especially at Ohio State, is huge. I can't really speak more on it. It's just an amazing feeling."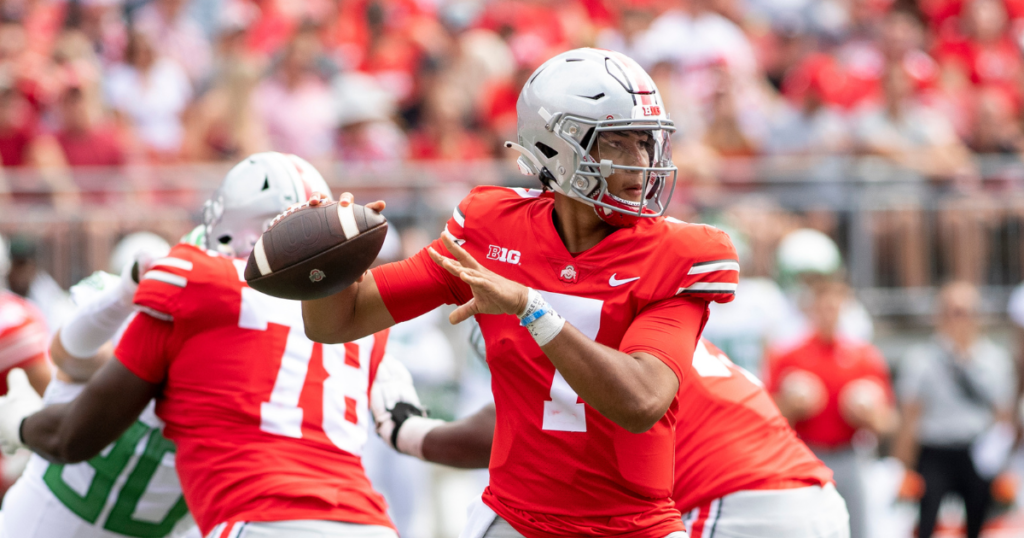 "His poise is special. It's different," Cristobal said. "He's a really, really cool, in the right way, kind of guy. It hardens you. He's calloused. He's unfazed. Anthony was outstanding, and I think that Anthony and this football team are just scratching the surface."
Ohio State gained 612 yards, yet the Buckeyes sputtered. The Ducks didn't have their best defensive player — maybe anyone's best defensive player — in end Kayvon Thibodeaux. They didn't have their leading tackler from last week, linebacker Justin Flowe, both players lost to injury.
Yet Oregon never gave Ohio State a short field. In fact, the Buckeyes didn't line up in the red zone until late in the third quarter. The Ducks limited the Buckeyes to 2-of-5 on fourth-down conversions, making all three stops in their territory, once at the 8-yard-line.
And late in the fourth quarter, Stroud played like a freshman. On a third-and-18 near midfield, Stroud overthrew his target, sending the ball right into the hands of safety Verone McKinley at Oregon's 35 with 2:50 to play.
Oregon, in a hostile environment, playing a team that hasn't lost at home in four years, played hard-nosed and poised.
"They took on Mario's personality," Oregon athletic director Rob Mullens said.
"That locker room is spent," Cristobal said. "They're exhausted. They're also realizing we can be a really good football team. . . . We feel like we've been building toward this for a while now. We're not there yet."
But the Ducks and the Pac-12 are a lot closer than they were at noon Saturday.