Oregon overcomes poor shooting, escapes with win over Utah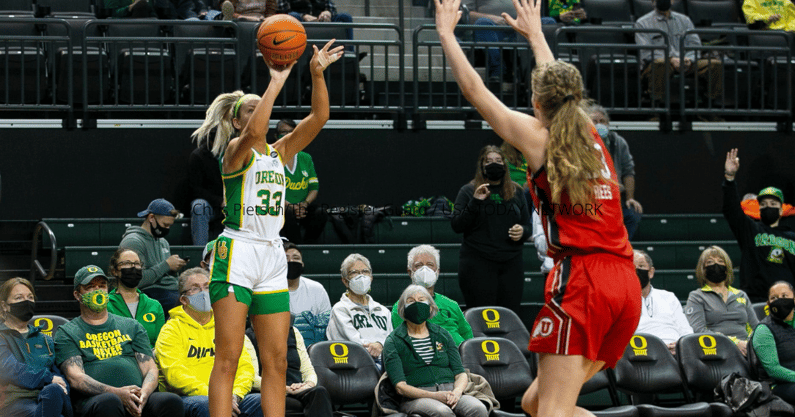 At this time of year, a win is a win — no matter what form it comes in.
Oregon had one of its worst shooting days of the season Wednesday afternoon against a pesky Utah team and seemed in danger of being upset on its home floor. But even on a day when their shots weren't falling, the Ducks adapted and did enough to escape with a 70-66 victory and push their winning streak to five.
"Look at our schedule and tell me which part is not tough," Oregon coach Kelly Graves said with a laugh afterward. "This is the Pac-12, man. Anyone can beat you on any given night. They're all tough games."
Early in the season, these are the type of games Oregon struggled to win. The Ducks are the top three-point shooting team in the conference but shot just 5-of-23 from downtown Wednesday. A month ago, that might have spelled doom.
But Oregon came up with a few timely stops down the stretch and got crucial baskets from unsung heroes when they needed them most.
Sydney Parrish finished with 13 points on 4-of-7 shooting and knocked down three 3-pointers. Since Te-Hina Paopao, Endyia Rogers, and Nyara Sabally returned from injuries earlier this month, Parrish has stepped back into a less prominent offensive role.
But with 1:52 to go, and the Ducks clinging to a one-point lead, Parrish buried a corner three that gave the Ducks their first two-possession lead in nearly three minutes.
Parrish's timely three, and two free throws a minute later, ultimately enabled the Ducks to pull away from the Utes.
"That's what I love about Sydney, man," Graves said. "She can miss five in a row and she's gonna take the sixth. … When she gets on a roll she can really kind of get it heated up. I thought both of her threes in the second half for us were just huge."
Coming into Wednesday, the Utes averaged nearly 83 points per game — the best rate in the conference by a wide margin. The Ducks managed to hold the Utes far below that mark, and it was that defensive effort that propelled them even on a day they couldn't buy a basket from deep.
"Three-pointers weren't really going in today — it wasn't in our favor," Parrish said. "But just seeing a few go down, I think it helped us push through those key defensive possessions and get back on offense. We knew our defense would lead to our offense."
Oregon pushed its lead as high as seven in the first half. But then the Ducks went cold from three-point range — they shot just 1-of-14 from beyond the arc in the first two quarters — and went into the break trailing 29-28.
Oregon came flying out of the gates in the second half and went on a quick 12-4 run to open up a 40-31 lead.
Sabally was held to just two points in the first half but erupted for 13 in the second as Oregon began to work the ball inside to her more frequently.
"You can't get away with those kinds of (shooting numbers very long," Graves said. "We are the number one three-point shooting team in the conference percentage-wise. That obviously doesn't happen often.
"But we've just got to do a better job there. That being said, we found other ways to win. It thought the second half early on, we just went into Nyara and (Utah) were collapsing two or three."
Utah tied the game at 60-all with 2:34 remaining before a Sabally free throw, and then Parrish's ensuing three-pointer, gave the Ducks the separation they needed to close out the game — despite some poor free-throw shooting down the stretch.
Now, the Ducks will turn their attention to Friday's home matchup with UCLA (9-4, 4-1). A win there would push Oregon into sole possession of second place in the conference standings.
Before that Friday matchup, though, the Bruins will first have to get past No. 8 Arizona Wednesday at 5 p.m in Los Angeles.
"This is a big homestand for us, you guys," Graves said. "This is where we want to put ourselves in a great position to chase Stanford for a championship. We've gotta take care of business at home. "