Report: Pac-12 commissioner George Kliavkoff believes NCAA should not govern college football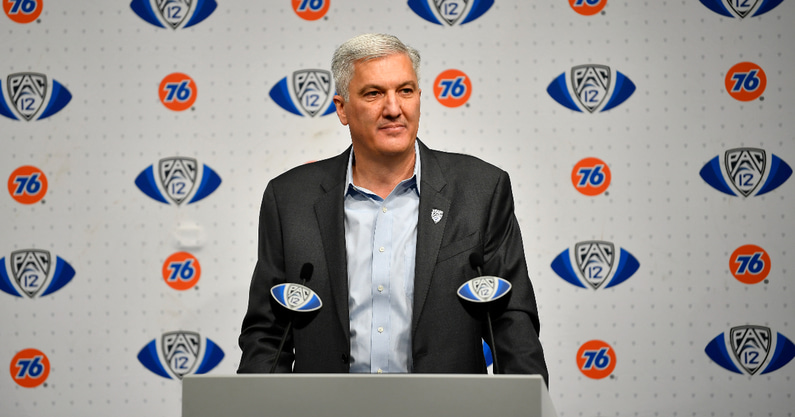 College football is in the midst of a transition period with how the sport works. One of the biggest changes may not even be here yet, as Pac-12 commissioner George Kliavkoff would like to have the sport govern itself.
Kliavkoff is in favor of breaking away from the NCAA and letting college football be its own entity. He said the conferences themselves should be in control, making their own set of rules as college football progresses.
"We have to be realistic about the fact that football is a unique animal among the rest of the college sports and that there are conferences that should be more aligned and should be more in control of the future of high-level college football," Kliavkoff told Nicole Auerbach of The Athletic on Friday.
Kliavkoff says he is not alone either. The leader of the Pac-12 has talked with "several" other FBS commissioners who support the idea of breaking away from the NCAA as well. According to him, everyone wants to have a separate organization run the 10 FBS conferences.
"I've had conversations with several of the FBS commissioners, and I've been surprised by the unanimous support for the idea among the folks that I've spoken to about taking football rule-making and football rule enforcement out of the NCAA and investing it in an organization that is run by the 10 (FBS) conferences."
The College Football Playoff has been the biggest topic of discussion over the past year for Kliavkoff and his fellow commissioners, as expansion is on the horizon. A new model has not been determined yet but it's something the Power Five conferences will want to have control over.
Kliavkoff also cited how the NCAA runs over 1,000 different schools over three different divisions. He said breaking away would give the FBS a set of rules that works best for them when say, compared to Division III.
"For me, it would make sense to have self-governance for a smaller group of conferences than the 32 that currently make up Division I," George Kliavkoff said. "But that doesn't necessarily mean being separate from the NCAA. You can do that within the NCAA, similar to the way certain autonomy was given to the (Power 5) conferences for certain issues."