Some numbers on the Pac-12's mixed bag of results, plus other notes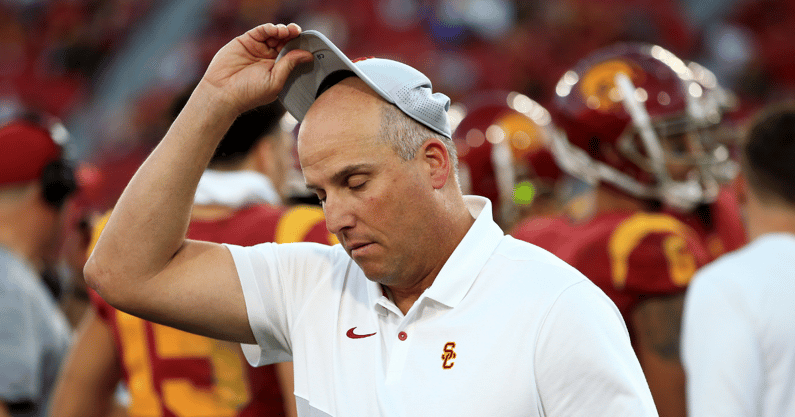 Early in his post-Ohio State news conference, Oregon coach Mario Cristobal spent a full minute going through the week-long buildup to the Ducks' monumental win over the Buckeyes.
Eventually, he paused for a moment, crossed his arms and stated a few things that certainly are accurate. "A big game," he said. "A big game for Oregon. A big game for the Pac-12."
Yep.
It's clearly a significant early-season high point for both the Ducks and the conference. It's also part of an opening two weeks of the season for the Pac-12 that's best characterized as a mixed bag.
While the conference does have three teams ranked in the top 20 (No. 4 Oregon, No. 13 UCLA and No. 19 Arizona State), those are the only three Pac-12 teams yet to lose a game.
The other four Power 5 conferences are a combined 73-19 in non-conference games through the first two weeks. The Pac-12's record is 11-11 (5-11 if you exclude Oregon, UCLA and Arizona State), and five of the losses have come to non-Power 5 programs.
Of the five Pac-12 teams that were ranked entering the season, three of the top four already have lost at least once and are unranked. Washington, which opened the year at No. 20, followed up its shocking season-opening loss to FCS Montana with a 31-10 loss to unranked Michigan. USC, which was ranked No. 14, just fell at home to Stanford. And Utah, which was ranked No. 21, just suffered its first loss to archival BYU since 2009.
No other Power 5 conference has less than five teams that remain undefeated. The SEC, for example, still has 10.
Big-game Mario?
Let's get back to something positive Pac-12-related: Cristobal and Oregon.
The win over Ohio State was the Pac-12's first road win over a top-five opponent since pre-NFL Dennis Green and future Denver Broncos star Ed McCaffrey led Stanford to an upset of Notre Dame in 1990.
It also was the latest victory in a big game for Cristobal. Under Cristobal, the Ducks are 4-1 in their past five games against top-10 opponents. The other wins: No. 7 Washington in 2018, No. 5 Utah in 2019 and No. 8 Wisconsin in '19. The loss was in overtime to No. 7 Stanford in 2018.
This week, Oregon is No. 4 in both major polls, its highest ranking since the Marcus Mariota-led 2014 Ducks squad that lost to Ohio State in the national championship game.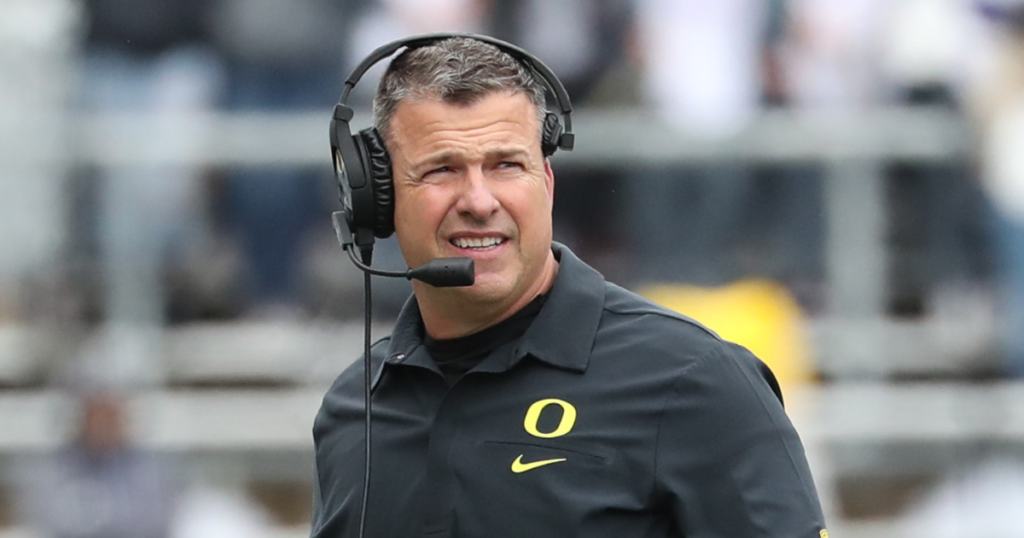 Uncharacteristic Ohio State defensive numbers
For Ohio State, the loss to Oregon falls largely on second-year defensive coordinator Kerry Coombs and the Buckeyes' defense.
Before this season, Ohio State never had given up 30 points in each of its first two games. Now it has. That's not all, though. During Oregon's 35-28 win, the Ducks became just the second team since 2000 (and the first since 2012) to accumulate at least 500 yards of total offense against the Buckeyes in Ohio Stadium. They finished with 505.
They also posted the most rushing yards vs. Ohio State in Ohio Stadium since 2014 (236) and were just the third Ohio State opponent since 2000 to both throw and rush for more than 225 yards.
It all came after the Buckeyes allowed 408 yards, including 203 rushing yards, during a season-opening 45-31 win at Minnesota.
Through two weeks, Ohio State is 112th nationally in total defense (456.5 yards per game) and tied for 109th in scoring defense (33 points per game).
The Buckeyes finished 59th nationally in total defense under Coombs last season after ranking in the top 10 in four of the previous five seasons, including No. 1 in 2019.
The Big 12's most talented RB?
Midway through Gary Patterson's post-game news conference following TCU's 34-32 win over California, he decided to shift from answering a question about one of his wide receivers to go on a mini-rant about the lack of national love for Horned Frogs sophomore running back Zach Evans.
While Evans may be best known for the eventful recruiting process that ended with him enrolling at TCU, the former five-star recruit is now establishing himself as one of the nation's top young running backs.
During the win over Cal, Evans ran for 190 yards on 22 carries, including a 51-yard touchdown run. Dating back to last season, Evans has rushed for 100 yards in three of the Horned Frogs' past four games against FBS opponents. As a freshman last year, Evans ran for 415 yards and four touchdowns while averaging 7.7 yards per carry.
"I've been laughing because nobody mentions Zach Evans," Patterson said. "All the (top) four or five running backs, the six running backs in the nation. … He was the No. 1 recruit in the nation and nobody talks about Zach Evans. So just don't talk about Zach Evans. We'll just keep running him. They won't pay any attention to him, and we'll just keep doing the things that we need to do."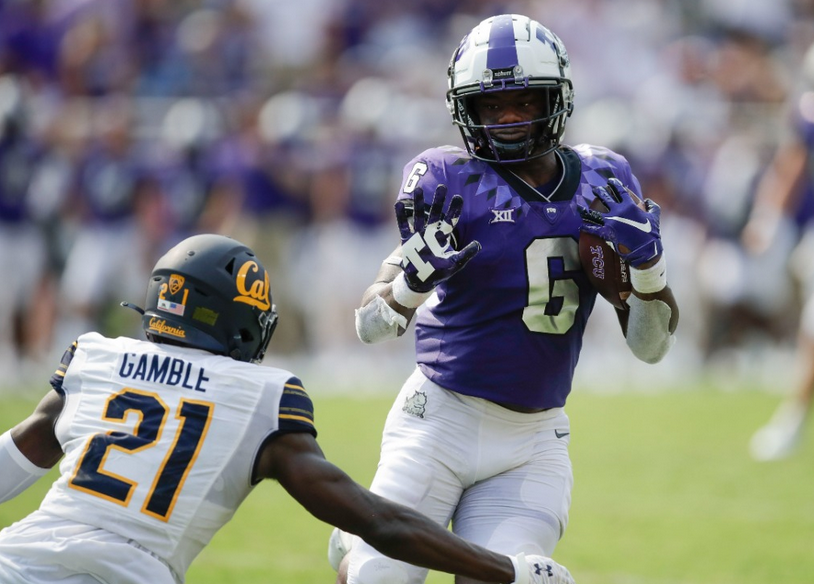 Keep an eye on Kentucky
During Kentucky's 35-28 win over Missouri, a veteran coach texted On3 an observation while watching the Wildcats' offense. "Impressed with the new OC," he said, referencing new Kentucky offensive coordinator Liam Coen.
He's not alone. Led by Coen (and aided by two Big Ten transfers — quarterback Will Levis from Penn State and wide receiver Wan'Dale Robinson from Nebraska), the Wildcats look like a completely different unit than the one that ranked 107th nationally in scoring and 122nd in passing last season.
Kentucky, which opened the year with a 45-10 win over UL Monroe, is ranked 12th nationally in total offense with an average of 542.0 yards per game.
Running back Chris Rodriguez leads the SEC with 332 rushing yards and four rushing touchdowns. Levis, meanwhile, ranks first among SEC quarterbacks with six completions of at least 30 yards.
With the improved offense, it's fair to label the Wildcats as a potential sleeper team in the SEC. That's especially the case considering Kentucky is expected to once again be good on defense after ranking fourth in the SEC in total defense in each of the past three seasons. In addition, the Wildcats have a relatively favorable schedule by SEC standards and have just two ranked teams on their regular-season schedule (No. 11 Florida on October 2 at home and No. 2 Georgia on October 16 in Athens).
Quick hitters
+ Two of the three remaining undefeated teams in the Pac-12 have interesting matchups this week. UCLA hosts Fresno State (2-1), which led during the fourth quarter of a 31-24 loss to Oregon in Week 1. Fresno State's Jake Haener, a Washington transfer, ranks eighth nationally in passing (336.3 yards per game) and has the most touchdown passes among quarterbacks with zero interceptions (eight). As for Arizona State, the Sun Devils get a BYU team looking for its third win over a Pac-12 program in as many weeks. Before the victory over Utah, the No. 23 Cougars began their season with a 24-16 win over Arizona.
+ San Diego State running back Greg Bell continues to show why NFL scouts view him as one of the nation's top non-Power 5 running back prospects. Bell, who entered the season with mid-to-late Day 3 draft grades, ran for 125 yards and a touchdown while averaging 7.4 yards per carry during the Aztecs' 38-14 win over Arizona on Saturday. Bell ran for 161 yards and a touchdown in San Diego State's season-opening victory over New Mexico State. Bell, a San Diego-area native who began his career at Nebraska, rushed for 637 yards and six touchdowns in seven games last season.
+ Lane Kiffin has found his newest big-time producer at wide receiver for Ole Miss. Last season, it was Elijah Moore, who ranked No. 1 nationally with an average of 149.3 receiving yards per game. Now, it's Dontario Drummond, who has stepped into the lead receiver role for the Rebels with Moore now in the NFL. Drummond has 15 catches for 284 yards and three touchdowns in Ole Miss' first two games. The yardage (142.0 per game) ranks third nationally.
+ No. 12 Notre Dame has gotten off to a shaky start defensively under new coordinator Marcus Freeman. The Fighting Irish are 88th nationally in total defense and have given up four plays of 60-plus yards. That's tied with Arkansas State for the most nationally. While Notre Dame is 2-0, the wins have been two narrow victories over unranked teams — a 41-38 overtime win at Florida State and a 32-29 comeback victory over Toledo.